It's 5 o'clock somewhere: Detailed opinions on where to head for happy hour in Chicago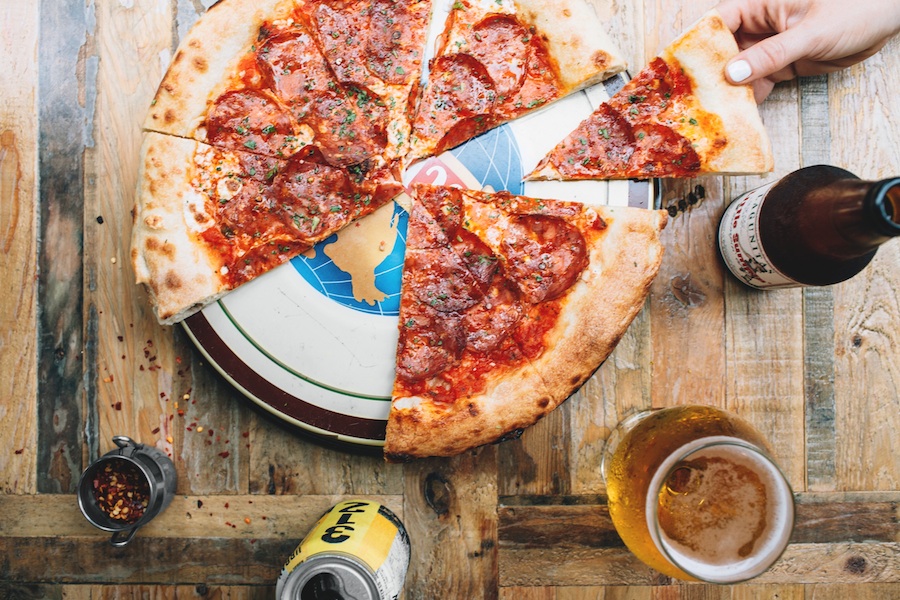 Your ads will be inserted here by
Easy Ads.
Please go to the plugin admin page to set up your ad code.
We asked active Chicagoans for their favorite spots to grab a post-work drink and bite to eat
The newest addition to Streeterville, Green River (259 E. Erie) serves beautifully presented, tasty food and creative cocktails in a sophisticated space with a large balcony for outdoor seating on the 18th floor.
— Andrea Behrstock, concierge at The Drake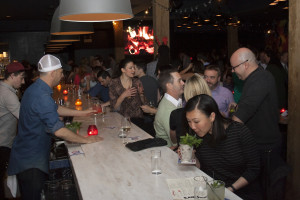 Henry's Swing Club (18 W. Hubbard) is a fun, approachable bar to kick back and let it all hang out. Boilermakers, $4 Malort, Merkts cheddar cheese fries, pool tables and a dance floor is the perfect recipe for … a hangover! Seriously though, anything goes here — from burlesque, to DJs, to a late-night dance party in the basement, this place is what River North needed.
— Bobby Gonzalez, concierge at Hotel Palomar
Cityscape (inside the Holiday Inn Mart Plaza) is truly a great hidden gem. The views of the river combined with reasonable prices really make this a great spot. The fact that it is connected to the Merchandise Mart and all the employees there also makes it a great spot for after-work drinks.
— Jim Gilligan
When it's warm out, Smith & Wollensky's outdoor patio (318 N. State) that faces the river is just beautiful. Another one is Sullivan's Steakhouse (415 N. Dearborn). I like the atmosphere a lot there, and on Thursdays they have great burgers for $5, light jazz music every night, and it's a great location.
— Linda Zager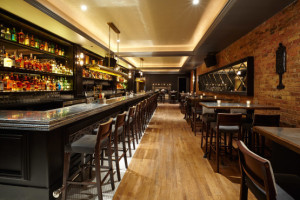 Celeste (111 W. Hubbard) is incredible. The cocktail menu reads like a novel, and there is every single twist on a Manhattan that you could want. It has that old-school speakeasy vibe that is seeing a resurgence in Chicago. It also has a great rooftop that looks like a Victorian garden palace and feels really exclusive because of its size.
— Allison King, Trunk Club.com/AllisonK
Green Street Smoked Meats (112 N. Green) is a great Texan hipster barbecue place, and I'm obsessed with Austin. When I wa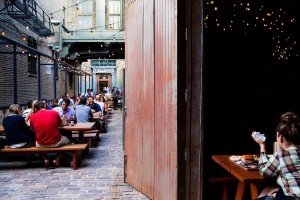 lked in for the first time, it was unexpected. The vibe they have going on is awesome, and the décor is one of the coolest I've ever seen in a bar. Their cocktail list is ginormous, their bartenders look like they'd be super snobby, but they're the friendliest, most knowledgeable people. And they also play some funky, cool jazz or hip-hop music.
— Laura McCarthy, TrunkClub.com/LMcCarthy
My answer is contingent on the weather because, really in the summer, anything with a patio will do! In the winter months my favorite place is Monk's Pub (205 W. Lake) — great beer on tap and tossing peanuts shells on the ground like you're at a ball game. Can't beat it.
— Dani Samons
Untitled. They have a nice music venue, good crowd, great vibe.
— Marcellus H. Moore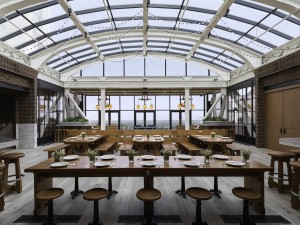 Unwind on the open-air terrace of Cindy's at the Chicago Athletic Association Hotel (12 S. Michigan) with unobstructed views of the lake and Millennium Park. It makes for an incredible end to a long day.
— Rhoda Kucuk, concierge at the Westin
One of my favorite post-grind chill spots is Henry's Swing Club (18 W. Hubbard). The bartenders are extremely friendly and attentive (which can be a rarity in River North), and there's live music on Tuesdays. Last time I was there, a guy was playing a fiddle but in the style of blues guitar, which was something I've never experienced before, and it was super cool! I'm a big fan of their house carbonated bottled cocktails. Try the buffalo nickel if you're in the mood for something different.
— Monica Reyes, concierge from The Wit Hotel
I love going north across the river to Howells & Hood (435 N. Michigan). Great snacks, 114 beers on tap and a beautiful patio space. This is everything I want in an after-work spot, prior to jumping in traffic and heading home.
— Andrew Stiles, concierge at the Radisson Blu Aqua Hotel
Bull & Bear (431 N. Wells) has a masculine feel from th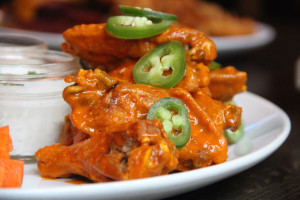 e moment you step in the door. From stock market tickers above the bar to giant televisions playing the game, Bull & Bear is the perfect place to meet after work. Get cozy in one of their big leather booths and partake in half-off appetizers on weekdays from 3-7 p.m. And be sure your group gets a table-top beer tap!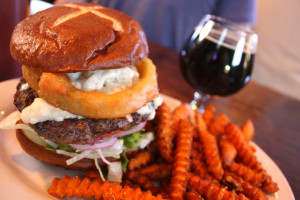 Nestled under Chicago's famous "L" tracks and just steps from the powerful Board of Trade, Stocks and Blondes (40 N. Wells) is a divey after-work watering hole. Drink specials and a blaring jukebox make this place an easy choice to drink away the stress of the day.
Your ads will be inserted here by
Easy Ads.
Please go to the plugin admin page to set up your ad code.
— Shannon Boland, concierge at the Renaissance Blackstone
Gyu-Kaku Japanese BBQ (210 E. Ohio) is very small on the main floor, but go to the second floor, and there is a small bar area where you can grab a large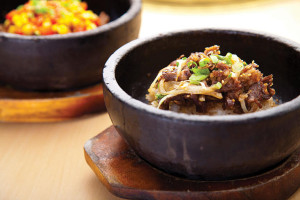 bottle of Kirin Japanese beer or one of their exotic drinks. Plus, they have some great appetizers for happy hour like steamed chili dumplings that have a little kick, soft shell crab with ponzu dipping sauce and my favorite, beef sukiyaki bibimbap (one of my favorite Korean dishes, yes at a Japanese restaurant). Their happy-hour special is $9 for a bottle of Kirin or Shoju and
two appetizers.
The Tortoise Club (350 N. State) has a great weekday happy hour with specialty drinks at a discount, but the $1 shrimp and oysters do it for me. They also have a jazz trio play in the bar. Not a very big area for the bar, so it gets packed during happy hour.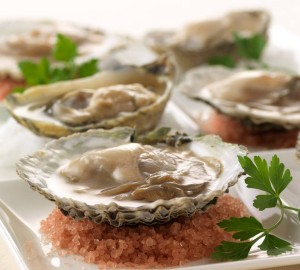 Every Thursday is "Bacon Thursday" at Benny's Chophouse (444 N. Wabash). With a great selection of wines and a bacon appetizer menu, you can't go wrong. I highly recommend the maple-glazed bacon or the bacon nachos. Just don't overdo it.
— Alfredo Caliva, concierge at the Doubletree Chicago Magnificent Mile
One of my favorite places is right off the beaten path of the hustle-and-bustle crowd that takes over downtown after work. The Kinmont (419 W. Superior) sits in coziness on the edge of River North, specializing in sustainable seafood with amazing cocktails. It's a relaxed, chill environment without all the noise and congestion that's associated with the typical happy hour crowd. Although they offer oysters for $1.50 Monday through Thursday from 5-7p.m, my favorite day is Wednesdays, when they offer $1 oysters the whole day. I've tried a couple of their cocktails, which were excellent, but if I had to choose one I'd go with the "evil doer." Just the right kick with a cool name. I'm a burger guy, so you know I had to try their burger, and I became a fan instantly. They prepare it with bone marrow mixed in with the beef, which gives it a very distinct, amazing flavor. I can go on and on.
— Luis Torres, concierge at the Sheraton
The Gage (24 S. Michigan) is the perfect post-work bar because it offers something for everyone. They have a nice, big space so it doesn't get too crowded. They offer great craft beers and craft cocktails, and an awesome wine list as well. If you're craving a bite to eat, I highly recommend the Scotch egg with whole-grain mustard or the PBR-battered fried pickles to start. For entrees, you can't go wrong with their delicious venison burger with smoked gouda and mustard aioli.
Pearl Tavern (180 N. Upper Wacker), located right in the Loop, is a great post-work spot to grab a drink and indulge in their delicious oysters. You will feel like you went back in time to the 1930s era with gold embellishments, vintage wallpaper and mermaid murals. On Mondays they have an all-day special half-off oysters, and on Tuesdays get half off any bottle of wine with the purchase of a dozen oysters.
— Gertruda Popinara, concierge at Hotel Allegro
Whenever I want a fantastic cocktail and a quick bite, I head to Bar Siena (832 W. Randolph). From the moment you walk in the door, the staff treats you like a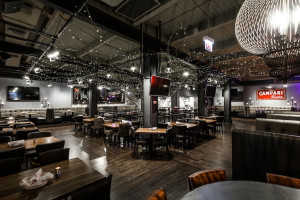 friend. Bar Siena is special because of the warmth of the smiles, the quality of the food, the attentive service and the creative cocktails. Start with the stracchino cheese fritters. These delicate little bites are a combination of creamy silkiness and crunch — an amazing start to your meal. Second, I suggest a flatbread. These feature the freshest ingredients and a crust that is made from scratch. Go with the spicy coppa made with pecorino, smoked mozzarella and oregano. You won't be able to finish it alone, so find a friend to share! Thirsty? I suggest the No. 5. This complex yet refreshingly light cocktail will entice your taste buds. The combination of botanist, lavender honey, aperol, lillet rose, thyme and tonic is a delicious end to any work day.
— David Gonzalez, concierge at the Trump International Hotel and Tower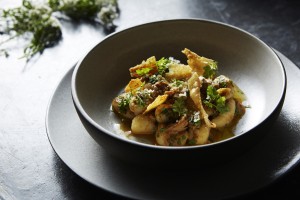 Sepia (123 N. Jefferson) has such a cool vibe, and they offer small bites, cocktails and glasses of wine for only $6. What a great value from a Michelin-starred restaurant.
— Stephanie Krupka
Cindy's (12 S. Michigan) rooftop is the place to be for happy hour. Not only is the view spectacular, but you never know who you're going to run into. They serve classic cocktails with a twist, and their appetizers are made for sharing. This quaint little hideaway in the Chicago Athletic Association Hotel is worth seeing.
Looking for some rooftop fun in the sun this fall? Look no further than Streeterville Social at the Loews Hotel (455 N. Park Dr.). This is the city's largest rooftop terrace, and it doesn't disappoint. Grab an island-inspired cocktail and relax on their outdoor furniture or get ready to play a lawn game or two. Either way, this rooftop has something for everyone.
If you really want to get some good food and drink specials, head to The Diag (2856 N. Southport) in Lakeview. Their cocktails are delicious, and their food is even better. The restaurant is huge, and they have a great outdoor patio. The waitstaff is super friendly too!
— Andra Turner
Your ads will be inserted here by
Easy Ads.
Please go to the plugin admin page to set up your ad code.