Chicago Insider: Hanna Maki-Jokela on the steak at Bavette's, lunch at the French Market and live music at Bub City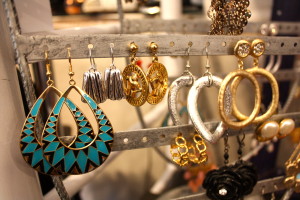 Your ads will be inserted here by
Easy Ads.
Please go to the plugin admin page to set up your ad code.
Name: Hanna Maki-Jokela
How long you've lived here: I've lived in Chicago for a year and a half.
What you like best about Chicago: I love how there is always something going on in the city. From Movies in the Park and street festivals in the summer to ice skating and Zoo Lights in the winter, there is never a dull moment in Chicago.
Best meal you've had recently: I recently went to Bavette's and had a great time. The restaurant has a great ambiance, and the food and drinks were incredible. I highly recommend any of their steaks and the thick-cut bacon as a side!
Favorite big-name restaurant: I'm a huge fan of Big Star. They have great Mexican food and even better margaritas. The only downside is the long wait, but it's well worth it.
Favorite "hidden gem" restaurant: I absolutely love the French Market in the West Loop! The Market is less of a restaurant than it is a group of vendors, each serving up a different specialty. There is a huge variety of lunch spots to choose from, or you can stop in to get some fresh groceries. It is by far my favorite place to go for lunch in the city!
Best sports bar to catch the game: The Old Town Pour House is one of my favorite bars to watch sports. They have a ton of TVs and are always playing all the big games, and during commercials they play funny videos. They have 90 beers on tap, and everything on their menu is delicious.
A great night out with friends usually includes… I'm a huge fan of live music, so it's no surprise that some of my favorite nights out have been out at Bub City or Joe's on Weed Street. Both have a fun live music scene and excellent cocktails.
Your ads will be inserted here by
Easy Ads.
Please go to the plugin admin page to set up your ad code.
Favorite store or best shopping area: I love shopping in Lincoln Park. Right off of the brown line stop on Armitage is a great mix of boutiques and chains without the crowds that are downtown.
The best way to spend a winter Saturday in the city: My favorite winter Saturdays are spent out and about enjoying the season. My favorite winter day would include ice skating and then grabbing some festive food and drinks at the Christkindlmarket.
One thing every visitor must do here: Every time I have friends come in town I take them on the architecture boat tour. Even if you have to bundle up to take the tour in the winter, it's a must do. It's a great way to see Chicago and learn a little bit about the city.
Secret Chicago spot: I'm not sure how secret it is to those who live here, but Unti
tled is a hidden gem for those who are visiting. The doors are unmarked, but the inside is anything but discrete. The restaurant and lounge seem to always have a different band or show going on, and it's always a good time for dinner, happy hour or a night out.
Underrated activity in the city: The comedy clubs! I think a lot of people overlook the comedy scene here in Chicago, but there are some incredibly talented comedians doing improv at Second City, or stand-up acts at Zanies.
What's one place you hear great things about but have yet to try? It seems like everyone has been talking about Eataly recently. Rumor on the street is it is full of amazing Italian food and drinks, so I'm putting it on my list of places to go.
Your ads will be inserted here by
Easy Ads.
Please go to the plugin admin page to set up your ad code.