The Big City Blog: Let America's Best Racing help you get in on the action at Arlington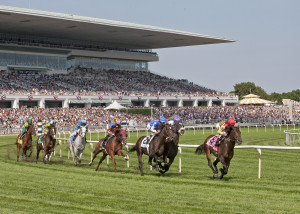 A tour bus and passion for thoroughbreds help market an exciting sport to a younger generation
By Trent Modglin
Arlington photos courtesy of Four Footed Fotos

I've seen tour buses before for headlining musicians, politicians in an election year and tourists trying to get the most out of their shrinking vacation time.
But this weekend, I'll step foot in my first national tour bus designated for horse racing. Yep, horse racing.
Six 20-something racing enthusiasts, chosen from a nationwide search by Jockey Club and its fan platform, America's Best Racing, have called this 45-foot mobile marketing masterpiece on wheels home since March, busy promoting the country's high-profile racing events — and the joy of watching thoroughbreds in general — to the sought-after younger generation.
Jockey Club's recent marketing overhaul, bus included, has reaped rewards like rising attendance and record betting figures at major racetracks from coast to coast, like Arlington Park in suburban Arlington Heights.
The plan is simple, really: Increase the profile and visibility of North America's best thoroughbred racing events, with a primary focus on the sport's lifestyle and competition.
Not surprisingly, getting people to the track and past the intimidation factor of knowing how to place a bet is a big hurdle for first-timers.
"Once we show them, they're hooked," says John Cox, one of the selected brand ambassadors with America's Best Racing. "They're amazed at the ambiance and what they've been missing out on. It inspires them to ask questions and get more involved."
Cox and his crew use one-on-one opportunities to interact with fans, break down barriers and explain the basics behind gambling and understanding the influence of jockeys and trainers.
"It's a majestic thing to see the competition," Cox says. "It's unlike anything else in
the world. Eating, drinking, wagering, socializing and people watching. You can truly get the most out of every day at the track."
And you can do it affordably if you choose. Folks like me prefer spreading wagers as little as $2-$5 around, but you don't even have to be a gambler to enjoy a day in the sun at a track like Arlington.
"Compare it to a Cubs or Bears game or shopping, and it's cheaper," Cox adds.
Same goes for a casino. Last time I checked, a track doesn't have $25 minimum tables. And you have the option of learning about the horses, trainers and their backgrounds to give you more of an advantage.
America's Best Racing and its splendid bus will be all over the Chicago area this week, generating excitement leading up to the annual Arlington Million on Saturday, Aug. 17. First up is an event Wednesday at the Cubs'
game, both inside and outside Wrigley, as well as a tailgate party at Soldier Field on Thursday for the Bears-Chargers preseason game.
At Arlington on Friday and Saturday, the bus will provide an eye-catching race-day experience, where fans of all levels can register for prizes and VIP experiences and watch live-stream video of races.
Before I let Cox off the phone, I ask him what he likes most about spending time at the track, keeping in mind he hails from Lexington, Kentucky, with family in the horse business.
"If the weather's nice, I'd describe it as a perfect day," he answers.
Log on to www.FollowHorseRacing.com for more information about America's Best Racing. Get additional information on the upcoming Arlington Million at www.ArlingtonPark.com