The Local Corner: Exploring the Milwaukee and Honore intersection in Chicago's Wicker Park neighborhood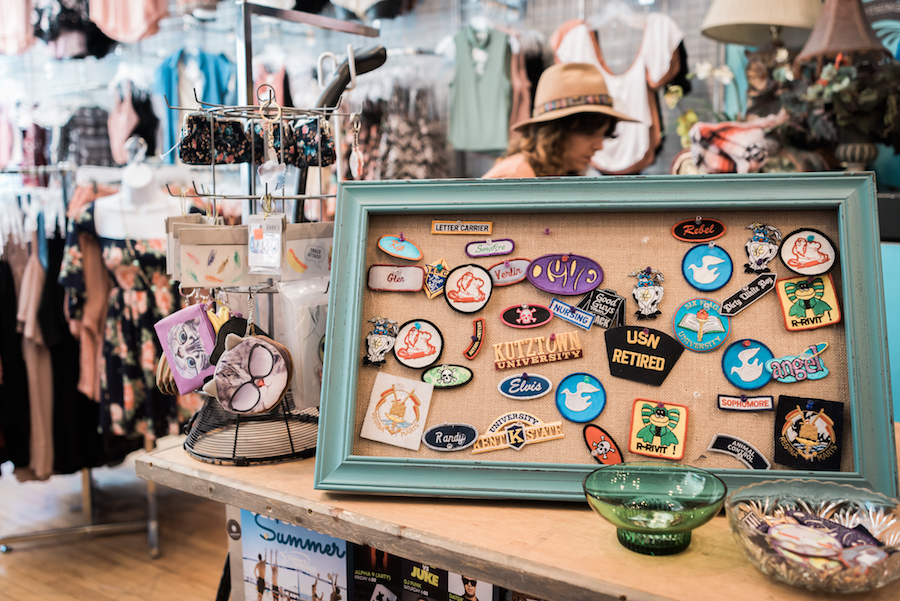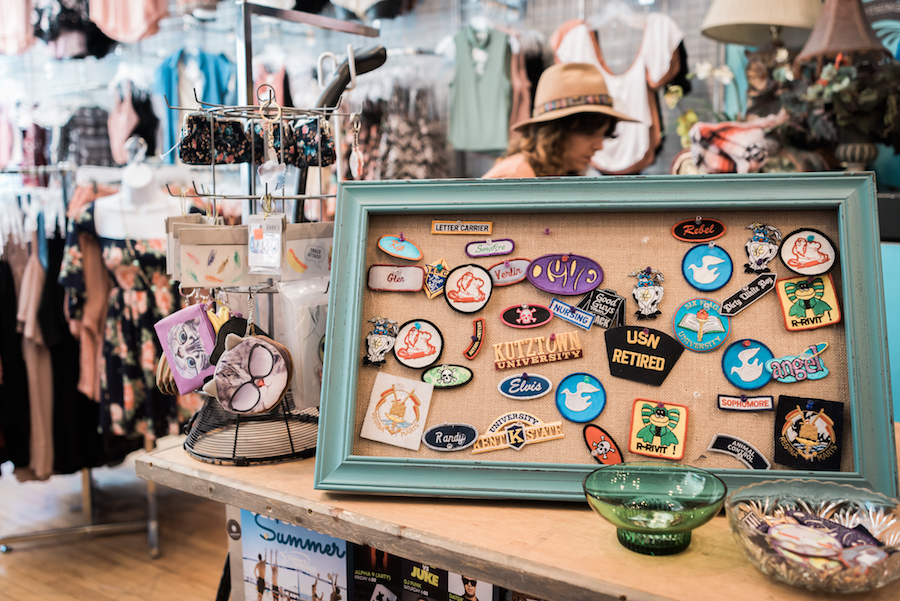 Exploring Chicago's neighborhoods one intersection at a time

Featured corner: Milwaukee and Honore in Wicker Park
By Kelly Cunningham
Photos by Kimberly Rensburg

Ragstock
1459 N. Milwaukee
www.Ragstock.com
If you're on the hunt for unique vintage pieces, costume party essentials or the latest Bohemian trends, Ragstock is a must. The store is sorted by "genre"— racks are separated by '80s acid-wash jeans, '90s windbreakers and '60s hippie skirts. Half of the items are recycled, like a thrift store, and the other half of their inventory includes pieces with a more current flair. Ragstock may also have the best selection of flannel shirts in all of Chicago.
Wormhole Coffee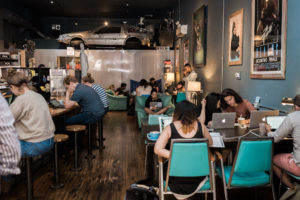 1462 N. Milwaukee
www.TheWormhole.us
Open late and decked out with retro movie posters, Wormhole Coffee is a destination for locals and tourists alike. Guests can choose to get work done on a stool looking out the window, catch up with friends at a table, or relax and flip through the Calvin and Hobbs collection on funky couches in the corner. Whatever your reason, be sure to look around and admire the eclectic decorations. You may just be reminded of your favorite sci-fi film.
Pitaya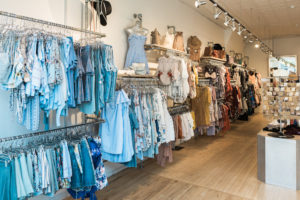 1463 N. Milwaukee
www.Pitaya.Myshopify.com
Pitaya gives off a fresh and youthful vibe the moment you walk in. The color-coded clothing creates a rainbow of pastels along the walls. Subtle and delicate patterns are balanced with the trendy and bold prints throughout their selection. It's a great place to stop if you're looking for an outfit for exciting occasions like music festivals or a first date.
Swig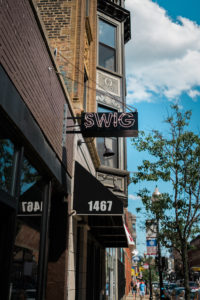 1469 N. Milwaukee
www.Swig.com
This casual bar boasts a wide variety of beer, as well as a sizeable and affordable appetizer and dinner menu (with most sandwiches and entrées under $10). In addition to TVs for sports and a pool table, Swig also offers a live DJ at night. Even on a weeknight, the place is likely to be packed. Swig also offers private parties and different drink specials throughout the week.
Bongo Room
1470 N. Milwaukee
www.TheBongoRoom.com
Offering new specialty pancakes and French toast every season, the Bongo Room is an excellent pick for a delightful brunch. Breakfast options are listed side by side as either "savory" or "sweet." While it may be hard to decide between apple hotcakes with cranberry apple butter and mascarpone mousse and a chorizo, potato and avocado omelet, one thing is for sure — you won't be disappointed.
Store B
1472 N. Milwaukee
www.StoreBVintage.com
If you're still in love with Jackie O's elegant look, Store B is a must-see. This vintage boutique sells high-quality vintage items. Vintage-loving shoppers can find everything from bright prints to delicate lace pieces. In addition to clothing, the store also has a wide variety of handbags and shoes that fit with their timeless style.
Umami's burgers, fries and even cocktails are crafted with every detail in mind (even the corn on the cob is coated with parmesan cheese, their master sauce, soy and lime).
The Buffalo Exchange
1478 N. Milwaukee
www.BuffaloExchange.com
Stepping into Buffalo Exchange is like stepping into the costume room of a play that travels through the decades. Black leather, over-the-knee combat boots sit proudly next to pale-pink kitten heals over a rack of strappy summer tops and polka-dot button-downs. Despite the variety, things stay organized by size and type (blouses, sweaters, t-shirts, etc.). It's definitely a place you'll need to spend time searching due to the sheer density of options, but chances are you'll find a sought-after piece somewhere in this Wicker Park favorite. Affordable prices and the option to recycle your own clothes for extra cash help this a popular spot for young adults who want to stay on budget without sacrificing style.
Umami Burger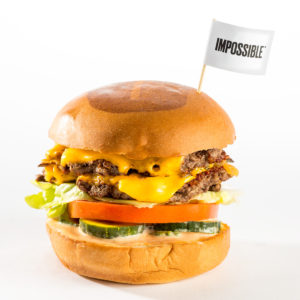 1480 N. Milwaukee
www.UmamiBurger.com
Famous for creating dishes with the perfect balance of sweet, sour, bitter, salty and, of course, its namesake, umami, flavors, Umami Burger serves up gourmet "comfort foods" in a relaxed environment. Burgers, fries and even cocktails are crafted with every detail in mind (even the corn on the cob is coated with parmesan cheese, their master sauce, soy and lime). The urban, almost skate-park art and cedar walls give the space a fresh yet relaxed atmosphere, and the staff is as knowledgeable as they are welcoming. If you're looking to go out and eat something delicious while exploring Wicker Park, make Umami Burger your first stop.
Mahalo
1501 N. Milwaukee
www.MahaloChicago.com
Take a break from unpredictable Chicago weather for a moment to experience this Hawaiian-infused kitchen. Mahalo is open for brunch, lunch and dinner and offers an island version of classic dishes. They're best known for their poké bowls—a type of salad with raw fish served over rice.
Eskell
1509 N. Milwaukee
www.Eskell.com
Self-described as "treasure hunters," Eskell specializes in carrying unique, quality items ranging from clothing and accessories to apothecary and gift items. They're best known for their attention to detail. Stylish pieces are given a sense of individuality with the hand-sewn details.