Chicago's craft beer explosion: Quality breweries are suddenly the norm on the north side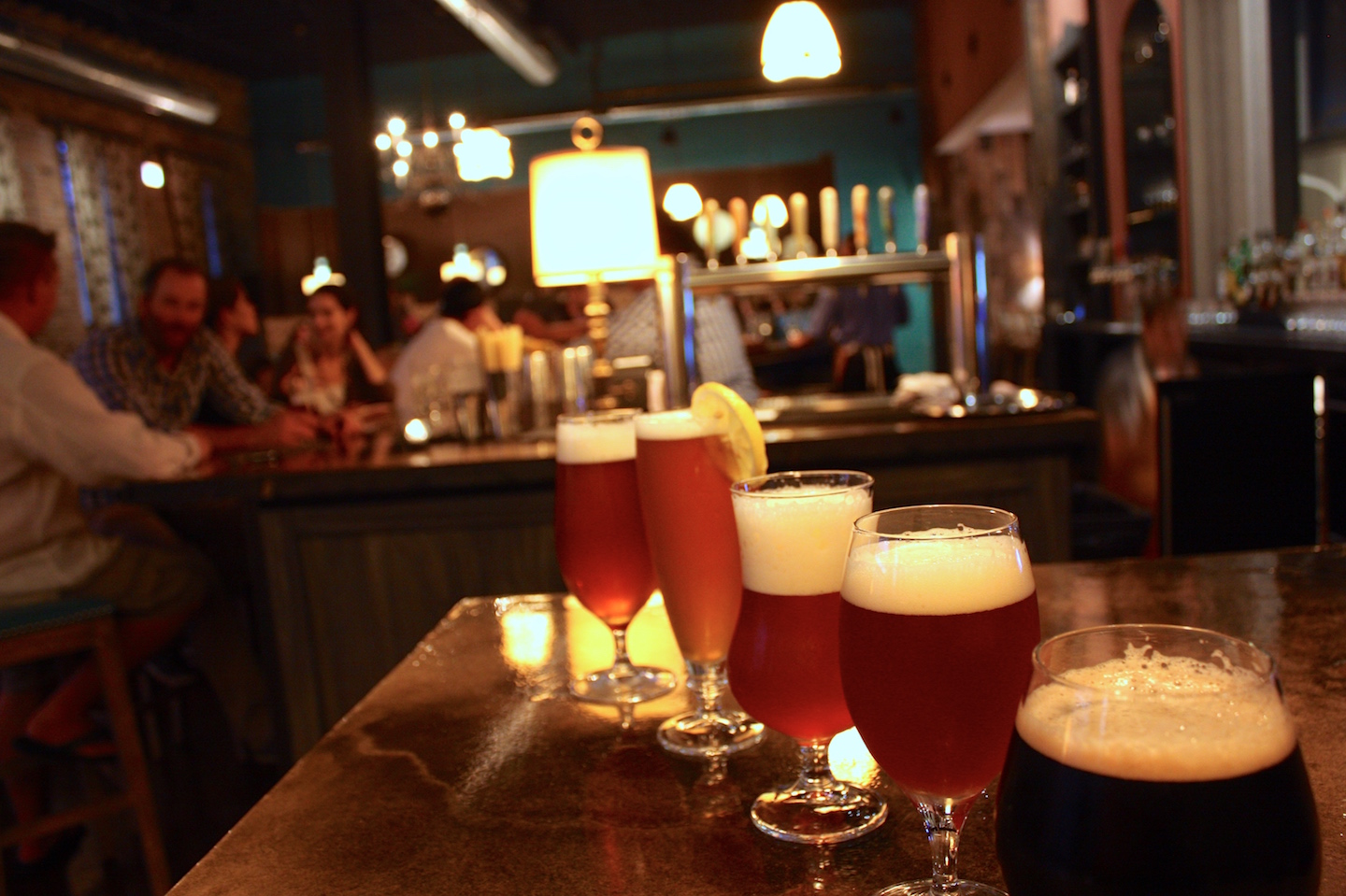 Your ads will be inserted here by
Easy Ads.
Please go to the plugin admin page to set up your ad code.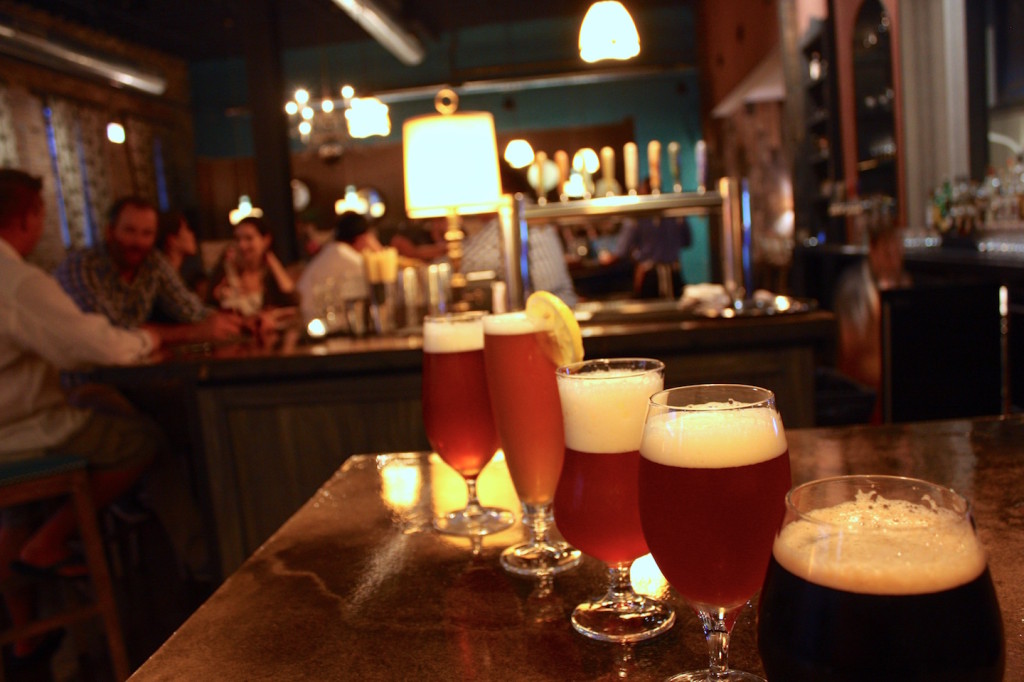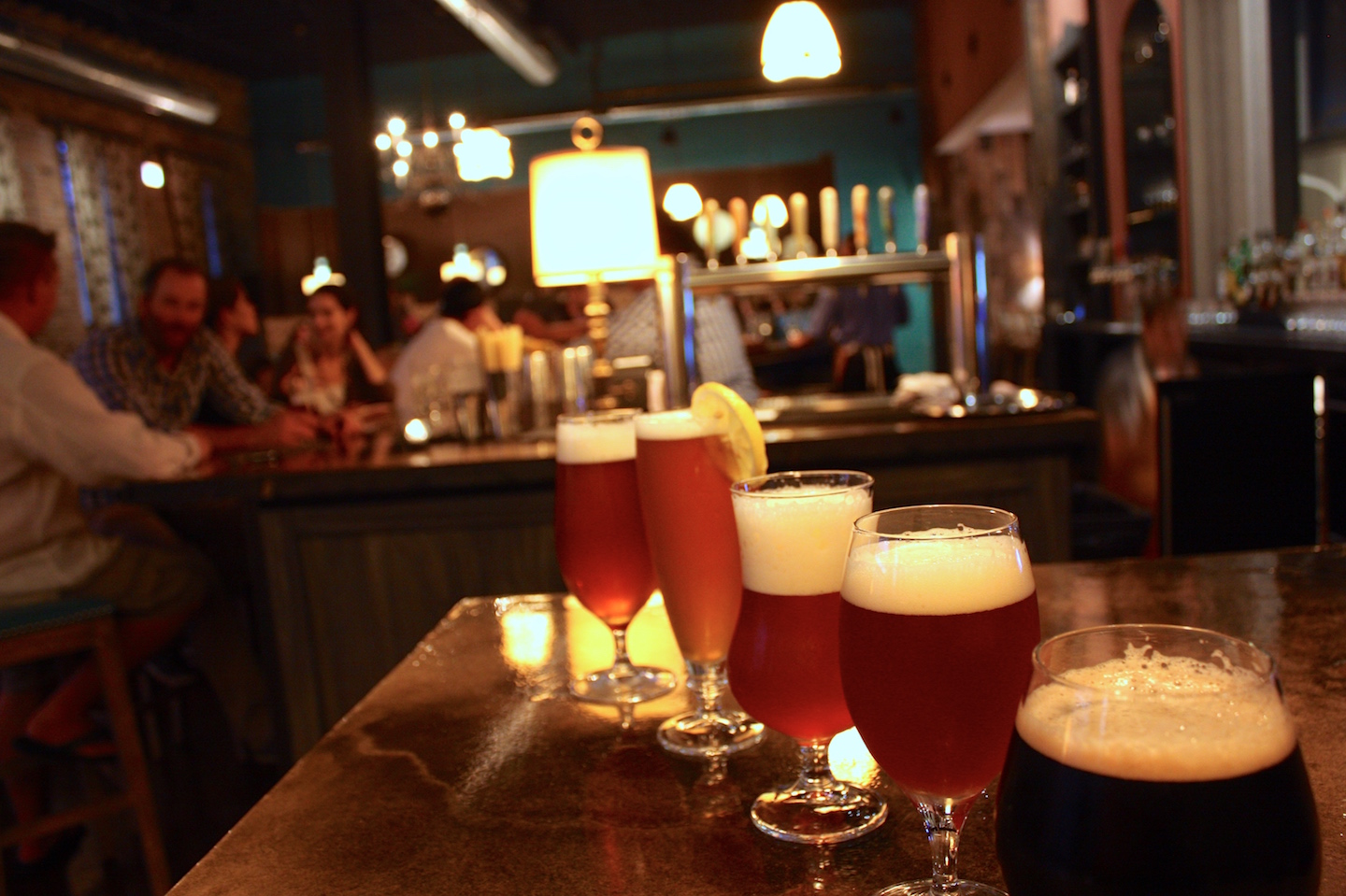 By Trent Modglin
Band of Bohemia
4710 N. Ravenswood
www.BandofBohemia.com

Opened: After five years of business plans, advice and locating space, Band of Bohemia officially opened in November of 2015.
What you should know about them: Craig Sindelar and Michael Carroll originally met at the revered Alinea — yes, that Alinea — with Sindelar as the sommelier and floor manager and Carroll in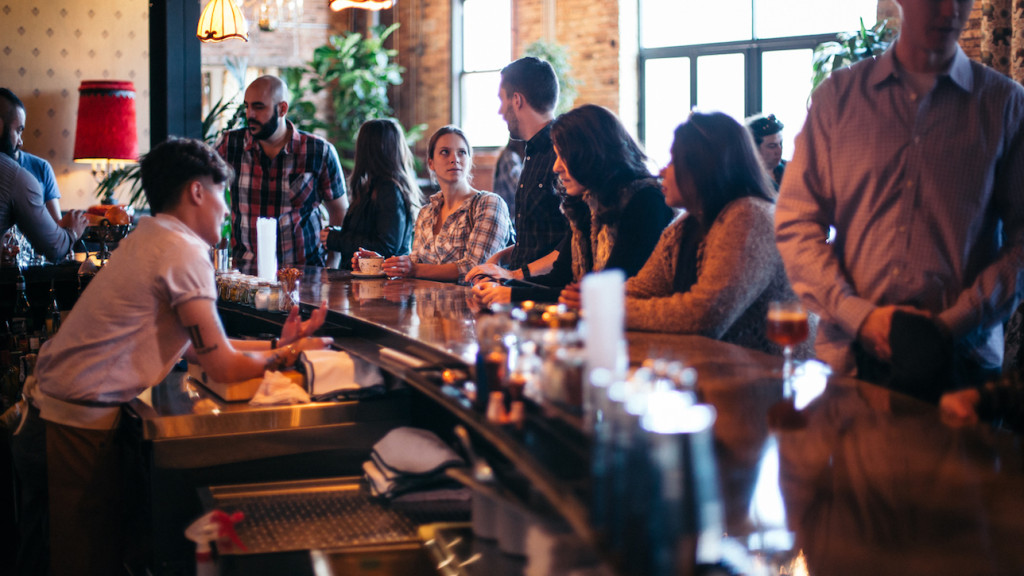 the kitchen, as a waiter and bread maker before moving on to Half Acre Brewery. "We're business partners that want to establish ourselves in the neighborhood we live in," says Sindelar. "We're not in it for the quick buck; we're looking to become a classic. If you look at this place, you'd expect it to be downtown. We're not scared of the downtown competition, but realistically, we hope to be in Ravenswood long-term and grow with our families and the neighborhood."
Popular items: Not surprisingly, the minds behind Band of Bohemia like to regularly tweak a seasonal, ingredient-driven menu for both food and beer. Expect a heavy focus on pairings, like a peppercorn saison with their honey cake dessert; the house Noble Raven with the steak tartare and olives; or a porter with a rich, maple character and a hint of smoked almonds and blackberries matched up with their Italian pudding.
On the horizon: In-house distribution started in early August, by way of hand-bottling 22-ouncers and kegs. While that looks to grow, they have no plans to saturate the market, instead centering on hand-picked stores and local restaurants.
The brewery says: "We have something that nobody else is doing right now. We never saw ourselves as a brewpub with the fish and chips, cement floors and TVs. We were interested in creating a culinary brewhouse, and we're hoping to be able to push this forward. Some customers tell us that it doesn't feel like Chicago at all. We were a little offended at first, but it was meant to be a compliment, feeling more like London or maybe California. … This is a first time for us. We've had some growing pains, but a lot of the things we envisioned have happened, and that's great." — Co-owners Craig Sindelar and Michael Carroll
Hopewell's 6,000-square-foot facility in the heart of Logan Square offers a modern taproom with blonde wood and floor-to-ceiling windows that is loaded with board games, dog-friendly and BYOF.
Hopewell Brewing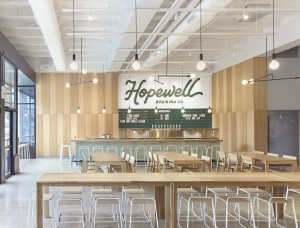 2760 N. Milwaukee
www.HopewellBrewing.com
Opened: Feb. 5, 2016
What you should know about them: Hopewell's three owners — Jonathan Fritz, Stephen Bossu and Samantha Lee — met in college at the University of Illinois, formed a bond over a love of good beer and spent a summer traveling across the American West, camping and visiting every craft brewery they could find.
Now, Bossu and Lee are married, and the trio is finally reunited in Chicago after spending time in Philly, Portland and New York City (where Bossu worked as a brewer at the excellent Brooklyn Brewery). Their 6,000-square-foot facility in the heart of Logan Square offers a modern taproom with blonde wood and floor-to-ceiling windows that is loaded with board games, dog-friendly and BYOF.
Popular items: Some of Hopewell's more popular beers include: First lager, a clean and classic pilsner; Farm & Family saison, a dry, almost champagne-like French farmhouse style; and Swift IPA, their take on a West Coast-style IPA — not too bitter, but with plenty of pine and juicy tangerine notes.
On the horizon: They're planning to have cans available in early 2017, so keep an eye out. Hopewell is constantly developing new beers and typically has a new release once a month in the taproom.
The brewery says: "We're focused on creating clean, bright and modern craft beer. This is also demonstrated in the design of our taproom and our overall aesthetic, which values clean lines and pastels. As a company, we strive to be welcoming and intentional in all our decision making, and our hope is that people from a diversity of backgrounds can enjoy both our space and our beer."
Corridor Brewery & Provisions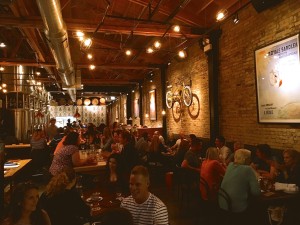 3446 N. Southport
www.CorridorChicago.com
Opened: October 15, 2015
What you should know about them: Traditional French and Belgian beer has arrived to the Southport Corridor with an American attitude and a delectable menu. They share ownership and recipes with the popular Dryhop Brewers in Boystown.
Popular items: If you taste something you like here, you'd best remember the name, because they center on the "one-off" idea, meaning they're consistently trying to new things and rotating beers in and out. Wizard Fight is an American IPA that is "chock full of mosaic, citra and amarillo goodness." Also, anything from the Mothership series (bringing attributes of an oak barrel to beer instead of the opposite) earns high marks. Their Funkatorium was particularly tasty the night we stopped in for a flight.
On the horizon: Corridor will be bottling small batches of their Mothership Funkadelic series. Look for a spring 2017 release. We're told to be prepared for "one funky party."
The brewery says: "We're trying to bring an urban Chicago twist to the traditional Belgian and French farmhouse ales we adore. We're hoping to open and expand minds to what a 'city' farmhouse brewery can bring to the table." — Head brewer Brant Dubovick
"At Dovetail, we think beer drinking should be a sublime experience that engages all of the senses."
Your ads will be inserted here by
Easy Ads.
Please go to the plugin admin page to set up your ad code.
Dovetail Brewery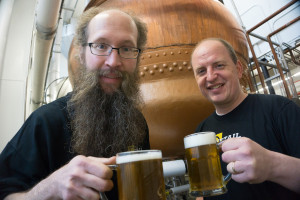 1800 W. Belle Plaine
www.DovetailBrewery.net
Opened: Dovetail's beer entered the market during Chicago Craft Beer Week last May. The taproom grand opening was June 11, 2016.
What you should know about them: Owners Hagen Dost and Bill Wesselink discovered a common enthusiasm and formed their business idea at the famed Doemens Akademie in Munich while taking master brewing classes. They make continental European-style beers (German, Czech, Belgian, Polish, etc.) using traditional methods. At the core is a philosophy that beer should play on all of the senses: appearance, aroma, flavor, mouth-feel, aftertaste, even sound (the proper "pop" of a cork, for example). They believe that great beer requires time and patience to produce, meaning complex mashing regimes to gain depth of character; a coolship for clarity and flavor; open fermentation to give yeast a low-stress working environment; long maturation times to present the beer at its peak quality.
Popular items: Their Dovetail lager, hefeweizen, rauchbier and Grodziskie.
On the horizon: Dovetail is excited about their long-term project of lambic-style, spontaneously fermented beer, which they're producing using the traditional methods of lambic producers in Belgium. The first of these beers will be ready in 2018. Also on deck for the holiday season is a Christmas bock that had to be brewed in early July to give it a proper maturation time.
The brewery says: "We believe that brewing should be fun. We will develop new beer recipes that bring out the best of traditional brewing methods, but also inspire and surprise our customers with their unique flavor, nose and mouth feel. We think beer drinking should be a sublime experience that engages all of the senses. Our beers will reflect the season in which they are enjoyed and the food they are paired with."
"Our customers at Empirical drive what we brew as they also learn about new beers and new styles."
Empirical Brewery
1801 W. Foster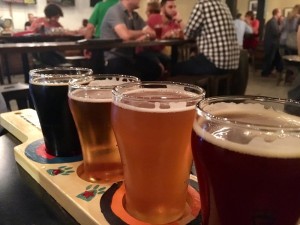 www.EmpiricalBrewery.com
Opened: Empirical started brewing in July of 2014, and the taproom opened in October 2015.
What you should know about them: Empirical is the largest startup craft brewery in Chicago history. Their flagship Infinity IPA is offered year-round. Empirical also has one seasonal line of beers designed to convert people into craft (approachable, balanced, full-flavored beers) and one seasonal line for the hard-core craft dinners (imperial/robust beers, higher alcohol). The taproom is routinely experimenting with new products, hence the name Empirical, because they "use empirical observations of these experimental beers to constantly improve the production line of products."
Popular items: The Infinity IPA is a staple for sure. The Gamma-Ray ginger wheat is only available once per year and is a massive hit. Don't forget the Chromatic imperial red and Singularity oatmeal stout.
On the horizon: We're told to get excited about the Phase Transition robust porter and Up Quark passionfruit pale ale.
The brewery says: "Empirical is all about taking empirical observations of our experimental beers and continuously improving our lineup. In that way, our customers drive what we brew as they also learn about new beers and new styles." — Bill Hurley
Finch Beer Co.
2925 W. Montrose
www.TheFinchKitchen.com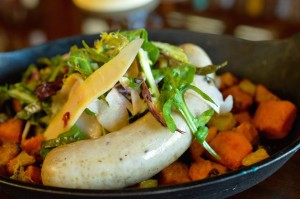 Opened: June 9, 2016
Why you should know about them: The reimagined Finch Beer Co. stems from the sale of the brewery last winter when a group of original investors saw a need for an overhaul and bought it from the Finch family.
Originally launched on Elston back in 2011, it could be said that Finch's quickly became synonymous with an unpredictable product. In the early years, they "went a mile wide and an inch deep" and didn't plant roots in Chicago like others. Admittedly, it was a huge mistake, and now, five years after hitting the market (and 25 states), they've essentially started over again at ground zero, acquiring small local competitor Hopothesis Brewing and reinventing themselves with a new philosophy, new recipes, the opening of The Finch Kitchen, a tweaked logo and company name, etc.
All beer they make at the new brewpub — in the former Breakroom Brewery location — is exclusive to the space, innovating and stretching beer styles for future retail sales.
Popular items: Chef Matthias Merges, a Charlie Trotter disciple, has been doing some great things with the menu, including housemade sausages (try the curried chicken), a sizzling raclette cheese platter, loaded fries and the double bird burger.
On the horizon: Be on the lookout for a series of revolving movie and game nights at The Finch Kitchen, as well as collaborations with other local breweries. They also host a monthly firkin/pin tapping on Fridays in addition to other beer-focused events.
The brewery says: "We constantly strive to improve upon the current recipes that come out of the production facility, both Hopothesis and Finch Beer Co. (It takes) a lot of hard work and innovative techniques, and using The Finch Kitchen as an incubator is working out. Come check us out. We pair up our sausages with our beer, and we're confident that you'll leave happy and full." — Rich Ness, general manager
Other newer northside breweries we love:
Begyle Brewing Company
1800 W. Cuyler
www.BegyleBrewing.com
Ale Syndicate
2601 W. Diversey
www.AleSyndicate.com
Not to be forgotten, the already established guys up north: Revolution, Half Acre, Pipeworks, Metropolis, Dryhop
Your ads will be inserted here by
Easy Ads.
Please go to the plugin admin page to set up your ad code.