Good Eats at Reclaimed: Southern charm, rustic appeal and deliciously tempting food and drink at this new North Center spot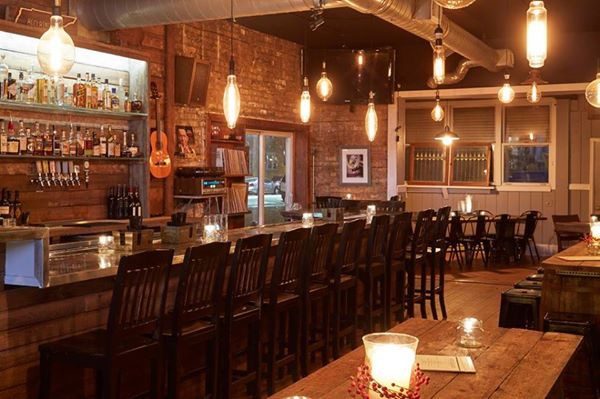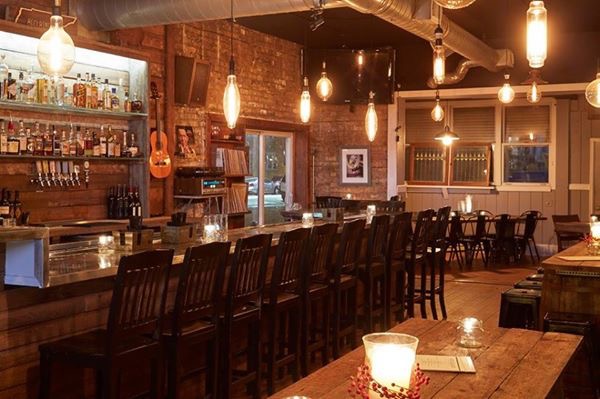 By Michael Dritto

Reclaimed Bar and Restaurant
3655 N. Western Avenue
www.ReclaimedBarAndRestaurant.com

The scene: Once you understand the work and attention to detail that went into getting this bar on its feet, you won't be able to help but appreciate the name. What used to be a dive bar where the bartenders wore bikinis, the restaurant is now a completely renovated, family-oriented social hub. In fact, not only is every single piece of furniture built personally by the hands of chef/co-owner Craig Bell, but some of the wood has even been repurposed from Bell's own home to create elements such as the actual bar itself.
The space is filled with tones of yellows and oranges, emitted from an eclectic collection of antique incandescent light bulbs that hang independently from the ce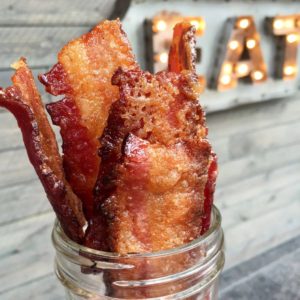 iling.
The whole atmosphere is rustic, warm and inviting. It emulates what could only be described as Southern charm, no doubt a reflection of Bell's roots growing up in Tennessee. All in all, the restaurant feels sort of like a mom-and-pop restaurant — if your mom and pop were cool enough to call them by their first names.
Food and drink: I was fortunate to try a medley of things off the menu, all of which I happened to find particularly satisfying. As far as appetizers go, it's hard to get away from the bacon brittle because, I mean, who doesn't like candied bacon? I also could not stop tearing apart the smoked wings, which are are deep fried and then, of course, smoked. They come with BBQ sauce and bleu cheese for those who don't like eating their wings dry, but I thought the smoky flavor was so good I chose to eat them as they were. Far and away, though, my favorite appetizer was the corn-and-crab fritters. Light and crispy with a little bit of a kick, you may need to get one order per person.
The whole atmosphere is rustic, warm and inviting. It emulates what could only be described as Southern charm.
All of the food we tried was great, but if you're going to order one item on the menu, go with the scallops and grits. A popular staple in the South, these grits were creamy and flavorful and purely enchanting. Other menu items worth noting are the lamb burger and vodka sauce rigatoni, which my girlfriend very much enjoyed.
Make sure to complement your meal with one of Reclaimed's signature drinks. My girlfriend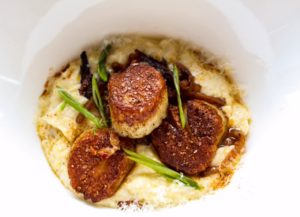 found the ranch water margarita to have a very refreshing twist, while I was privileged to get a taste of a new drink they've concocted with aged mountain bourbon.
What caught our eye: The atmosphere of this place is really cool, and the food was fantastic, but I think what really stands out is their mission to make this a family-friendly place for the community to gather.
Adrienne Fasano, co-owner and wife of Chef Bell, explained to me that one of their biggest goals is to be a hub for aspiring local artists. As such, they feature live music every Wednesday night.
It's not just the live music that creates the feeling of community at Reclaimed. Chances are, if you happen to stop by, you will no doubt run into the owners themselves. If you play your cards right, you may happen upon a day where Bell is roasting a pig on the patio area. If there isn't a big event happening, I am more than sure they will demonstrate their welcoming demeanor by introducing themselves. It's a trait that I would definitely classify more as familial than customer service.
We'll be back because: The food. The drink. The atmosphere. Mostly the atmosphere. This is a place where I can easily see myself becoming a regular. It's hard not to imagine making new friends while bonding over good food.