The Big City Blog: A list of some of the better Irish pubs to enjoy on St. Patrick's Day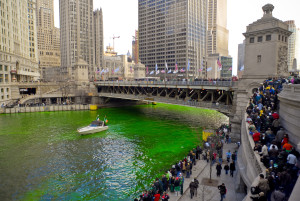 A quick look at the most authentic Irish bars in Chicago
By Lizz Riggs
St. Patrick's Day is right around the corner, and that means it's almost time to dye the Chicago River green, get
ready for a great parade and throw back a few Guinness or Magners. Everyone's Irish on St. Patrick's Day, and almost every bar in the city will have some kind of St. Patrick's Day-themed party. But some bars can do it better than others. If you want to spend your St. Patrick's Day in Chicago (or any other day of the year) at an authentic Irish pub, these are my top places to do so.
Celtic Crossings
751 N. Clark
www.CelticCrossingsChicago.com
Despite the fact that you won't be finding any Irish pub food here, this down-to-earth bar in River North possesses an authentic Irish vibe with tons of character, a friendly staff and an abundance of good times. They usually have live music on the weekends, but when there's not a band keeping the crowds entertained, there's a steady flow of U2 coming from the jukebox. The bartenders/owners John and John are known by name (luckily you only have to remember one name), and they're always out making friendly conversation with the customers.
Halsted Harp
2138 N. Halsted
www.HalstedHarp.com
This Irish pub is known for its fantastic drink specials, the great menu and a few nights a week when you can hear some traditional Irish music. The menu includes plenty of authentic options like Irish cocktail sausages, Irish curry chips, Irish nachos, homemade shepherd's pie, Guinness beef stew and an Irish breakfast (perfect for dinner or brunch the next morning!) Whether you're popping in for a quick drink one afternoon, coming for a meal or ready for a great night out in Chicago, this spot should definitely be on your radar.
Timothy O'Toole's
622 N. Fairbanks
www.TimothyOTooles.com

There are many things to like about this Irish pub in Chicago. For one, they've got better prices and specials than almost anywhere in Streeterville, and since this is one of the most popular neighborhoods to spend your days, nights and holidays in Chi-town, that's a definite perk. They also boast a great bar menu that includes some Irish classics as well as your typical bar food options. The Irish nachos are a big hit, but the wings and burgers are award-winning. Some of the most popular hotels in Chicago are pretty close by, and many of them offer coupons with discounts for up to 20 percent off. O'Toole's, a popular destination for Bulls and Blackhawks games, offers a Bloody Mary and mimosa bar to go with its weekend brunch. There's a solid mix of locals and out-of-towners, so you definitely never get the feeling of walking into a tourist trap.
Emmit's Irish Pub
495 N. Milwaukee
www.Emmits.com
Located on Chicago's west side in a great neighborhood with lots to do nearby, Emmit's Pub provides fast service with lots of personality and quite a history, including serving as a bank for gangsters back in the Prohibition era and as a backdrop for various movies like Uncle Buck, Backdraft, Ocean's Eleven and U.S. Marshalls. They have the usual suspects in the beer department, along with some local Chicago brews that are well worth a try when you're not kicking back with a Guinness, Smithwicks or Magners. Don't fill up on the beers though, because they have a full menu of pub food too. Get an early start on the St. Patrick's Day celebration at the Guinness Gives Back — Paint the Town Black fundraiser on March 7. The day will be dedicated to raising funds to support local firefighters, and the free samples from the Guinness ladies don't hurt either.
Galway Arms
2442 N. Clark
www.GalwayArms.com
It's safe to say that the best thing about Galway Arms is the Irish menu. Many believe they have the best fish and chips in the city, but the Guinness beef stew and corned beef and cabbage consistently make appearances on tables throughout the restaurant. The owner and much of the staff are from Dublin, and they actually know the proper way to pour a Guinness. To combat the seasonably low temperatures around St. Patrick's Day, Galway Arms offers a variety of hot drinks to warm up a winter's day or night. When it's not so frigid, step out on the outdoor patio for some fresh air in the heart of Lincoln Park.
Fado

100 W. Grand
www.FadoIrishPub.com
This is probably the No. 1 soccer bar in Chicago, but Fado is more commonly known for having one of the best pours of Guinness around. The rustic decorations give it a genuine Irish pub feel, and you'll often catch live music entertaining the crowds. The Lost Weekend is their St. Patrick's Day event on March 16 and 17. Doors open at 8 a.m. on Saturday and 9 a.m. Sunday, with live music from Bagpipers, Nappertandy and Diver.
D4 Irish Pub & Cafe
345 E. Ohio
www.D4pub.com
A great happy-hour and late-night menu, beer selection and authentic fish and chips make this another popular choice among the Irish pubs in Chicago. But D4 is unlike most of the other options because of its modern interior, with huge glass windows and a more inventive menu with items like lobster mac & cheese and a Thai shrimp salad.
Lizz Riggs is the editor of ChicagoTraveler.com