First Look Review: Broadway in Chicago's "Evita" at the Oriental Theatre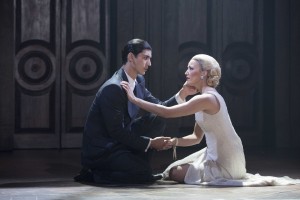 The story, in beautiful song, of Evita's life and dramatic rise to power in Argentina
By Margot Thomas
Playing at: The Oriental Theatre, Ford Center for the Performing Arts, 24 W. Randolph. www.BroadwayInChicago.com
When: Through Oct. 6, although it will likely be extended. Tuesday, Thursday and Friday at 7:30 p.m.; Wednesday, Saturday and Sunday at 2 p.m. and 7:30 p.m.
History: Based on the true story of Eva Duarte Peron, the musical Evita was first performed in 1976 with music written by Andrew Lloyd Weber. Eva was a fascinating figure in Argentine history. She lived from 1919-1952 and represented a classic rags-to-riches story as she became a political leader still remembered fondly today.
Basic storyline: This musical takes us through the life of the beloved Maria Eva Duarte becoming Evita Peron, famous political leader. The story begins with a 15-year-old, theater-loving Eva living in a small town in Argentina. With big-city aspirations, Eva persuades a tango singer from Buenos Aires to bring her back home with him.
We then witness Eva's rise in popularity as she becomes a radio star and actress. She climbs the ranks in her career by leading a scandalous lifestyle with men who can get her where she wants to be. She meets Colonel Juan Peron at a ballroom charity event to raise money for earthquake victims of a recent catastrophe in Argentina. Eva reaches the height of her power after marrying Peron, who later is elected president.
Eva is loved and powerful in the eyes of the nation's lower-class citizens, with whom she can relate because of her background as a child. She becomes "Evita" to her people, an affectionate Spanish name. Evita's health begins to decline, and her generosity to the lower class costs the Argentine government nearly all its reserves. Evita wants to run for vice president with Peron running for a second term, but her health quickly declines, leaving many of her countrymen heartbroken.
What to expect: A phenomenal performance by the lead, Caroline Bowman. She has brilliant energy, a radiating voice and is absolutely stunning. Her version of "Don't cry for me Argentina" is articulate, on point and captivating.
What stood out: Contrary to standard belief, Evita was not the "best" of people. The musical showcases her promiscuity that directly mirrored her rise in fame and ultimately brought her to power with Peron. Eva was born into a lower class and assumed these as "her people." She handed out the government's money and essentially took from the rich to give to the "descamisados." During her time as First Lady, she nearly bankrupted the country.
Final thoughts: We will see and hear more from Caroline Bowman. Her striking voice and overflowing talent on the stage prove she was born to be on Broadway. Additionally, the narrator that plays Che, Josh Young, is impressive and does an excellent job singing the story and connecting the scenes.