Adler After Dark: This monthly event at the planetarium is the perfect night out for adults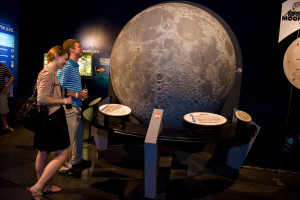 Your ads will be inserted here by
Easy Ads.
Please go to the plugin admin page to set up your ad code.
The adult-themed event provides open access to the planetarium, spectacular skyline views and unique entertainment
By Jim Luchetta
Located at: The Adler Planetarium, from 6-10 p.m. on the third Thursday of every month. www.AdlerPlanetarium.org
Background: Adler After Dark first started back in 2005, when it was called "Far-out Fridays" and was more of a family event. Now catering to adults, After Dark has been going on its current incarnation for around three years now, and has moved to the third Thursday of the month.
What to expect: Booze and science normally wouldn't mix well, but when that science can give you breathtakingly beautiful pictures of stars and other worlds, well, the cash bar just seems like a plus. Not only is most — if not all — of the Adler open, but patrons get a chance to see the stunningly detailed sky shows as well as attend talks with astronomers and astrophysicists.
Each event is tailored to a certain theme, whether festive in nature like the upcoming October show "Nightmare,"
or a more original concept like "Particle Party," which was held in September. Music, Chicago's largest public telescope, tours of the Doane Observatory and some pretty stunning views of the skyline only add to the evening.
Your ads will be inserted here by
Easy Ads.
Please go to the plugin admin page to set up your ad code.
What stood out: The sky shows. The planetarium uses the After Dark event to screen shows that wouldn't otherwise be available during normal operating hours, using this time as a testing ground of sorts.
Undiscovered Worlds is an in-depth look at some of the planets orbiting other stars. Sitting in the theater as the screen overhead jettisons you millions of light years away can make your body feel like it's really taking flight through the cosmos. Once you get to your destination, you'll get a close-up glimpse of the star and planet before the screen dive bombs you through a planet's atmosphere, putting you right on the surface of a world so hot, molten lead flows on the surface.
Welcome to the Universe is another rocket trip that takes you into deep space. This time, you are given a chance to see how big (or small) certain stars and planets are up close or from a distance. All the while, the all-encapsulating effect of the theater allows you to feel the rush of flying through space.
Final Thoughts: For $15 in advance ($20 at the door), you get to explore the whole planetarium, see as many sky shows as you like, and attend thought-provoking lectures. Alcohol is available, with beers coming in at around $5-6. Looking back on your night, you realize After Dark is one of those experiences you can have so much fun at, you may not realize until later that you've actually learned something too.
Your ads will be inserted here by
Easy Ads.
Please go to the plugin admin page to set up your ad code.