Spotlight on Vanille Patisserie: A French bakery to satisfy any craving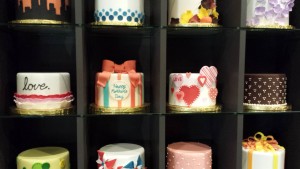 Sampling cakes, macarons, croissants and much more at this French favorite's new Chicago location
By Corey O'Day
Vanille Patisserie (pronounced vah-NEE, French for "vanilla") is an authentic French bake shop that has been present in Chicago for 10 years. They have retail locations at 2229 N. Clybourn and the Chicago French Market located inside the Ogilvie Metra Station at 131 N. Clinton. Their newest location, on Clark Street in Lincoln Park, celebrated its grand opening on Jan. 22.
Brightly lit cases display tartes, entremets (mousse cakes) and macarons in vibrant colors and diverse flavors. Most titles are listed in French, with descriptions in English, and a staff mem
ber is always nearby, eager to help you explore and understand each creation. They also have a breakfast section with muffins, croissants and sweet rolls, accompanied by coffee from a local roaster, Passion House.
I had the fortune of sampling the extraordinary "Verger Champanois" with the cheerful guidance of Roxanne, a young woman who recently moved from France to Chicago. This rich and tangy entrement contains champagne mousse, lemon-lime crémeux, red berry coulis, almond biscuit and raspberry glaze.
At least 30 different varieties of macarons are available, from delicate flavors like rose and lavender to creatively modern combinations like sugar plum and pop rocks. The best way to experience Vanille Patisserie is to see their beautiful creations in person, but some items, including gift baskets, can be ordered online.
In addition to their retail items, Vanille Patisserie does custom cake and pastry orders
for weddings and other special occasions. Soon, the team of acclaimed pastry chefs will be teaching workshops on the art of fine chocolate making, the classic French macaron and other delicious topics.
Vanille Patisserie's new location is located at 2108 N. Clark. Visit www.VanillePatisserie.com for more information.