First Look review: "Freud's Last Session" at the Mercury Theater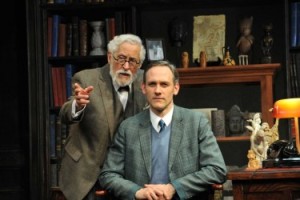 Your ads will be inserted here by
Easy Ads.
Please go to the plugin admin page to set up your ad code.
Enjoy a highly entertaining, thought-provoking conversation between intellectuals
By Kathryn Doi
Playing at: Mercury Theater, 3745 N. Southport
History: Starring notable Chicago actors Mike Nussbaum as Dr. Sigmund Freud and Coburn Goss as Professor C.S. Lewis, written by Mark St. Germain and directed by Tyler Marchant, Freud's Last Session premiered in Chicago this spring after making a successful Off Broadway run in New York City. Winner of the 2011 Off Broadway Alliance Award for Best Play, the Chicago production has received rave reviews and a Jeff Recommendation. The current show at the Mercury Theater has been extended through July 15.
Basic storyline: The concept of the play is a fictional meeting between Dr. Sigmund Freud, the father of psychoanalysis and an atheist, and professor and prolific author C.S. Lewis, who at the time had recently become a believer in God, just weeks before Freud's death in 1939.
Setting the tone for the play, upon arriving at Freud's home in London in the midst of radio broadcasts tolling the impending outbreak of World War II, Lewis asks, "Shall we postpone under the circumstances?" Freud's response: "Do you count on your tomorrows? I do not."
The highly entertaining and thought-provoking conversation between these two powerful intellectuals, which delves into topics such as sex, love, death, illness, pain, pleasure, war, relationships and, most poignantly, whether there is a God, takes place in Freud's home under constant threat of bombings.
What stood out: Despite the fact this is a 90-minute show, with no intermission, the play and its two characters were compelling and entertaining enough that I did not miss not having a break.
Your ads will be inserted here by
Easy Ads.
Please go to the plugin admin page to set up your ad code.
Nussbaum and Goss, who replaced the first set of actors from the Off-Broadway production, were pitch-perfect as Freud and Lewis. You could feel their fears, their doubts and their conviction quite convincingly. Amidst the looming prospect of war, the conversation between these two imposing scholars transforms into one of morality and mortality between two men.
The material was oftentimes heavy, but shelled out with a good deal of appropriately placed humor. Freud, in particular, has a number of excellent one-liners that broke the tension and had the audience chuckling.
Final thoughts: Even if you are not familiar with the writings or philosophy of either Freud or Lewis, or the names they toss about (Larsen, Tolkein, Darwin, Chesterton and H.G. Wells, to name a few), you will certainly be able to follow the universal themes of their discussion.
It was fascinating to be a fly on the wall during this imagined meeting between two highly intelligent minds. My friend and I left the play debating several of the topics and continued to do so at a nearby bar over a bottle of wine. We concluded that the characters made compelling arguments for both sides, and ultimately, it's your own individual belief that matters in the end.
Appropriate for a night out with friends or even with a date, this was one of the best theater experiences for me this year.
Tickets: Visit www.MercuryTheaterChicago.com for more information.
Your ads will be inserted here by
Easy Ads.
Please go to the plugin admin page to set up your ad code.