Chicago's Signature Dishes: Matilda and Kanela Breakfast Club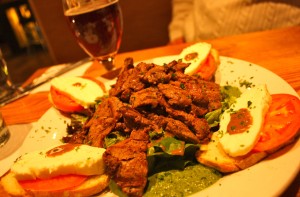 An inside look at a pair of standout dishes from two popular city establishments
Matilda

3101 N. Sheffield
www.Matilda-BabyAtlas.com
Matilda, perhaps near perfectly, was once described to me as having the best qualities of both your favorite dive bar and your favorite wine lounge. One thing it also has is a serious menu, courtesy of years of flavor experimentation by owner Kevin Abercrombie.
Delectable items abound, so make sure the taste buds are prepared for something well beyond the normal bar setting.
1.) The steak salad, for instance, is so far from run-of-the-mill that it's hard to describe its impressive balance of flavors in one paragraph. Try freshly baked honey-rosemary toast topped with fres
h mozzarella, sliced plum tomato and balsamic vinaigrette surrounding spring greens that topped with six ounces of filet mignon strips, all alongside Matilda's house-made lime-cilantro-jalapeno paste that complements the steak oh so well.
2.) Preferring to stick with the non-vegetarian path, the stuffed and stacked filet boasts another fantastic assortment of tastes that seem to effortlessly blend so well together. It's eight ounces of tender, hand-cut beef tenderloin stuffed with bleu cheese and stacked on top of a jalapeno potato pancake, grilled beefsteak tomato, and a grilled sweet onion slice. The stack's appearance is something to behold, but just try keeping your fork at bay for more than a few seconds.
— Trent Modglin
Kanela Breakfast Club
3231 N. Clark
www.KanelaCafe.com
Kanela Breakfast Club, nestled on the south end of Wrigleyville, looks small on the outside, but it has a big, fat, Greek-inspired personality within. Its roots are inflected in the menu, as well as the name, which means "cinnamon" in Greek.
1.) Head chef Nick Curtis says the organic brunch joint likes to go for unique twists on old styles. Take, for example, their French toast flight. Instead of the conventional slices of bread dipped in egg batter, chef Nick uses red velvet, lemon poppyseed, orange and banana nut as his base breads. For parties
of four or more, owner Peter Lardakis recommends this dish as a dessert. But if your sweet tooth is insatiable, the French toast flight is guaranteed to hit the spot as a main course.
2.) If you prefer savory over sweet, try Kanela's signature eggs benedict, made with slow-roasted pork belly, brussel sprouts, poached eggs, dried cranberries, a house hollandaise sauce and an English muffin. The pork is cured in jalapenos and garlic for nearly a week before it's slow cooked in duck fat. This process leaves you with something only reminiscent of bacon — a thick-cut, tender and juicy cousin of the typical Canadian slab you're used to.
— Yelena Galstyan