Signature dishes: Surf and turf lobster rolls and kettle chip lobster poutine at Da Lobsta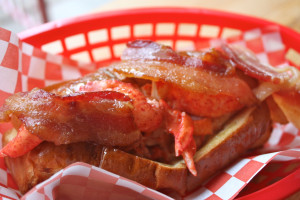 An inside look at a pair of standout menu items from popular Chicago establishments
By Trent Modglin
Da Lobsta
12 E. Cedar in the Gold Coast and 131 N. Clinton in the Chicago French Market
www.DaLobstaChicago.com
The popular New England specialty has made its way to Chicago with Da Lobsta's two locations offering a creative take on the standard lobster roll. "Chicagoans are sophisticated about food, so we were passionate about offering different creations for people who are culinary adventurers," says owner J. Wolf. Also available: clam chowder, chopped salads, lobster mac-n-cheese, lobster-crab spinach dip, etc.
Surf and turf lobster roll
Immediately upon entering, my eyes locked on to the "surf and turf" roll, and I couldn't stray from it. It's a traditional lobster roll with generous chunks of fresh, chilled lobster lightly coated with tarragon mayo and garlic butter and wedged into a perfectly toasted roll.
Oh, and then it's topped with apple-smoked and maple-glazed bacon. Combining the sweetness of the fresh lobster with the salty crispiness of the flavored bacon was an epic experience.
Kettle chip lobster poutine

One of their new sides is a unique approach to poutine — that Canadian specialty that involves French fries slathered in thick gravy. Da Lobsta's version: Taking Cape Cod potato chips, served in the bag, and topping them with shredded cheese and small chunks of lobster.
One recommendation: Don't try to share this, even with a spouse. Fighting over the rich lobster pieces when you reach for a few chips isn't fun. Go ahead, you deserve your own.