Spotlight on Bottle & Bottega: Plenty of wine, laughs and the painting of one male model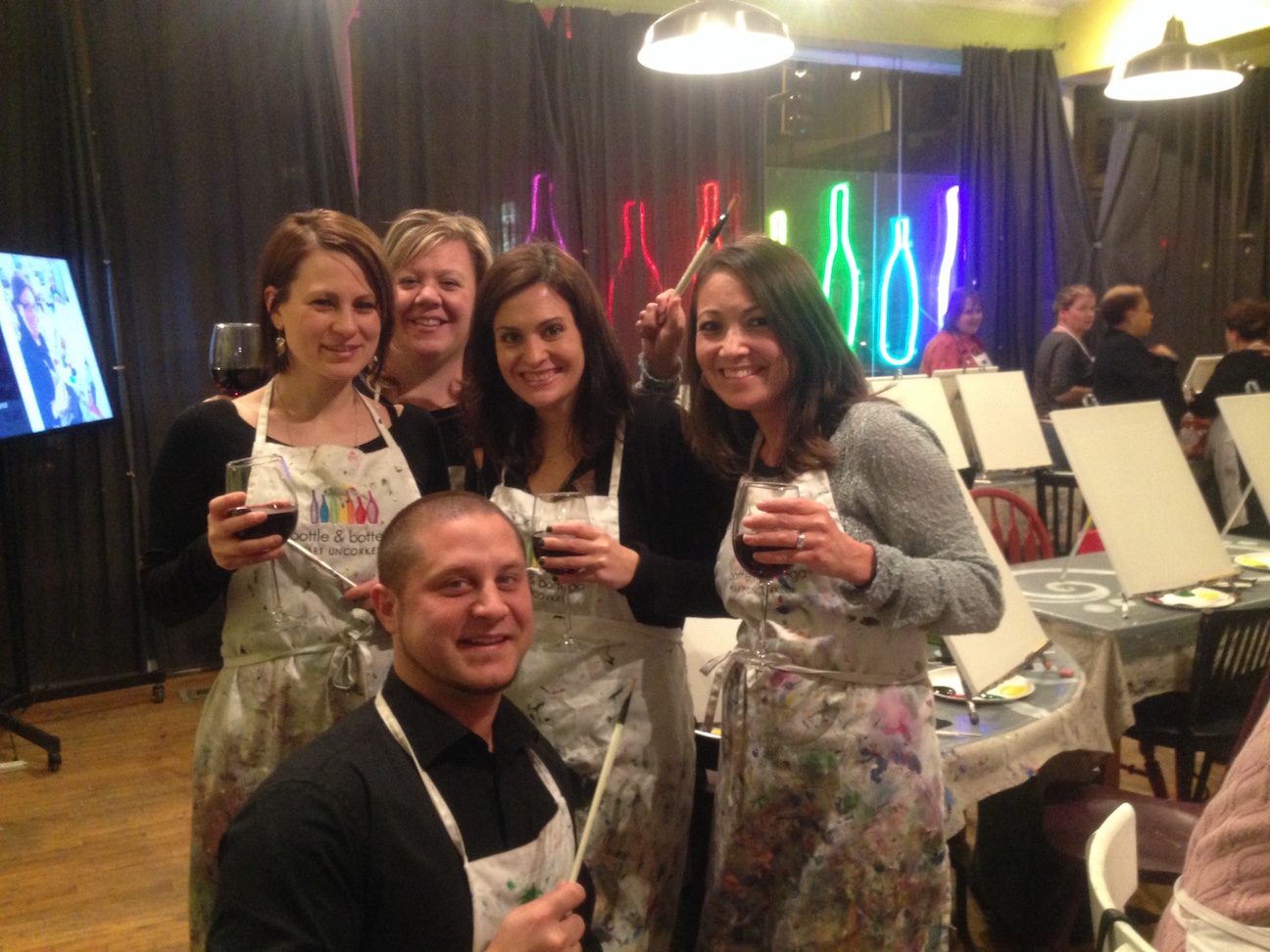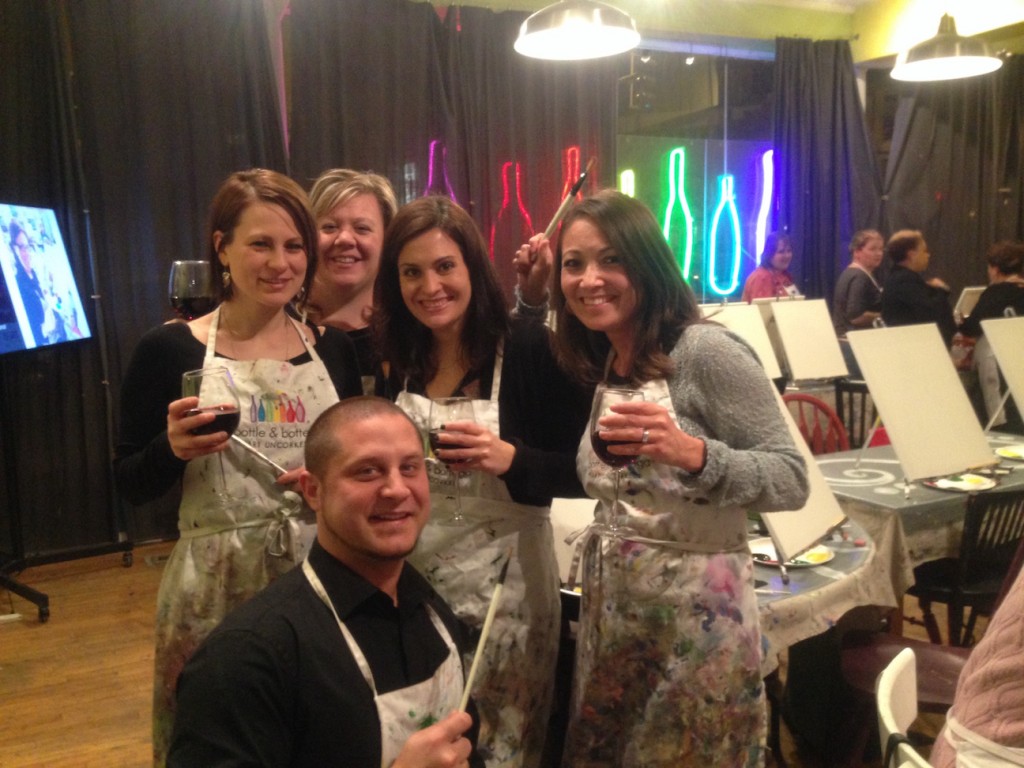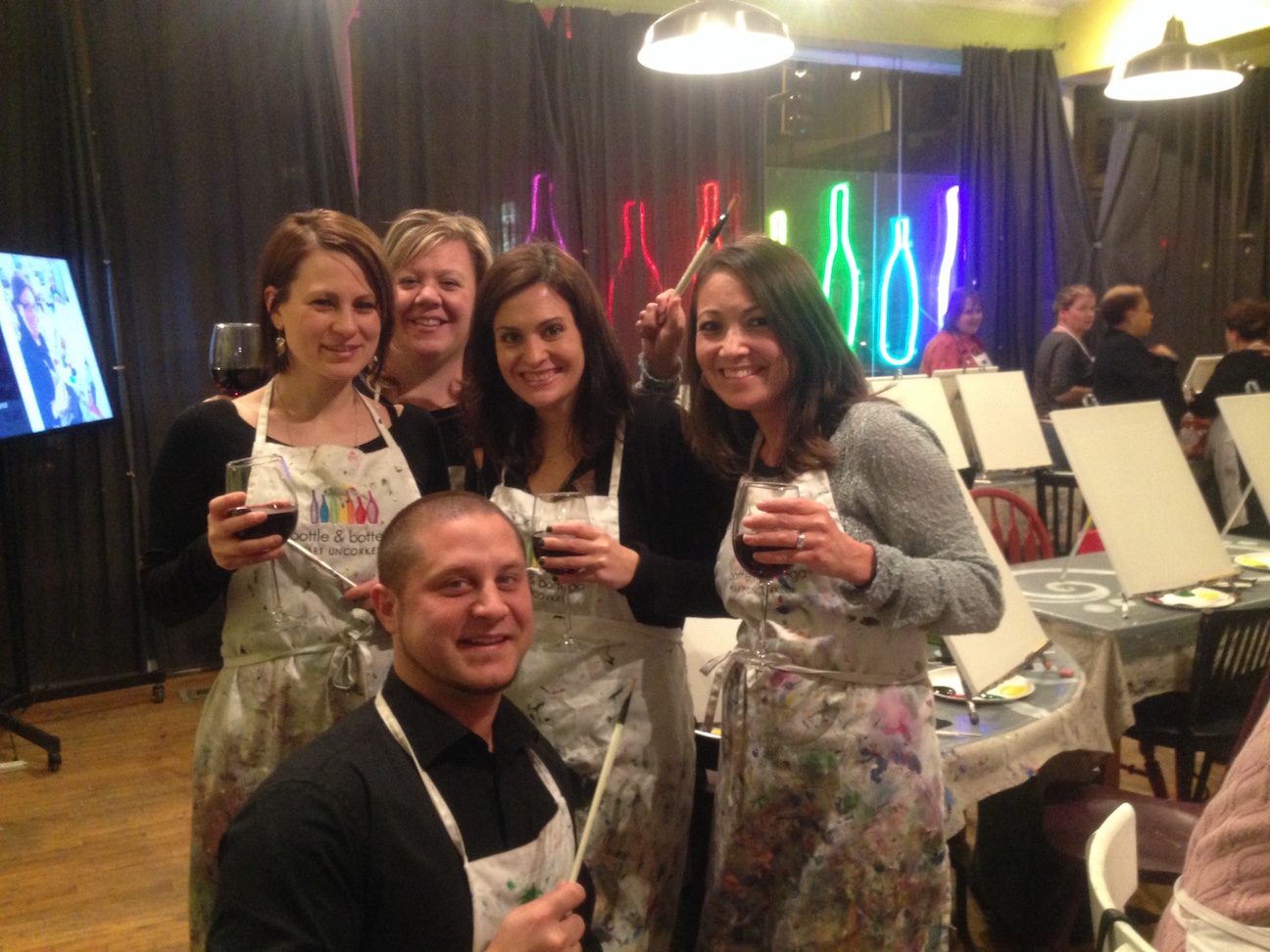 Five friends recently enjoyed a Friday "girls night" at Bottle & Bottega and offered their thoughts on the bond formed over sharing some vino, a few laughs and painting a male model.
"So Bottle & Bottega was kind of a revelation for me. Ever the child of stick men and lollipop flowers and "happy little trees," I actually stared down a real, blank canvas and drew the naked male form… and then painted him waist-deep in the island waters of my mind, all the while sharing a glass of red (followed by more glasses of red) and a lot of laughs with my dear friends.
Therein lies the beauty of this event: There are grown-up art supplies, teachers to guide you, a real person who has bravely disrobed so you can appreciate the majesty of the human body, and yet your friends, your wine and your imagination can lead you back to that child-like, fearless state of mind where you, too, are an artist, no matter what ends up on that canvas.
It's like I told my friends during my second glass, while erasing my guy's lopsided head for the fourth time: 'My creativity comes out with every bottle.'"
— Helena Oroz
"I wasn't sure what to expect when I planned a night out at Bottle & Bottega with a group of friends, but I knew I wanted to do something different. Admittedly, there was some self-imposed pressure not to draw like a kindergartener. But then after sizing up my friends, I knew I didn't have too much to worry about, and the four bottles of wine we had in tow only helped the situation.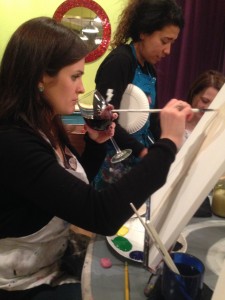 I really enjoyed the atmosphere, and the convenience of having empty wine glasses in the back with various wine openers and chill buckets. The blank canvas, paint already situated on plates for us and smocks hanging by the door, made me realize I could focus on pouring my glass of wine and socializing because everything was already taken care of.
The Bottle & Bottega staff struck a nice balance for those who were really focused on painting "correctly" by providing some instruction and guidance with a lead artist in the front to demonstrate, all while allowing and permitting everyone to be creative and do their own thing, even if that meant completely straying from the model that was on stage and drawing a porcupine. It was a fun activity where you just don't take yourself so seriously, and the conversations that resulted from our work made me realize that drinking and drawing go hand in hand. As one friend put it, 'With each glass, I become more artistic.' Although I am now the proud owner of three canvases after my slightly tipsy friends left their Michelangelo pieces behind, it still makes me giggle. Wondering if I can get a buck or two on Ebay."
— Debbie Podmore
"Walking into Bottle & Bottega with friends and a few bottles of wine was the start of a great evening. As we were guided to our seats, we quickly grabbed a few wine glasses and met the other parties (mainly ladies) around us. As the male model took stage, I quickly realized that the support from my friends (in laughing form) was not enough to create my work of art. Thankfully the girls that work there are patient and encouraging. Overall, my experience was filled with wine, friends, bellyaches and a decent painting (too much wine?)."
— Kelly Stebner
"Bottle & Bottega is an entertaining, unique girls night out. The space is well set up for your specific party size, and all you need to bring is the wine. You can take the painting as serious as you want, and even without a perfect finished project to hang on your wall, you still spend three hours in good company. Be careful, though, because the more wine you drink, the more inappropriate your artwork can become."
— Meredith Franczyk
Bottle & Bottega, Chicago's first wine and art entertainment studio, has two city (2900 N. Lincoln Ave. and 1241 S. Michigan Ave.) and six suburban locations. Visit www.BottleAndBottega.com for more information.