Four days in the city: What a visiting mother and daughter liked most about Chicago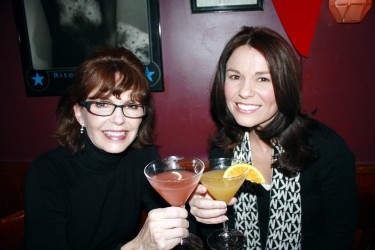 Your ads will be inserted here by
Easy Ads.
Please go to the plugin admin page to set up your ad code.
We asked a mother and daughter from Florida what they liked about spending four days in Chicago over Thanksgiving. Turns out it wasn't just the shopping
By Haley Hall
FAVORITE SHOPPING — Nordstrom's Rack and Anthropology
We love Nordstrom's Rack for their great deals on unique designer clothing. Great selection of shoes. My mom and I had so much fun in this store. It's always fun to see what the other one finds, and we shop for each other in the process. Anthropology is another of our favorite stores. Really unique housewares and clothes, and we love their belts!
FAVORITE MEAL — Quartino and 676
Quartino's food was amazing. Loved the bacon-wrapped dates, the polenta fries and the tortellini. Of course, they all went well with the
malbec we selected. The tapas-style Italian was great for sharing. We left very full and very happy. For Thanksgiving, we dined at the 676 Restaurant & Bar located on the fourth floor of the Omni hotel. We sat overlooking Michigan Ave. and enjoyed wine as we ate our five-course meal. Loved the butternut squash bisque — so good — and although we were both so full, we could not pass up the desserts. We both got the Michigan heirloom apple crisp with cinnamon ice cream and bourbon caramel. One word: yum.
FAVORITE NIGHTSPOT — The Redhead Piano Bar
The Redhead Piano Bar was a lot of fun. Great martinis and a comfortable, chill environment. The piano players were good and got the crowd involved. We went on a Friday night, and the place was jammed. Everyone seemed to be having a great time, including us!
FAVORITE TOURIST STOP — Millennium Park and The Bean
Your ads will be inserted here by
Easy Ads.
Please go to the plugin admin page to set up your ad code.
We walked around Millennium Park and saw the ice-skating rink and the amazing outdoor pavilion. We then came across "The Bean," a very large, shiny object in the middle of the park. The cool thing about it is that you can see your reflection, as well as the Chicago skyline in the background, which makes for a fun photo.
FAVORITE EXPERIENCE — Tea at the Drake Hotel
This was such a unique and fun experience. We arrived at the famous Drake Hotel with reservations for their English tea at 11 a.m. The hotel
is very ornate and gives off a feel of English royalty. We were seated at a table and asked to choose from a large variety of teas. I selected the Bombay chai, and my mother had the caramel pear. Both were very good. They then brought stacked plates of scones, breads, finger sandwiches and miniature desserts — all wonderful. We sipped our tea (with our pinkies out), listened to the beautiful live harp music and talked about our trip. The staff was extremely friendly and attentive.
FAVORITE GUILTY PLEASURE — Garrett's popcorn
When we arrived in Chicago, one of the top recommendations was to not to miss out on a bag of Chicago-style Garrett's popcorn, which is cheesy corn and caramel corn mixed together. It might not sound like they should go together, but trust me, they do. We walked to Garrett's in the rain, only to find a line of at least 20 people wrapped outside the building, standing in the rain. A friendly Garrett's employee passed out complimentary rain ponchos to future customers in line who were forced to smell the amazing aromas coming out each time the door opened. They've got it down to a science, and the line went quickly. Great gift to bring home to friends.
WHAT DID YOU MISS OUT ON?
Of course, on the next trip we want to venture out to explore Lincoln Park and some other neighborhoods. And going up to the top of the Hancock. Really looking forward to the view and tasting one of their famous cocktails. And dining at The Publican and the ever-popular Girl and the Goat. We're determined to get a reservation!
Your ads will be inserted here by
Easy Ads.
Please go to the plugin admin page to set up your ad code.