Good Eats at Big Star: Tasty, inexpensive Mexican fare from Paul Kahan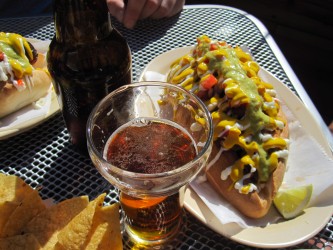 Enjoy some amazingly affordable Mexican grub at chef Paul Kahan's latest venture
By Nicole Weddington

Location: 1531 N. Damen Ave.
www.BigStarChicago.com
Hours: Sun-Fri: 11:30 a.m.-2 a.m., Sat: 11:30 a.m. to 3 a.m.
The scene: If you've been looking for a great place with amazing drinks and tasty but inexpensive food, look no further. Big Star in Wicker Park will have you at first taste. The trendy South­west-themed bar/restaurant attempts to embody the spirit of
Depression-era migration that cre­ated rare unions of people and purpose in a city that was transformed by music. The spacious outdoor patio has tables in the sun and the shade, and it offers beautiful twinkling lights at night. The scene consists of mostly 20-to-40-something locals, and the servers get to express their own style in this uniform-free environment.
The food: It's no surprise that Big Star is such a success with heavy hitter Paul Kahan (also of Blackbird, Avec and Publican fame) as the executive chef and owner and Justin Large as the chef de cuisine. The food menu ranges in price from just $3 to $9 and never disappoints. The slow-roasted pork and chicken thigh used in their tacos is so flavorful you won't need any other seasonings or sauces. Their taco de pescado is the perfect amount of crunchy, and the cilantro and cabbage are always fresh and delicious. But perhaps the most inter­esting item on the menu is their Sonoran hot dog. One bite of this huge bacon-wrapped hot dog stacked with onions, pinto beans, hot sauce and lime mayo will convince you that reaching for the fork is probably a good idea.
The booze: Big Star has an extensive collec­tion of whiskeys and ryes and offers a daily $3 whiskey shot. Their micheladas, chiladas and margaritas are the best we've had and an instant hangover cure. The specialty cocktails are amaz­ing, but you have to be patient. It might take longer for your cocktail than for your food because each drink is mixed with care. I recommend la paloma, a twist on a salty dog except made with tequila and Mexican Fresca. The bar also boasts an extensive collection of craft beer and frequently allows tap take-overs with local breweries.
We'll be back because… it's the place to be in Wicker Park, and the staff is awesome. You can see that the employees really love their jobs, and when the employees are happy, it rubs off on the guests. The food and drinks are amaz­ing, and the food always comes out quickly. It's cheap, too! You can spend several hours there and leave with a great buzz and a full belly.