Chicago Riverwalk: Spend a few hours — or a full day — at this popular pathway for locals and tourists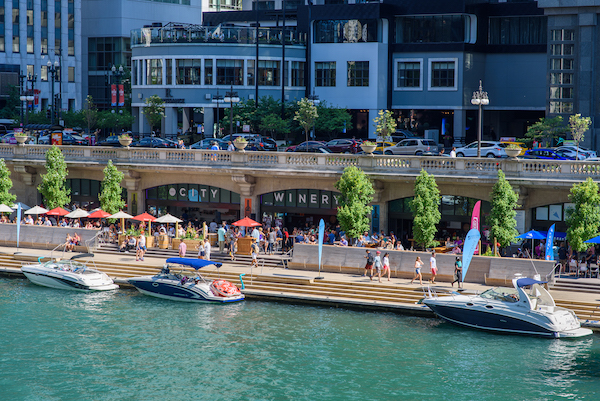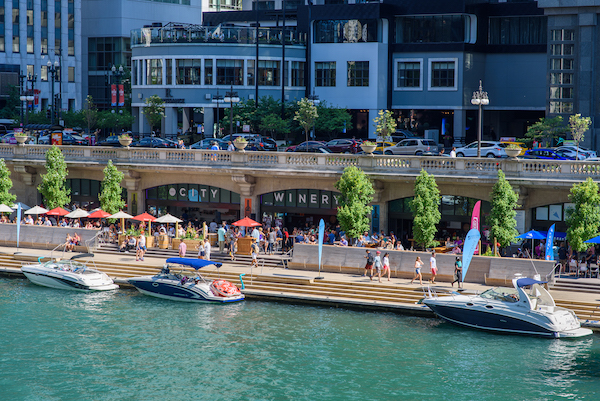 By Trent Modglin
If you didn't know it was there, you could easily miss it.
But if you traverse down a flight of stairs to discover the vast possibilities, quietly nestled just below the bustling city, you may spend an entire day in its grasp.
The Chicago Riverwalk is a winding, open-air 1.25-mile pathway located on the south bank of the main branch of the Chicago River, running from Lake Shore Drive to Franklin Street, essentially connecting the lakefront with the heart of downtown. In the works for more than a decade, it's a seamless blend of city energy and outdoor living that officially opened in 2015 and has been a popular playground for locals and tourists ever since.
Wherever you go to grab a bite or a drink along the Riverwalk, watching the parade of boats and people passing by as the city sounds disappear is intoxicating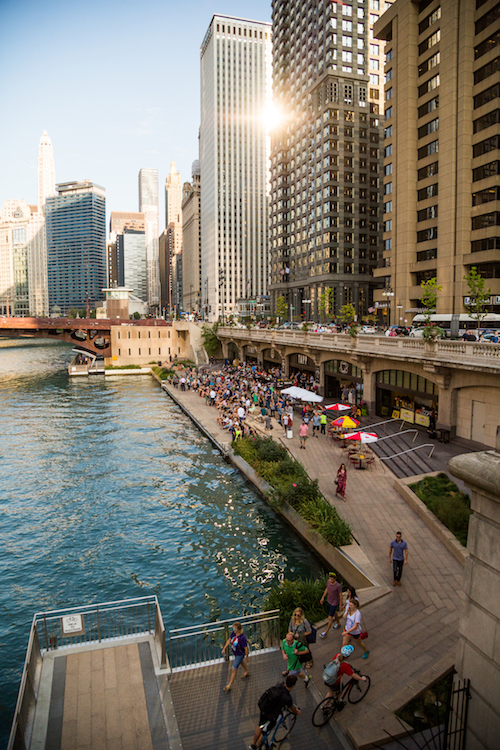 in itself.
City Winery, already with a popular, sprawling restaurant and bar in the West Loop, added a second location along the Riverwalk (11 W. Riverwalk South), providing locally made wine served through a unique tapping system.
Craft beer afficianados were pleased to see the additions of the Chicago Brewhouse (31-35 E. Riverwalk South) and The Northman (233 E. Riverwalk), a local hotspot for ciders, this year.
Tiny Tapp (55 W. Riverwalk South) has a great signature craft cocktail concept and tasty sandwiches, while the Tiny Café next door features locally roasted coffee, fresh-baked pastries and ice cream. O'Brien's, a longtime staple in Old Town, serves up American pub fare and a nice selection of beer, wine and cocktails (45 E. Riverwalk South).
Want to feel like you're on a vacation within your vacation? Head to Island Party Hut (355 E. Riverwalk) for a Polynesian/Caribbean escape. You can even hop on a floating tiki bar to take the fun out onto the water.
For a cold treat, swing by Frost Gelato to enjoy a rotation of handcrafted flavors served from an old-fashioned gelato cart.
To tap into a little history of the river itself, head to the McCormick Bridgehouse & Chicago River Museum to experience not only a landmark bridgehouse and the inner-workings of Chicago's massive bridge system, but also an unparalleled view of the city. BridgehouseMuseum.org
Feeling a bit more active? You can take a tour with Mercury, Chicago's Skyline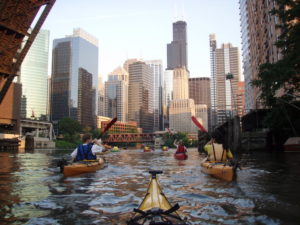 Cruiseline or paddle at your own pace with Kayak Chicago.
Want to bounce around between a handful of landmarks including Navy Pier, the Willis Tower and Museum Campus? There's absolutely no need to battle our infamous potholes or the traffic downtown when you can conveniently cruise down the lakefront or the Chicago River in style on one of Shoreline Sightseeing's six water taxis. Save time and the headache — and get a few great photos along the way. ShorelineSightseeing.com
Warning, however: Expect to spend more time than you anticipate along the sparkling new Riverwalk. It has a way of making you not be in a rush to be anywhere else. ChicagoRiverwalk.US