The Big City Blog: Scouting some of the more tempting fall treats Chicago has to offer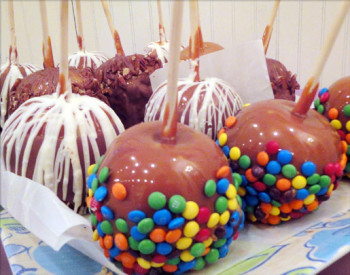 By Maddy Bourque
Caramel apples at Sweet Mandy B's
1208 W. Webster
www.SweetMandyBs.com
Taffy Apples are an autumn staple, and Sweet Mandy B's has plenty of them. As part of their fall menu, the Lincoln Park bakery offers traditional caramel-covered apples, as well as apples dipped in chocolate, nuts or M&Ms. They even offer a caramel apple-flavored cake to spice up the traditional fall dessert.
Rotating donuts at Do-Rite Donuts
50 W. Randolph
www.DoRiteDonuts.com
Do-Rite Donuts embraces both the sweet and savory flavors of fall with their rotating daily donut menu. Specials include a candied maple-bacon cruller, Michigan apple fritter, carrot cake donut, and for those who can't decide between breakfast or lunch, a fried chicken donut sandwich. Do-Rite sells donuts daily beginning at 6 a.m., offering daily specials as well as gluten-free and vegan alternatives of their best sellers.
Pumpkin Beer Festival at Franklin Tap
325 S. Franklin
www.FranklinTap.com
Throughout the month of October, the Loop's Franklin Tap will feature a variety of pumpkin craft brews. Options include Anderson Valley Fall Hornin', Lakefront Pumpkin Lager, New Belgium Pumpkick, Dogfish Head Punkin Ale and Southern Tier Pumpking. Each brew costs $6-$7, and a portion of the proceeds will go to The Lynn Sage Foundation in recognition of Breast Cancer Awareness Month.
Black Cat milkshake at Intelligentsia

2642 N. Milwaukee
www.IntelligentsiaCoffee.com
Intelligentsia's newest menu addition, the Black Cat milkshake, combines the sweetness of ice cream with the buzz of espresso. The shake includes two shots of their Black Cat Classic with 10.5 ounces of Jeni's sweet cream ice cream. The cozy beverage is currently only available at Intelligentsia's Logan Square store, but is expected to arrive at additional locations soon.
Gingersnap Trainwreck at Star Lounge
2521 W. Chicago
www.StarLoungeCoffee.com
Need an alternative to the pumpkin spice latte? Star Lounge's seasonal coffee drink, the Gingersnap Trainwreck, holds an authentic fall spice through its combination of ginger, cinnamon and cayenne. As the name suggests, this latte represents yet another wild blend that the West Town coffee shop has become known for.
Pumpkin Spice CaramelCrisp at Garrett's Popcorn
Multiple locations
www.GarrettPopcorn.com
During the month of October, Chicago favorite Garrett's Popcorn brings back their fall tradition: Pumpkin Spice CaramelCrisp popcorn. The seasonal flavor can also be purchased in a specialty pink tin with 10 percent of sales being donated as an initiative to support Breast Cancer Awareness Month.
Truffle-topped dishes at Siena Tavern
51 W. Kinzie
www.SiennaTavern.com
Siena Tavern celebrates harvest season with an entire week of truffle-topped dishes. Specials include truffle pizza, truffle gelato and fluke crudo with truffled peach. For guests who want to truly enjoy all of the truffles this fall has to offer, Siena Tavern even has a six-course, truffle-filled tasting dinner.
Oktoberfest dinner at Prost
2566 N. Lincoln
www.ProstChicago.com
Prost, a German pub in Lincoln Park, celebrates Oktoberfest for an entire month with an array of weekly events. Each Wednesday, the bar features its favorite Oktoberfest beers, following with a Thursday-night dinner of traditional German cuisine.