The Big City Blog: Chicago Halloween and holiday events, wine dinners and lots of snakes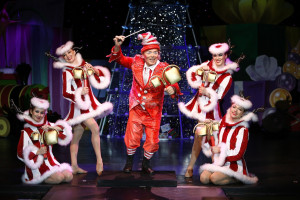 Your ads will be inserted here by
Easy Ads.
Please go to the plugin admin page to set up your ad code.
By Scott Hartge
Franklin Tap throws Dogfish Head seasonal brew tasting Oct. 23
On Thursday, Oct. 23 from 5-7 p.m., reps from Delaware's Dogfish Head Craft Brewery will be giving out samples of their seasonal Punkin Ale. The beer is brewed with pumpkin meat, brown sugar and spices that come together for a full-bodied experience. Full dining will also be available.
Franklin Tap is located at 325 S. Franklin.
Chicago's Cultural Center hosts Halloween festival Oct. 23-26
From Oct. 23-26, The Chicago Cultural Center will host a big and spooky Halloween party for the whole family. The festival includes a midnight circus, ghost tours, trick-or-treating and much more. Admission is free for everyone.
For a schedule of events, visit www.chicagoween.us
Seventh annual Supper with the Snakes at the Nature Museum Oct. 24
On Friday, Oct. 24, the Peggy Notebaert Nature Museum will provide guests with dinner, snake-themed activities and snake viewings. Museum biologists will also be present to introduce families to eight different species of snakes.
For more information on Supper with the Snakes, visit www.NatureMuseum.org
Tony-winner Duncan Sheik at City Winery Oct. 30
Winner of eight Tony Awards for his music in the Broadway hit Spring Awakening, Duncan Sheik will take the stage at Chicago's City Winery (1200 W. Randolph) on Oct. 30. He will be performing songs from his prolific seven-album career.
Tickets can be purchased at www.CityWinery.com/Chicago/
Fleming's holds exclusive Halloween wine tasting Oct. 31
On Oct. 31 at 6:30 p.m., Fleming's will host its own Halloween party featuring wines from around the world and a selection of hors d'oeuvres. The night costs $35 per guest.
Fleming's is located at 25 E. Ohio. Call 312-329-9463 for reservations.
Your ads will be inserted here by
Easy Ads.
Please go to the plugin admin page to set up your ad code.
Geja's Café holds Luna Vineyards Winemaker Dinner Nov. 3
This romantic favorite will hold its Lunda Vineyards Winemaker Dinner on Nov. 3 at 6:30 p.m. The best wines from Napa Valley will be served with a four-course meal, including beef tenderloin and fondue. Dinner is $55 per person.
Geja's is located at 340 W. Armitage.
Hubbard Inn's November "Cocktails and Cuisine Dinner" Nov. 5
Don Julio Tequila will be the theme at Hubbard Inn on Wednesday, Nov. 5. From 7-9 p.m., guests will enjoy a four-course dinner with each portion complemented by a different Don Julio drink.
Hubbard Inn is located at 110 W. Hubbard. For reservations call 312-560-9211.
Cirque Dreams returns for holiday stage extravaganza Dec. 17-21 
From Dec. 17-21, Cirque Dreams will put on its critically acclaimed holiday bash, Cirque Dreams Holidaze, at the Chicago Theatre (175 N. State). Holidaze features more than 300 costumes, 20 acts and 30 artists from all around the world. Performances will capture the holiday excitement for viewers of all ages.
Tickets can be purchased at www.Ticketmaster.com
New Year's Eve Monster's Ball comes back to Stage 773
Due to popular demand, Stage 773 in Lakeview will hold the New Year's Eve Monster's Ball once again on Dec. 31 from 9 p.m.-1 a.m. All four stages of 773 will include scary/creepy activities for guests, including a zombie-band performance, haunted theater tour and dead dance party.
Starting at just $70 per person and $120 per couple, the Monster's Ball will feature unlimited specialty drinks and diabolically delicious appetizers.
Stage 773 is located at 1225 W. Belmont. Tickets can be purchased at www.Stage773 .com
Beermiscuous, the craft beer café, opens in Lincoln Park
Beermiscuous takes aim to satisfy any beer enthusiast. The new craft beer café has a selection from more than 30 Chicagoland breweries, offering 130 different beers from which to choose.
Beermiscuous is located at 2812 N. Lincoln Ave.
Your ads will be inserted here by
Easy Ads.
Please go to the plugin admin page to set up your ad code.