The Local Corner: Exploring the Division and Wood intersection in Chicago's Ukranian Village neighborhood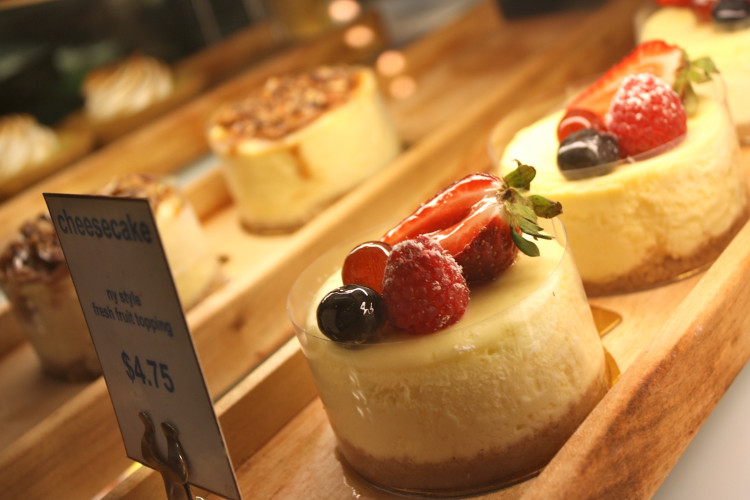 Exploring Chicago's neighborhoods one intersection at a time
Division and Wood in Ukranian Village
By Trent Modglin
Alliance Bakery
1736 W. Division
www.Alliance-Bakery.com
Under the guidance of chef Peter Rios, who previously served as the executive pastry chef at the Fairmont Hotel, Sofitel Hotel and Art Institute of Chicago, Alliance features fine European pastries and desserts, custom-designed cakes to suit any occasion, and a full espresso bar.
After choosing a decadent piece of fruit-topped cheesecake, a few salted caramel macaroons and a red velvet cupcake with raspberry filling and Italian buttercream frosting, we walked away with smiles on our faces, our sweet tooth satisfied and not an ounce of regret.
Bahn Mi
1740 W. Division
www.BahnMiAndCo.com
A popular eatery with five locations in Chicago, Bahn Mi specializes in Vietnamese street food. Named after a sandwich made with meat or tofu and then topped with pickled carrots, radishes and cucumber and served on a baguette roll, Bahn Mi offers spring rolls, soups and salads in addition to their mildly famous sandwiches.
With a quick and casual approach, it's an ideal spot to grab an easy lunch or a post-bar snack. We recommend the barbecue pork sandwich, curry seitan noodle salad with peanut sauce, and the shrimp spring rolls. And if the weather suits you, grab a table outside and enjoy the Division scenery.
"We were feeling nostalgic about a recent trip to Vietnam, so we stopped by and fell in love with the place," offers Meghan Johnson. "Friendly staff, tasty food and it feels authentic."
Trillium
1744 W. Division

www.TrilliumChicago.com
Owner Erica Cook has worked in boutiques since she was a teenager, always dreaming of owning her own. The dream became reality in 2010, and while Trillium specializes in women's clothing, they carry a small selection of jewelry, handbags, shoes and home goods as well.
Patrons we spoke with admire the attentiveness of the staff and the fact Trillium carries brands that not only fit every occasion, but also aren't readily available all over town.
"We specialize in contemporary brands, some well-known, some up and coming," Cook says, adding that Whit, 194t and Le Mont St. Michel are a few store favorites. "We like classic pieces with an on-trend twist, and with our broad range of price points, there is something for everyone."
Caffe Streets
1750 W. Division

www.CaffeStreets.com
At this modern, friendly coffee shop, you have your choice of sharing space at the long, communal tables or secluding yourself at a smaller table to concentrate on those emails or do some reading. Huge floor-to-elevated-ceiling windows are great for people-watching on busy Division Street, and modern light fixtures, two-toned wood walls, lots of outdoor space and eclectic, upbeat music balance out the atmosphere.
The staff at Caffe Streets takes its ingredients seriously, as flavored syrups are all made by hand and the chai is created with their own blend of spices. We enjoyed an iced vanilla latte, flaky homemade croissants and a bacon parmesan chive scone.
"I think it's easy for coffee shops to just set themselves up for study spaces or work spaces," says manager Scott Southland. "We're here for you if you want to do that, but we really strive to promote that whole social aspect."
And when you see how many customers know each other, sharing a laugh over herbal tea or a cappuccino, you realize he's onto something.
Smoke Daddy
1804 W. Division

www.TheSmokeDaddy.com
Ask any experienced Chicagoan for a short list of the elite barbecue spots in the city, and Smoke Daddy is sure to be on it. With several TV appearances under its belt, Smoke Daddy places an emphasis on "the experience," and free live music seven nights a week, an outdoor patio, regular tasting events and busy brunches all play a role.
"We basically keep the preparation for all of our meats really simple, which I believe is the key to our success," says manager Bonni Cameron. "We've been around for 20 years and continue to grow while using the same recipes we've always used."
Example: Ribs are smoked for eight hours before moving to the grill for a basting with homemade sauce until slightly caramelized.
We were tempted into ordering the pulled-pork nacho appetizer — a loaded portion large enough for a meal. For the main course, I couldn't pass up the Smoke Daddy platter, which included a rack of ribs and choice of two smoked meats (I went with brisket and the crispy burnt ends) and two sides (crunchy coleslaw and some creamy mac-n-cheese). The only thing better than having dinner here is taking home enough leftovers for lunch the next day too.
Moonshine
1824 W. Division

www.MoonshineChicago.com
"We're a staple of this neighborhood," says manager Meaghan O'Neal. "We've been around for 14 years, and I think people can count on us. We're comfortable."
This is definitely a weekend destination. For brunches, it's more family-friendly. At nighttime, Moonshine "provides a fun, exciting atmosphere that doesn't carry the pretension of a club," O'Neal adds. "A place where people can eat, drink, dance and have a good time."
At Moonshine, they're known for their fajitas, thin-crust pizzas and applewood-smoked bacon burger. And, given the name, you can be assured they know their way around a bottle of booze — a huge collection of whiskey, bourbon and scotch awaits, as well as an incredible 13 different flavors of moonshine.
Other favorites near Division and Wood…
Mad Style
1754 W. Division
www.Mad-Style.com
Fashion for men and women that transcends all lifestyles.
Gold Star Bar
1755 W. Division
The quintessential Chicago dive bar, complete with cheap drinks, free pool table and wide-ranging juke box.
Frill
1747 W. Division
www.FrillAccessories.com
Fun, quaint boutique loaded with jewelry and accessories.
Ruby Room
1743 W. Division
www.RubyRoom.com
Spa and salon offering healing services and products designed to promote beauty from the inside out.