Shop Around the Corner: Plenty of designer brands to go around at Luxury Garage Sale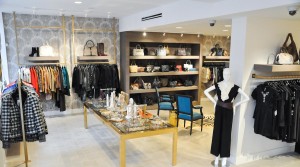 Luxury Garage Sale
1658 N. Wells
www.LuxuryGarageSale.com
By Clare Edlund
What the name of the store suggests is pretty accurate — high-quality new and gently used merchandise, with the best designer brands like Luis Vuitton, Chanel and Valentino readily available. The vast assortment of women's clothing, jewelry and purses is impressively organized by color, style and design.
The staff at Luxury Garage Sale is quite selective in regard to what products are brought in (with a 65-percent cut going to sellers), and it's a stellar display of dresses, jackets, skirts, shoes, necklaces, handbags, etc.
"Luxury Garage Sale gears toward a little bit of everything — there's something for everyone, whether it be a woman in her 20s looking for her first designer bag to a professional woman looking for a deal on a Chanel bag," says Sarah Saddemi, a business developer for the store.
Before the Old Town boutique opened in November 2012, Luxury Garage Sale began online and with pop-up shops. The owners, Lindsay Segal and Brielle Buchberg, are childhood friends who combined backgrounds in fashion and design with experience selling on eBay.
"We like things that stand out," says Saddemi. "We love embellishment, and we pride ourselves on our collections. … (Our regulars) never know what's going to come."