Chicago Insider: Luis Torres on J. Rocco and Bottlefork, Blackhawks games at Municipal and martinis at Brando's Speakeasy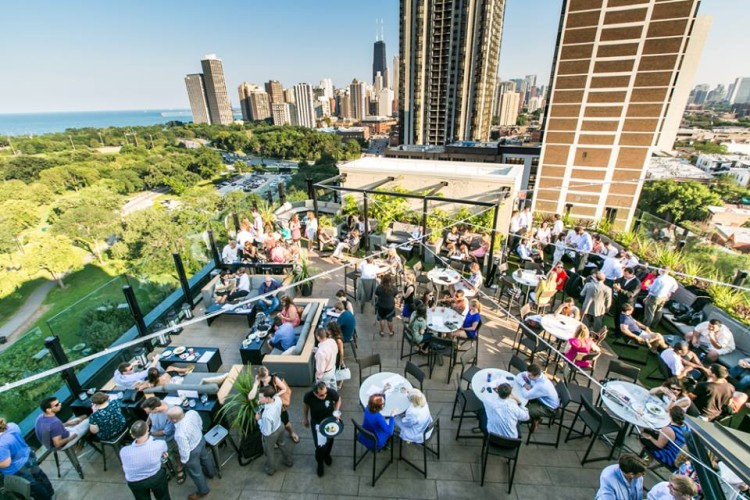 Your ads will be inserted here by
Easy Ads.
Please go to the plugin admin page to set up your ad code.
Name: Luis D. Torres
Occupation: Concierge at the W Chicago Lakeshore
How long you've lived here: Some 30-plus years or so.
What you like best about Chicago: The culinary scene. It's so unique, broad and diverse … and still growing.
Best meal you've had recently: A toss up between the roasted chicken, spinach and goat cheese pizza and the lamb, pork, chicken and beef meatballs — both at J. Rocco Italian Table. Everything tasted so unique, and talk about different flavors. They are definitely doing something amazing over there. Honorable mention would be Bottlefork's wood-grilled ground bacon burger.
Favorite big-name restaurant: This has to be the toughest question on here. I'm not sure if it's still considered a hidden gem, but it's my big name considering it was created by the former Sushi Wabi team: Sushi Dokku in the West Loop has some of the freshest and top-quality fish on the market. Aside from the sushi, the grilled octopus is some of the best I've ever tasted. The excellent service and presentation make it an elite establishment in my book. It's the total package.
Favorite "hidden gem" restaurant: Sono Wood Fired. Chef John McLean's outstanding dishes pack bold flavors. From the pastas to the scallops, wood-fired pizzas and everything in between. However, the roasted poultry with the lemon rosemary garlic marinade takes the grand prize here. It comes with thick-cut potato fries, which are seasoned to perfection as well. This dish is a must. Wash it down with a craft beer or a glass of one of the 80 wines they offer. They also have some soft live music during the week, which makes it a perfect date spot.
Best sports bar to catch the game: This was tough, but I have to go with Municipal Bar & Dining Co. Plenty of TVs everywhere. Great ambiance, especially when the Blackhawks score a goal. Sirens and flashing lights will go off in celebration, adding to the already lively atmosphere. It also serves up one pretty exquisite lobster roll.
Your ads will be inserted here by
Easy Ads.
Please go to the plugin admin page to set up your ad code.
A great night out with friends usually includes… a drink at a rooftop to take in the city's beautiful scenery. Epic Sky, Drumbar, J. Parker and I/O Urban Roofscape are great places for this. The night wouldn't be complete without some of the great mixology going on at prohibition-themed Untitled while getting down on the dance floor. Their DJ lineup brings the hits and has something for everybody.
Favorite store or best shopping area: Wicker Park, with West Town trailing slightly behind. A lot of new, independent and vintage shops keep opening at a rapid pace. You will positively buy something that is truly one of a kind at some of these shops. Independent designers are making their trends known in these neighborhoods.
The best way to spend a fall Saturday in the city: We had a long winter, and in fall it's not as humid, but brisk enough to enjoy a nice bike ride along the lake before winter rears its ugly face again. It's a great way to take in our beautiful skyline and the summer's last firework shows from Navy Pier. Enjoy the show while you grab a couple of cocktails at Caffe Oliva, located right on Ohio Street Beach.
One thing every visitor must do here: Visit a comedy club, whether it is an improv show at Second City or stand-up at The Comedy Bar, Zanies or the Laugh Factory. Chicago is filled with great comedians that are very talented and witty. Who doesn't like a good, healthy laugh? I sure do.
Secret Chicago spot: Brando's Speakeasy is my secret spot. Well, maybe not anymore after this interview. It's small and swanky, yet inviting. It's a speakeasy bar/lounge that also hosts karaoke nights in a low-lit setting. The martinis are killer, the vibe is fun, and being located in the Loop makes it more relaxing as opposed to all the other stuffy and crowded places throughout the city.
Underrated activity in the city: The Million Dollar Quartet show at the Apollo Theater. It's currently on an open run and one of the best musicals you will see. Each of the performers has perfected their roles with precision, and the music will take you back to the golden years of rock 'n' roll.
What's one place you hear great things about but have yet to try? I've heard so many things about Fig & Olive, and it is definitely on my radar.
Your ads will be inserted here by
Easy Ads.
Please go to the plugin admin page to set up your ad code.