First Look review: Going inside the "David Bowie Is" exhibit at the Museum of Contemporary Art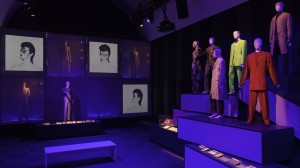 By Scott Hartge
Location: Chicago's Museum of Contemporary Art, 220 E. Chicago Ave. www.MCAChicago.org
Background: Through January 2015, Chicago is lucky enough to be the only U.S. destination to host the extraordinary David Bowie Is exhibit. Museum visitors can get an inside look at one of the most influential and revolutionary artists in music history.
What to expect: The exhibit explores Bowie's interesting and diverse career from its early beginnings to now. Audio headsets triggered by what viewers are looking at help to immerse you in everything Bowie. Each room highlights a specific period in his career, with various items from those points in time including lyrics sheets, outfits and art that was either created by him or influential to him.
At the outset of the exhibit, attendees come face to face with Bowie's most iconic outfit — the black-and-white-striped body suit worn during his Aladdin Sane period, created by Japanese designer Kansai Yamamoto. Shortly after the first room that displays various items from his childhood, the exhibit quickly delves into the theatrical aspects of his art, beginning with his alter ego/album Ziggy Stardust. After that, the exhibit really blossoms, much like his career.
Rooms are organized chronologically and provide detailed stories and various pieces from those given time periods. For example, numerous items relating to the Apollo 11 moon landing and the movie 2001: A Space Odyssey are displayed due to their influence on Bowie's 1969 hit single, "Space Oddity."
What stood out: It's hard to pick out the highlights from the exhibit when everything in it is so timeless. The sheer quantity of costumes and outfits on display throughout the exhibit is certainly a highligh
t. His costumes were glamorous and fashionable — and as equally important to him as his music. Sketches of his outfits for certain tours are shown as well, which really give an insightful view into the process of design.
Even rabid fans can learn a surprising amount about Bowie, like his career as an actor. A small red room contains a screening of various scenes from movies and plays that he was in, including The Man Who Fell to Earth and his lead in The Elephant Man.
Another fantastic section of the exhibit is a room with three walls that show concert footage and various pictures. Attendees seemed to gather and remain in this room the longest to watch his awe-inspiring performances.
Final thoughts: The David Bowie Is exhibit is a dense and satisfying experience focused one of rock's most innovative artists. What I took from the exhibit is not just the gratification of being able to see legendary lyric sheets or head-turning costumes, but a new appreciation for the way David Bowie absorbed everything around him to influence his art and life.