Inside Scoop: Concerts and movies in Millennium Park, the Marvel Experience and busy Tuesdays at the MCA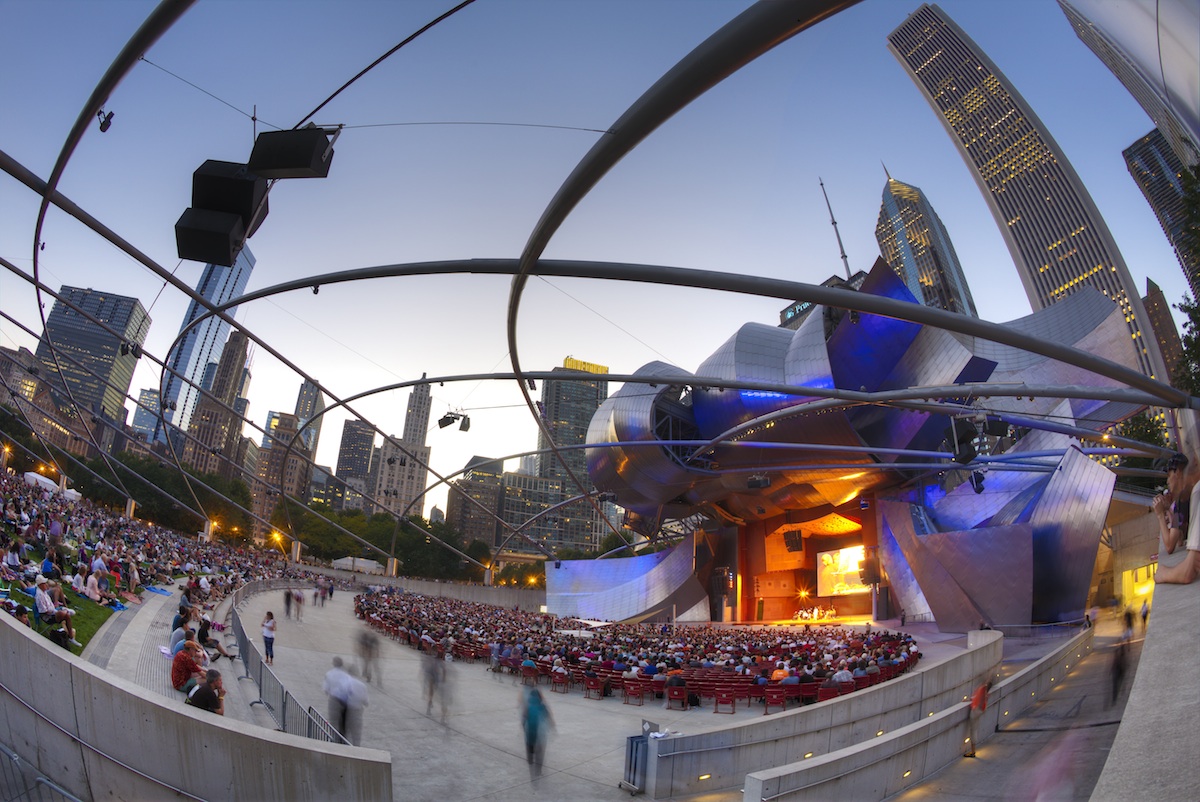 Learn what's hot and what's happening in Chicago this summer
Millennium Park events
Workout classes
Trying to find an affordable gym? Looking to get in weekend workout while visiting this summer? Like waking up with the sun for a little tai chi? The Chicago Department of Cultural Affairs and Special Events will host Saturday morning workout classes this summer. There will also be Wednesday yoga classes. The classes are free and will be held on the Great Lawn at Millennium Park. Instructors from various Chicago-area gyms will be teaching tai chi, yoga, Pilates, and Zumba.
Downtown Sound
Spending a weekday evening in the park, listening to live music with friends or family is the perfect picture of summer. Just your luck, Downtown Sound has been expanded this year. There are 16 free concerts scheduled this summer at Millennium Park, including a wide variety of genres.
Almost all of the concerts have an opener and a headliner, meaning more music and more variety. World music, rock, pop, jazz and everything in between. Concerts are held at 6:30 p.m. Mondays and Thursdays through July 23. Seating opens at 5:30.
— Emily Clement
Millennium Park Film Series
The park will showcase its summer film series for a third year with a dozen films. From June 23-Sept. 1, bring the family to camp out on the Great Lawn every Tuesday at 6:30 and enjoy movies on a 40-foot LED screen.
The lineup for this year includes modern comedies and old favorites celebrating milestone anniversaries, such as Back to the Future, Apollo 13, Willy Wonka and the Chocolate Factory, Dirty Dancing and The Breakfast Club.
Visit www.ChooseChicago.com for full lineups and more information.
— Allyssa Campbell-Sawyer
Grant Park Music Festival
Chicago isn't all rock and roll during the summertime. In the midst of music festivals like Lollapalooza and Riot Fest, a different kind of show will be taking place in Millennium Park. The Grant Park Music Festival, beginning June 17, is a free 10-week series of classical concerts performed in the Jay Pritzker Pavilion.
Carrying on a tradition dating back to 1944, the Grant Park Orchestra and Chorus will bring the works of classical composers to life, hosting performances two to three times a week through Aug. 22. Many concerts feature guest conductors and artists. Music featured in the festival includes symphonies by Mozart, Beethoven, Tchaikovsky and Sondheim.
Visit www.GrantParkMusicFestival.com for more information.
— Allyssa Campbell-Sawyer
Fresh goods at farmer's markets across Chicago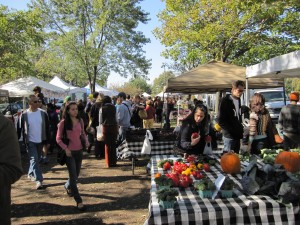 Farming season has begun across Chicago. Twenty markets from Uptown to the Loop will be offering fresh fruits, veggies, plants and flowers, as well as music and artisan vendors at some locations.
There are new locations this year in the Bronzeville and Pilsen neighborhoods. Each market is open to the public on a specific day of the week and run on their own respective schedules.
Visit www.ChooseChicago.com for more information, locations and days of operation.
— Allyssa Campbell-Sawyer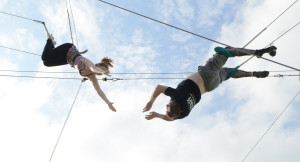 Joining the circus: The Trapeze School New York offers a chance to fly
There are tons of sports-oriented activities to do in Chicago during the summer, but few are as exhilarating as taking a flying trapeze class with the Trapeze School New York at Belmont Harbor.
I went to a class on a hot, windy Sunday afternoon in May. It was my second time flying, but my first class at the outdoor rig, which, as any trapeze veteran knows, presents its own challenges.
The highs: Whether you have an aversion to heights or not, jumping off a 30-foot platform is equal parts thrilling and terrifying. Everyone, instructors and students alike, are supportive of each other and enthusiastic cheerleaders. From the beginning to the end of a two-hour class, you will go from learning the very basics to catching your first trick. It's fun, challenging and gratifying. Plus, you can't beat the view.
The lows: You will absolutely be sore the next day and probably the day after that. If you are as out of shape as I am, you might be sore the entire next week. But you'll also want to go back to your next class as soon as your arms feel functional again.
Things to know: There isn't a lot of shade out there, so bring a bottle of water, especially if it's hot and sunny. You'll be using a full range of movement, so stretchy, tighter clothing is better. Pants that go at least to mid-calf, if not to your ankle, will be best because bare skin doesn't do well against a trapeze bar. You can buy professional pictures at the end, or you can have a friend snap a few photos from the sidelines. The classes are mostly designed for beginners, so don't feel like you need to be some super-fit adrenaline junkie to play circus for a couple hours.
Visit www.Chicago.TrapezeSchool.com for more information.
— Emily Clement
Busy Tuesdays at the Museum of Contemporary Art
On Tuesdays, we listen to jazz. Or go to the farmer's market. Or look at art. At least, that's what the
Museum of Contemporary Art is hoping by hosting a myriad of events on Tuesdays this summer.
First, there is Tuesdays on the Terrace jazz concerts held on the MCA's terrace during the evenings. You can either pay $26 ahead of time for a seat up close and a buffet, or bring your own blankets and listen from the sculpture garden. Also for the less schedule-inclined, there is an outdoor grill and bar you can order from.
Next, the museum also hosts the SOAR (Streeterville Organization of Active Residents) farmer's market on Tuesday mornings and afternoons. The market touts the usual fares: pastries, flowers, locally grown fruits and vegetables and much more.
Finally, Tuesdays are free admission to the MCA for Illinois residents, and the museum stays open late — until 8 p.m. — on those evenings.
— Emily Clement
The Marvel Experience at McCormick Place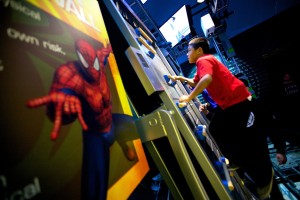 Superhero fans rejoice, as The Marvel Experience is coming to Chicago's McCormick Place this summer. For three weeks, beginning Saturday, July 11, and running through Sunday, Aug. 2, The Marvel Experience will bring Chicago an immersive, one-of-a-kind look inside the Marvel Comics universe.
The family attraction will include interactive game experiences, light shows, a superhero museum and even a 4-D motion ride with Marvel's most popular characters, all under an enormous, glowing dome structures built specifically for this experience. While using some of the world's newest interactive technology, guests will be swinging across skyscrapers with Spider Man and smashing villains alongside the Hulk.
Visit www.TheMarvelExperienceTour.com for more information.
— Matthew Barbuscio
Second City Neighborhood Tour
Legendary comedy theater The Second City will offer walking tours of the Old Town neighborhood again this summer. For locals looking for a funny, yet informative field trip, or tourists wanting to forgo the usual bus tour, this comedic walking tour is perfect.
The tour will cover the basics — history, architecture, and culture — but always with a lighthearted spin. Each tour lasts an hour and a half to two hours, and will take place rain or shine. The walking tours are Sundays at 10 a.m. and Wednesday at 4 p.m. through Oct. 11. Teenagers and up are welcome.
Tickets available at www.SecondCity.com
— Emily Clement