The Chicago Insider: David Gonzalez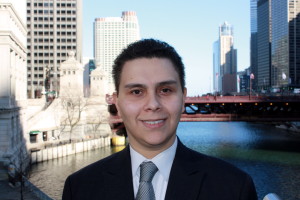 Ever wish you had an active local's advice on how best to enjoy your own city? We have too, so here are some answers
David A. Gonzalez
Concierge at The Trump International Hotel
How long you've lived here: My entire life, about 35 years.
What you like best about Chicago: The "Second City" is second to none when it comes to world-class dining, Broadway-style musicals, museums, art galleries, shopping and diversity. Chicago has something for everyone in search of the extraordinary.
Best meal you've had recently: Best meal I have ever had was at Libertad (7931 Lincoln Avenue in Skokie). Chef Armando Gonzalez has masterfully perfected a menu that will provide culinary nirvana. My favorites are the tempura poblano stuffed with goat cheese, the chicken barbacoa flautas and the skirt steak.
Favorite big-name restaurant: Keefer's located in River North is my favorite because of its location and atmosphere. This modern steakhouse is located steps away from Michigan Avenue, State Street and the theatre district. Keefer's consistently provides great service, has an outstanding allergy program and was rated one of the top 10 steakhouses in the country.
Favorite "hidden gem" restaurant: Tanoshii in Andersonville. Chef Mike Ham "Sushi Mike" is famous for his signature roll creations. You are encouraged to order off the menu. Tanoshii is BYOB, so bring your favorite bottle, tell the chef what flavors you prefer, and expect him to work his magic. The small dining space is perfect for turning strangers into friends and great conversation.
Best sports bar to catch the game: Harry Caray's located in River North is my favorite place to catch the game. The atmosphere is fun, and this is the best place to remember Chicago's most beloved sportscaster. Some other great sports bars are Timothy O'Toole's (carry pay-per-view events) and Mother Hubbard's (you will be surrounded by televisions in every direction).
A great night out with friends usually includes… dinner at a restaurant with amazing food (Bistro Campagne, Sabor a Cuba or Libertad), music (Old Town School of Music, Underground Wonder Bar or Ravinia in the summer) or some great comedy (Second City, Zanies, IO or The Comedy Bar).
Favorite store or best shopping area: My two favorite shopping areas are Lincoln Park (Armitage & Halsted) and Old Town. Both of these locations offer shoppers an inside look at local merchants and privately-owned boutiques. These areas are wonderful if you are looking for something original or custom-made.
The best way to spend a spring Saturday in the city: The day would begin with brunch at Orange with a Peel. The orange-flavored coffee is a treat you will enjoy at the start of your day. After brunch, a walking tour at the Chicago Architecture Foundation. These walking tours are very informative, interesting and definitely one of the best ways to learn about the city. Lunch would be at Terzo Piano at the modern wing of the Art Institute. Finally, if it is late spring, I would go and catch a concert at the Ravinia Music Festival in suburban Highland Park. (Use the Metra rail system. The station has a French Market, and you can pick up a bottle of your favorite beverage, create a picnic basket and have a perfect evening under the stars).
One thing every visitor must do here: Catch a performance of the Chicago Symphony Orchestra. Watch a performance at the Civic Opera House. Catch a Broadway musical at one of our historic theaters. Tour the Chicago River. Visit Charlie Trotter's restaurant before it closes this August.
Secret Chicago spot: The Violet Hour is my favorite hidden spot (1520 N. Damen in Wicker Park). Do not look for the sign when you arrive; there isn't one. Prepare to savor some of the best cocktails ever. The team that also created Avec, Blackbird, Big Star and The Publican has given us this perfectly whimsical yet elegant space ideal for drinking and conversation.
Underrated activity in the city: Bobby's Bike Hike (465 N. McClurg Court). These bicycle tours are the brain child of Jeremy Lewno. Jeremy has assembled the best team to provide a highly informative, fun and engaging way to see the city.