Chicago Insider: Lindsey Gift on BYOB restaurants and the view from the Aon Center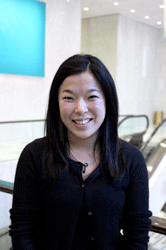 Lindsey Gift

How long you've lived here: Four years.
What you like best about Chicago: Summer and sporting events.
Best meal you've had recently: Devon Seafood — they do a well-priced, super yummy, coursed dinner!
Favorite big-name restaurant: Uncle Julio's.
Favorite "hidden gem" restaurant: Terragusto (small, perfect, organic, BYOB).
Best sports bar to catch the game: Theory on Hubbard.
A great night out with friends usually includes… an awesome dinner, wine and winding up at a new hole-in-the-wall bar.
Favorite store or best shopping area: North Avenue in Wicker Park.
The best way to spend a summer Saturday in Chicago: BBQ on my deck with friends.
One thing every visitor must do here: Get a recommendation and go to a BYOB restaurant, since they are rarely found in other cities.
While in Chicago, don't bother… going to the top of every tall building. The best view truly is from the Aon Center.
Secret Chicago spot: Sidestreet Saloon — great food, beer and jukebox.
Underrated activity in the city: Lollapalooza festival each August.
Overrated activity in the city: Taste of Chicago.