Chicago Insider: Andy St. Clair on dinner at Twin Anchors and ending the night at the Old Town Ale House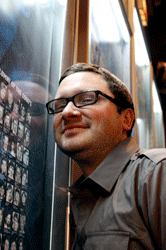 Andy St. Clair

Occupation: Actor/comedian at Second City
How long you've lived here: 12 years. 
What you like best about Chicago: The summer. So, basically July and August.
Best meal you've had recently: Smoque.
Favorite big-name restaurant: Gene & Georgetti's Steakhouse.
Favorite "hidden gem" restaurant: Twin Anchors (favorite place in town). Also, Coopers on Belmont.
Best sports bar to catch the game: Joe's on Weed Street isn't bad. Check it out. Sounds like it'll suck, but it doesn't.
A great night out with friends usually includes… drinks at Cocoran's. Then come to the Second City mainstage show. Then go to the Old Town Ale House across the street. I should plug Second City at some point, right?
Favorite store or best shopping area: Apartment 9 on Damen.
The best way to spend a summer Saturday in Chicago: North Avenue Beach.Read a book. Get some sun. Go grab a drink at Castaways. Enjoy.
One thing every visitor must do here: See Wrigley Field.
While in Chicago, don't bother… walking around the Wrigley Field area (Clark/Addison) after a Cubs game is over. Seriously. Don't do it unless you're at the game. Then you have to. Get out of there as fast as you can. It's thunder dome.
Secret Chicago spot: The Old Town Ale House is a 4 a.m. bar. Check out the paintings. Also, check out the Green Mill on Lawrence/Broadway for jazz. Great place.
Underrated activity in the city: The architecture tours. They're the best. Really great.
Overrated activity in the city: The Bean. Air and Water show. Paying a cover to get into any bar. Mayor Emanuel.