Chicago Insider: Alfredo Caliva on the bourbon salmon at LuxBar and strolling through the Lincoln Park Zoo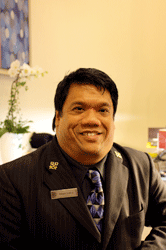 Your ads will be inserted here by
Easy Ads.
Please go to the plugin admin page to set up your ad code.
Alfredo Caliva

Occupation: Chef concierge
How long you've lived here: I'm a native Chicagoan. Never left the city! Only moved three times and always closer to the lakefront.
What you like best about Chicago: The ease of traveling without a car. The visibility of the skyline anywhere in the city. And the way the city's blueprint is spread out.
Best meal you've had recently: For lunch, it was in Markethouse in my hotel. I was meeting with a client. I had this amazing $7 lunch special of tomato soup and a pear and fontina sandwich (smoked turkey with pickled cherry jam). And did I mention it was cheap? For dinner it was at LuxBar. Killer calamari, tasty bourbon salmon, and the awesome Snicker doodle cake/ice cream concoction! Just sinful to eat all by yourself, as it takes at least five people to chow down on it.
Favorite big-name restaurant: Gosh there are so many, and all are great experiences to dine at.
Favorite "hidden gem" restaurant: The Red Rooster Wine & Bar Cafe. A small place in Lincoln Park that serves great French cuisine at inexpensive prices. Loved their salmon with a cabernet wine reduction sauce.
Best sports bar to catch the game: District. They have about 50 TV monitors all around the dining area so that you don't miss a thing! Plus the food is pretty good there.
Your ads will be inserted here by
Easy Ads.
Please go to the plugin admin page to set up your ad code.
A great night out with friends usually includes… going out for a great dinner and then taking in a live show, whether it's music or theater.
Favorite store or best shopping area: Michigan Ave. If you time yourself well and do a bit of research, you can hit some big sales and save!
The best way to spend a summer Saturday in Chicago: Taking a stroll along the lakefront, heading toward Lincoln Park, stopping at the Farmer's Market near the Zoo, then picking up some food stuff to eat along the lakefront. Then stroll though Lincoln Park Zoo (one of the last free zoos in the country). Finally, stop at the North Avenue Beach boat house and go to Castaways upstairs to enjoy a cocktail and the view of the city's skyline.
One thing every visitor must do here: Gosh, this is a hard question. Eat a Chicago deep-dish pizza. View the city's skyline from either one of the two tallest skyscrapers in Chicago. Do a boat ride along the river or lakefront. The latter two give you a different perspective of the city.
While in Chicago, don't bother… trying to squeeze everything into one day. You'll never have enough time.
Secret Chicago spot: Sitting in front of the enclosed glass pool at the Polar Bear House in Lincoln Park Zoo. The bears are just playful and amusing to watch.
Underrated activity in the city: There really isn't any. There is always something to do that you may not find in another city that is only unique to Chicago.
Your ads will be inserted here by
Easy Ads.
Please go to the plugin admin page to set up your ad code.