Chicago Insider: Bill Cassin on the Signature Room ribeye, beach volleyball and shopping at Strange Cargo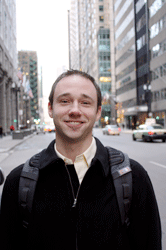 The Chicago Insider: Bill Cassin

Occupation: Attorney
How long you've lived here: Nine years. 
What you like best about Chicago: Summers on the lakefront, Cubs games, jogging, biking, volleyball, partying at Castaways.
Best meal you've had recently: A bone-in ribeye and lobster tail dinner at the Signature Room in the John Hancock Building for my fiance's birthday while sitting at a table overlooking the city and lake.
Favorite big-name restaurant: Joe's Stone Crab.
Favorite "hidden gem" restaurant: Rose Angelis or Tango Sur.
Best sports bar to catch the game: The Schoolyard Tavern located at the corner of Southport and School.
A great night out with friends usually includes… dinner in a neighborhood restaurant and drinks afterward at a neighborhood bar/pub/lounge.
Favorite store or best shopping area: Strange Cargo on Clark Street.
The best way to spend a summer Saturday in Chicago: Either go to a day Cubs game followed by barhopping up and down Clark Street,or on North Avenue Beach playing volleyball and having drinks with friends at Castaways.
One thing every visitor must do here: Go to a Cubs game.
Secret Chicago spot: Enjoying the sun on any rooftop deck.
Underrated activity in the city: Anything having to do with the lakefront (biking, beach, jogging, sunbathing, boating).
Overrated activity in the city: Navy Pier.