A Round of Drinks at Riverview Tavern: A tasty new look at old Roscoe Village favorite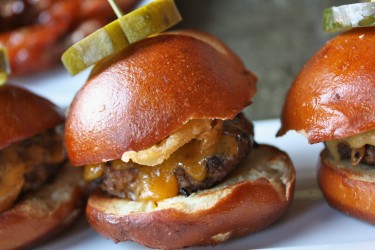 Your ads will be inserted here by
Easy Ads.
Please go to the plugin admin page to set up your ad code.
Enjoy a major facelift to an old Roscoe Village favorite
The latest venture for the group of friends behind popular establishments like Merkle's (Wrigleyville) and Bad Dog Tavern (Lincoln Square), Riverview Tavern and the adjoining former Robey Pizza Co. were purchased this spring, pumping some new life into the Roscoe Village bar scene.
Where you'll find it: 1958 W. Roscoe, on the corner of Roscoe and Damen in Roscoe Village. (773) 248-9523. www.RiverviewTavern.com
Peak time: Riverview draws a consistent weekday dinner crowd, Saturdays are always busy, and Wednesday trivia nights are a big hit. With the new ownership, expect this to be a football lover's paradise this fall.
First impressions: This is a beautiful and spacious place, featuring three large rooms, two of which are capable of hosting sizable private parties. New large flat screen TVs adorn th
e main bar area, and a combination of comfortable booths and tall tables make seating easy no matter what size your group is. … The flower-lined sidewalk patio is a hot commodity in the summer. … Quite the impressive menu of food and craft beer.
The atmosphere: A very fun, welcoming neighborhood bar that can just as easily cater to a rec-league softball team or group of sports fans looking to catch the game as it can a young family or first date. It has an upscale look to it with plenty of dark wood and huge windows, and the friendly staff makes you feel like you've been coming there for years.
Your ads will be inserted here by
Easy Ads.
Please go to the plugin admin page to set up your ad code.
Menu variety: This is where Riverview kicks it into high gear, as the new ownership has done a major renovation of the menu, with great results. Their three primary specialties are the asso
rtment of gourmet grilled cheese options, Kobe burgers and brick-oven pizzas. We'd be remiss not to suggest the sinful maple BBQ wings, Merkt's cheddar sliders or taco pizza, which is layered with seasoned beef, onions, lettuce, tomato, cheddar, black olives, taco sauce, Doritos and sour cream. But it doesn't stop there. Steamed mussels in a broth of herb garlic, butter and wine? Check. Seared tuna and mango tacos or a Cuban sandwich? Yep. Thai crunch salad? Sure thing. Stomach growling yet?
It's a great spot to… enjoy a quality meal, catch the game and peruse one of the better craft-beer selections around. … have your rec team sponsored by a bar with owners who know a thing or two about the business. … bring your kids to eat for free from 4:30-6:30 p.m. Mon.-Thurs. … save some cash with tempting daily specials. … get your noggin tested by trivia on Wednesda
ys.
What people are saying: "I love that the new menu involves more gourmet-type burgers, which I've raved about to everyone." — Meghan
"The service was quick and friendly, and the food options and beer list were out of this world. The new owners have taken an old Roscoe Village favorite to a higher level, and we couldn't be happier." — Paula and Tom
Your ads will be inserted here by
Easy Ads.
Please go to the plugin admin page to set up your ad code.