A Round of Drinks at Bad Dog Tavern: A family-friendly spot with great grub and a sunny patio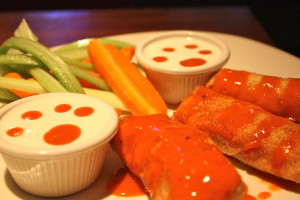 Where you'll find it: 4535 N. Lincoln, in the heart of Lincoln Square. (773) 334-4040. www.BadDogTavern.com
Peak time: Bad Dog draws a nice lunch crowd, and summers are always fun with their patio. Weekends tend to get busy, especially during football season, and Thursday trivia nights are popular.
First impressions: You can't help but notice the walls filled with photos of dogs when you walk in, taken and framed by the bar's customers. They add character, as do photos of sports legends and important press clippings. There are three distinct areas: the bar up front, a dining room area in the back and the outdoor patio. Bad Dog boasts a 30-foot wood bar, stone floors and a combination of modern, comfy booths and tables.
The atmosphere: If a bar could be spacious and cozy at the same time, Bad Dog fits the bill. Spacious because even when it's
packed, things are spread out enough to where you're always comfortable. Cozy because the lighting is low, booths are filled up and there are two roaring fireplaces during the fall and winter. "The bar is like a chameleon," says Chad Kramer, one of Bad Dog's owners. "You could have families with kids in early for dinner or brunch, then have it packed with adults playing trivia or catching the game a few hours later. We tend to have a more mature crowd, leaning toward 30-somethings, and a lot of neighborhood regulars."
Menu variety: A full slate of tasty options is available, whether during weekend brunch, lunch or late night. For appetizers, don't expect just nachos and wings (though they're awfully too) here. Options include goat cheese wontons, roasted garlic hummus and steamed mussels served with crispy, buttery baguettes. We're also big fans of the steakhouse burger, short-rib grilled cheese, ahi tacos, blackened salmon sandwich and loaded chicken pot pie. Creativity abounds throughout the menu.
It's a great spot to… bring the kids by to eat for free from 4:30-6:30 p.m. Monday-Thursday. … enjoy a selection of more than 75 American and Belgian craft beers, a sizable wine list and 17 signature martinis.
… catch the game, soak in the sun on the patio or saddle up next to one of the fireplaces when the weather turns. … test your knowledge and impress friends during Trivia Thursdays.
What people are saying:
"I know it's a favorite for us and our neighbors in Lincoln Square. We can bring our kids early or enjoy a night out on our own. And the most important part, besides the food and beer list, is that you know you're going to get treated right. Always." — The Reynolds family
"Bad Dog is a craft beer lover's paradise, plain and simple. It's a different feel than the kid bars in Wrigleyville or other neighborhoods and had us hooked from the get-go." — Adam T.