Up Comedy Club: A sparking, versatile new venue from Second City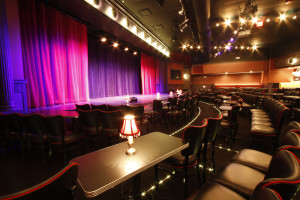 Second City's sparkling new Up Comedy Club plays host to a variety of laugh-heavy shows
By Zak Waltner
There's a decent chance that, if you've laughed at a movie or TV show in the past 40 or 50 years, you've been indirectly entertained by The Second City.
Since opening its doors on a snowy December night in 1959, the theater company has been the launching pad for countless headlining comedians and famous actors and writers, as well as offering the city of Chicago intelligent, cutting-edge sketch comedy for more than 50 years. Boasting an unmatchable list of alumni, including John Belushi, Bill Murray, Mike Myers, Chris Farley, Steven Colbert and Tina Fey, Second City's well-earned reputation has made it a world-famous comedy institution. Touring the world since 1965, operating out of their home in Chicago's Old Town since 1967 and expanding to Toronto in 1973, the company's influence can be felt around the globe.
About two years ago, the team at Second City encountered a very unique problem. Turns out they had more hilarity than they could handle.
"We had a number of great shows in production that we were really excited about, but had no room on any of our stages," describes Second City president Diana Martinez.
Having to rent out space around the city for some of their budding new shows, Second City began to look for possible places to expand. As luck would have it, right around the same time, the departure of a long-time Chicago staple "Tony and Tina's Wedding" opened up space on the third floor of Piper's Alley, right around the corner from the company's home at North and Wells. This coincidence (that seems more like fate) led to the opening of UP Comedy Club in February of 2012.
"UP is really a valentine to the Chicago comedy scene," Martinez says with a genuine sense of excitement. "We finally have a space to do things we've always wanted to."
Up's stage features a wide variety of comedy choices. One night you may find an improvised gut-buster, and the next, catch one of your favorite national stand-up comedians on the mic. While the scheduled shows at UP are the main attraction, unexpected guests are always welcome. In fact, on a recent book tour, Saturday Night Live alum Rachel Dratch called Second City with hopes of doing a show on very little notice. Thanks to the new space UP provides, Chicagoans were able to enjoy such an impromptu performance.
Having toured UP and seen a few shows there, I can assure you the hype is well deserved. The club itself has a sleek, comfortable feel to it. The walkways are clear and illuminated during shows, which allows for
ample audience participation, and although it's a cliché, there really isn't a bad seat in the house. Straying from some stand-up club stereotypes, UP does not have a drink minimum and has a full service kitchen that offers Chicago favorites like Italian beef sandwiches and Lou Malnati's deep-dish pizza.
The wide variety of shows at the new space — ranging from politically-driven sketch comedy ("One Nation Under 1%"), wide-open improv all-star performances and "Best of Second City" shows to a parade of national stand-up comedians — will delight comedy fans of all kinds.
The quick-witted cast members of "One Nation Under 1%" were truly a delight to watch perform, easily adapting to curveballs thrown at them by audience members. Example: One of the audience members being heckled did not know what happened in the Civil War (why it was fought, who won, etc.). Some of the funniest moments of the evening were off-the-cuff references to the girl's heartbreaking lack of knowledge.
Favoring laughs from a familiar stand-up name instead? Tommy Davidson, Bobcat Goldthwait, Charlie Murphy and Jim Breuer are just some of the comics gracing the stage this fall. UP is also proud to host a kid-focused live comedy show every Saturday at noon.
"Its always been a dream of mine to work for The Second City," Brooke Breit, a five-year Second City veteran and one of the stars of "One Nation Under 1%," tells me. Breit, who has also appeared in "Second City Improv All-Stars," can't hide her excitement about her new show, which draws influence from the minds of the cast and crew while examining the country's troubling political structure.
"It really is our show," Breit says enthusiastically. "It feels so current, it's what people want to talk about."
While they cover all the issues in today's political climate, some parts of the show can stir up passionate reactions from the crowd.
"It doesn't always feel necessarily safe," she adds, "but that's what makes it fun."
UP Comedy Club hosts between 12-14 shows every week. For information on the current schedule, visit www.UpComedyClub.com or call (312) 662-4562.