Soccer central: With the World Cup on the horizon, we scoped out Chicago's best soccer bars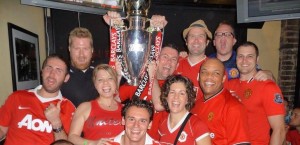 By Zak Waltner and Trent Modglin
While it might not be the most popular sport domestically, soccer has an international following unlike any other. Soccer fans are among the most passionate in the entire world. They come from different nations, all walks of life, and truly understand and appreciate the game they love. With this in mind, and the World Cup happening this summer, The Real Chicago set out to uncover some of the best soccer bars in the city to watch your favorite clubs take the pitch.
Temple Bar
3001 N. Ashland
www.TempleBarChicago.com
The Chicago home for Manchester United fans, Temple Bar — carrying the same name as the famous touristy pub in Dublin, Ireland — has built a solid reputation as an authentic soccer bar with a great seasonal menu, beer selection and
shaded sidewalk patio. Not only does Temple Bar open a half hour before Manchester United games, no matter how early they start in Europe, but they're gearing up with a World Cup kickoff barbecue party June 7 from 11 a.m.-4 p.m.
"We're all about elevating the game experience with our atmosphere, our support for teams and giveaways," says co-owner Tom Cheadle, who even pairs beer specials with the countries that are playing. "It's a knowledgeable crowd, but not snobbish at all like you can find in other soccer bars. They're excited because they're proud of their teams and their culture and want to share it. We aim to be very inviting, whether you're a novice soccer fan or a diehard. That's how we want it."
Timothy O'Toole's
622 N. Fairbanks
www.TimothyOTooles.com
Located downtown in the Streeterville neighborhood, Timothy O'Toole's has been a favorite of Chicagoans for two decades. Equipped with plenty of space to go with a restaurant-quality menu, 48 beers on draft and 62 flat screens, Timothy O'Toole's is a great spot to watch any sporting event. Check out the "Guinness room," a private area equipped with eight TVs, darts and full sound from the match of choice. Barcelona, Manchester United, Arsenal and Manchester City fans are regulars during the EPL season, and O'Toole's will be opening early to accommodate this summer's World Cup.
The Globe Pub
1934 W. Irving Park
www.TheGlobePub.com

Any soccer fan stepping foot into The Globe Pub immediately knows they're in the right place. Signed jerseys, cleats, balls and a replica of the World Cup trophy sit behind the bar, and clubs from every league, nation or otherwise can find their scarf among the hundreds that line the walls. The Globe, which has catered to the likes of David Beckham, won consecutive Soccer Bar of the Year awards in 2007-08 from the U.S. Soccer Federation. As owner Stuart Johnson puts it, "If we can't get a game, chances are there's no cameras there."
Fado
100 W. Grand
www.FadoIrishPub.com

Walking into Fado feels like you've been transported to an authentic Irish pub in the old country. This is thanks, in part, to it actually being crafted in Ireland by the Irish Pub Company, then shipped here. Constructed to look like an old boathouse, complete with a full-sized canoe and boat hull built into the ceiling, the bar creates a setting that is hard to match. Fado embraces the World Cup with soccer décor and flags from participating nations flying proudly out front. "Soccer fans come to actually watch the games," says manager Kieran Aherne. "They appreciate and understand the game in a way not many sports fans do."
A.J. Hudson's Public House
3801 N. Ashland
www.AJHudsonsPublicHouse.com
Formerly a well-known soccer bar named Ginger's Ale House, A.J. Hudson's has carried on the reputation as one of the best places in Chicago to enjoy a soccer game, no matter what time it starts. As Richie, an Irishman and long-time bartender put it, "Oftentimes, I'll come in to open the bar for an afternoon match (in Europe) while people are still stumbling out of the 4 a.m. bars in the neighborhood." With 25 flat screens, more than 100 beers available and great daily specials, it makes it easy to focus on the match.
A few more to consider:
Galway Arms
2442 N. Clark
Small Bar
2049 W. Division
The Grafton
4530 N. Lincoln