A Round of Drinks at Temple Bar: Blackhawks, soccer, a tasty menu and serious beer list at this inviting neighborhood pub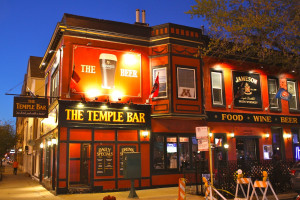 Where you'll find it: 3001 N. Ashland in the Lakeview neighborhood. www.TempleBarChicago.com
Hours: 3 p.m.-2 a.m. Monday-Thursday. 11 a.m.-2 a.m. Friday and Sunday. 11 a.m.-3 a.m. Saturday.
First impressions: As inviting as Temple Bar is (its exterior is modeled after the famous Temple Bar in Dublin) with its dark wood, exposed brick, huge windows, spacious patio and ample seating, the first thing that caught our eye was how many customers the staff knows and stops to talk to. Speaking of the patio, there are 92 seats and several TVs outside for those warm weekends or evenings.
The atmosphere: There is a serious laid-back, neighborhood vibe going on. But if you're coming in for a Blackhawks game or a key European soccer match, especially Manchester United, be prepared for a fun, lively scene.
Menu specialties: The Angus steak burgers, pork chop and fish and chips will have you hooked. The fish is crispy and flaky without being greasy — always a key for us. Another prize is the meatball sandwich, which instead of arriving at the table in sub form like everywhere else, is made up of one giant
meatball centered on a thick slice of garlic bread. Very tasty. Plenty of salad options (try the summer salad with corn, apple, radish, fennel, sriracha peanuts, basil vinaigrette and chicken) and starters like hummus and soft pretzels with beer cheese too. "We don't freeze much of anything," says co-owner Tom Cheatle. "You'll find it fresh here."
If you're thirsty: The folks at Temple Bar are quite proud of their beer selection, as they should be with 26 handles, including plenty of unique craft selections and rotating brewery specials from the likes of Half Acre, Two Brothers, Revolution, Lagunitas and Great Lakes. In fact, they like Chicago's recent beer surge so much, they'll even shuttle patrons to a local brewery tour for free on the last Sunday of every month.
It's a great spot to… catch any Manchester United soccer match or Blackhawks game and feel like you're at the stadium. … enjoy an $8.25 fish fry on Fridays or a bloody Mary and mimosa bar for S
unday Bears games to go with a rotating buffet that features everything from pig roasts to tacos.
What people are saying: "It's just a fun, friendly place, whether you're here for dinner on Tuesday with your wife and kids or cheering on the U.S. in the World Cup with hundreds of crazies." — Mark
"I always say it's the food and the staff that separate Temple Bar. I moved a few miles away and still find myself coming by as often as I did when I lived down the street. I can't help myself." — J.P.