My Chicago: What is your go-to sports bar to catch the big game?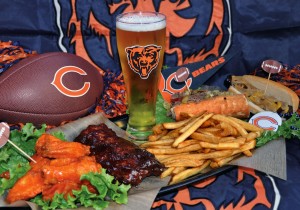 The question: What is your go-to sports bar to catch the big game?
Homeslice in Lincoln Park. Huge TVs, awesome beers on draft, and who doesn't love pizza in this city? TVs outside in the beer garden too.
— Sari Willis
Will's Northwoods (Lincoln Park), mainly because in a Wisconsin grad and Packer fan. It's really lively. A little college vibe, a great throwback to your college days. And cheese curds. Can't forget the cheese curds.
— Nick Howard
Roots (Ukranian Village) is very family friendly. Great pizza and salads. Tons of beers on tap, and then you can go upstairs to Homestead for dinner.
— Meghan Johnson
Twisted Spoke (West Town) is my go-to spot for brunch and bloody Marys, and then you can catch the game. Best grilled cheese with bacon and a fried egg on marble rye.
— Natalie Grubman
Aberdeen Tap in River West. They make their own sausage in-house. Great bar food and a great beer list and specials. We watched a lot of the World Cup there, and we'll be heading there for football season.
— Garrett Lorentz
Rocks in Lakeview is a way to escape the normal sports bar atmosphere, visit one of Chicago's great neighborhoods and catch all the major pro and college games. Oh, and a great menu.
— Tim Anderson
Lincoln Park Stadium (Lincoln Park) is my preference, specifically because they have a lot of big TVs. I like Citizen (River North) and Benchmark (Old Town), too, and the Pour House (Old Town) is always strong with lots of TVs and good food.
— Caitlin Scheinblum
I've always been a fan of Timothy O'Toole's (Streeterville). It's friendly, the food is good and draft list is ridiculous. Bull & Bear (River North) is always a popular stop too.
— Mark Schwalenberg