The Big City Blog: Oscar parties, Fat Tuesday and networking events, Chicago WingFest winners, bar openings and great deals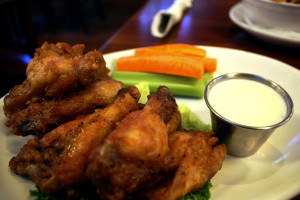 By Amanda Parker

Academy Awards viewing parties on March 2
Head over to Untitled on Oscars Sunday to watch the Academy Awards on the big screen with the ladies from Cheeky Chicago. Take advantage of a bar package, appetizers, DJs, and a swag lounge. Don't forget to look your most glamorous in order to compete for prizes for the best-dressed partygoers.
For details on tickets, visit www.UntitledChicago.com
Another party is happening at Kit Kat, which is transforming into a 1970s nightclub straight out of the Oscar-nominated American Hustle. Watch the show on seven HD projection screens and check out Diva Sunny DeeLate performing disco and pop hits during commercial breaks. The viewing ceremony wouldn't be complete without select discounted drinks and specialty '70s cocktails. Make your award winner predictions and you might get a prize.
The Kit Kat is located at 3700 N. Halsted. Reserve a table by calling 773-525-1111 or visit www.KitKatChicago.com
Or you can check out the show at Troquet Ravenswood, where specialty $6 cocktails have been created for the event, including "The Dallas Drinkers Club" and "The Wolf of Wolcott." While you're watching, take part in the Oscars' predictions to compete for a prize.
Troquet Ravenswood is located at 1834 W. Montrose. Visit them at www.TroquetChicago.com
Celebrate Fat Tuesday March 4 at Untitled, O'Donovan's and Frontier
On Tuesday, March 4, stop by Untitled to snack on crawfish and listen to Lowdown Brass Band perform music from the New Orleans scene. The peel-and-eat crawfish is served by the pound, so bring a friend or two to enjoy the Cajun fare.
Or if you just can't wait for Fat Tuesday, O'Donovan's starts its Cajun celebration on Feb. 28 and continues the party through March 4. Enjoy a variety of Cajun food from 4-11 p.m. and drink specials until closing. Show up with a mask or hat, and you might just leave with some beads. And if you're feeling lucky, take part in trivia on Fat Tuesday at 8:30 p.m.
Frontier invites Chicagoans to celebrate Fat Tuesday with an authentic Louisiana shrimp boil at 7 p.m. For $33 per person, guests will enjoy a shrimp boil complete with potatoes and corn prepared by Pioneer Tavern Group corporate chef Brian Jupiter. Through his eclectic family recipes, Jupiter strives to elevate the status of "soul food" and Cajun/Creole cooking to the level of more widely recognized cuisines. Frontier will feature $8 drink specials including a Mardi Gras gin fizz, hurricanes and hand grenades.
Untitled is located at 111 W. Kinzie. www.UntitledChicago.com
O'Donovan's is located at 2100 W. Irving Park. www.ODonovansBar.com
Frontier is located at 1072 N. Milwaukee. www.TheFrontierChicago.com
Timothy O'Toole's sixth annual St. Practice Day Pub Crawl on March 8

Get ready for St. Patrick's Day with the sixth annual St. Practice Day Pub Crawl in Streeterville. So you don't start the night on an empty stomach, prep for the event by grabbing a meal at Timothy O'Toole's and take off at 7:30 p.m. for other bars in the neighborhood like D4, Quay and Lizzie McNeill's. The pub crawl is free, but be sure to sign up at O'Toole's before you begin your night.
Timothy O'Toole's is located at 622 N. Fairbanks Court. Visit them online at www.TimothyOTooles.com
Network after Work event March 11
Join Network After Work for their next event on Tuesday, March 11 at Great Street (1 W. Wacker Dr.) inside the Renaissance Hotel from 6-9 p.m. Network After Work is comprised of 400,000 like-minded professionals from around the country. Events are for professionals of all industries and career levels interested in expanding their professional network and creating new business opportunities.
Tickets: $12 in advance, $15 with RSVP at the door, $20 at the door without RSVP. www.NetworkAfterWork.com
Creative Chicago Expo on March 14 and 15
The 11th annual Creative Chicago Expo at Chicago Cultural Center will be a useful resource for creative thinkers in Chicago. The expo features more than 40 workshops and 160 exhibitors. Workshops are available for professional as well as aspiring artists and focus on subjects from 3D printing to fundraising. Seating is first-come, first-served for the expo's four keynote speakers: artist Theaster Gates, fashion designer Maria Pinto, chef Carrie Nahabedian and filmmaker Robert Teitel. The event is free and open from 10 a.m.-4 p.m.
Descriptions of workshops and vendors are available at www.CreativeChicagoExpo.org
Celebrate St. Patrick's Day cruising on the Spirit of Chicago March 15
Jump on The Spirit of Chicago March 15 and enjoy a unique view of the river while enjoying a lunch buffet, dancing and plenty of green beers. The ship shoves off at 3:30 p.m., but be sure to arrive wearing green by 3 p.m. You'll be back by 5:30 so you can continue your celebration on land. Tickets start at $49.90 per person.
Reserve your spot by calling 866-273-2649 or get them online at www.SpiritOfChicago.com
Winners of the 15th annual WingFest
On Feb. 23, some 2,000 people attended the 15th annual WingFest at the Bailey Auditorium. Out of 24 competing Chicago restaurants, the award for best mild wing went to Rodan, best hot wing to Timothy O'Toole's, best BBQ wing to Reggie's, and best exotic wing to Output. The honor of the "Best of the Fest" went to Rodan. Find out more about Rodan at www.RodanChicago.com
Weekday wine nights at Nacional 27
Every Monday, Tuesday, and Wednesday in March, Nacional 27 will offer all types of wine for $5 per glass from 5-9:30 p.m. Wine nights also feature half-price tapas and ceviche from 5-7 p.m. Come for the tapas, stay for the wine, and start your week off right.
Nacional 27 is located at 325 W. Huron. Visit www.N27chicago.com for a wine list and menu.
Fiorentino's Cucina Italiana serving specials
Lakeview's Fiorentino's Cucina Italiana is offering daily specials Sunday through Wednesday. On Sundays, try out a traditional family-style Sicilian meal for $23.95 per person (and reduced prices for children). Mondays provide half-price wine bottles, and Tuesdays bring half-price tapas-style appetizers.
Fiorentino's Cucina Italiana is located at 2901 N. Ashland. Visit the restaurant online at www.FiorentinosCucina.com
Compass Bar and Commonwealth Tavern open
Compass Bar, which focuses on craft beer and wood-fired pizza, has opened in Lincoln Park. The bar features an extensive selection of bottled beers and brews on tap. If you're looking to try something new, pick a variety (or two or three) from the 180 bottled beer options and pair it with a burger or wings.
Early in February, Commonwealth Tavern opened its doors in Roscoe Village. Food on the menu is made sustainably and locally sourced. The restaurant opens every day at 7 a.m., and a weekend brunch menu is coming soon. Try out a new morning coffee with a blend of locally roasted organic beans, or spend your night sampling craft beers or cocktails.
Compass Bar is located at 433 W. Diversey. Visit www.CompassBarChicago.com for more info. Commonwealth Tavern is located at 2000 W. Roscoe. Check out www.CommonwealthChicago.com for additional details.