The best of brunch: Scoping out the unique specialty items at Chicago's most popular breakfast spots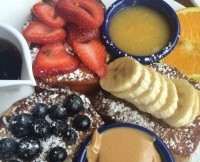 Your ads will be inserted here by
Easy Ads.
Please go to the plugin admin page to set up your ad code.
By Gabriella Mikiewicz
Lula Cafe
2537 N. Kedzie in Logan Square
The interesting feature about Lula is that the menu is constantly changing, shifting as often as the seasons. Popular dishes maintain a presence on the menu with new and fresh seasonal ingredients.
I had: "The Royale." An indulgent and delicious breakfast sandwich with bacon, tomato, arugula, Cabot cheddar, egg and celery leaf pesto on fresh, homemade focaccia. Some other items to try: the beet bruschetta and the griddle cakes.
Feast
1616 N. Damen in Bucktown

There is no better way to describe what we experienced at this local brunch favorite than with the word "feast." It was a deliciously lavish scene. With indoor and outdoor seating, a huge array of menu items and great service, I couldn't imagine a nicer place to spend a warm afternoon sipping mimosas.
I had: Potato skins, challah French toast, eggs portobello, crab benedict and the smoked salmon bagel. My favorite was definitely the crab benedict — two poached eggs and crab cakes over jalapeño cheddar corn bread with chipotle hollandaise. The flavors worked great together. For something sweet, I recommend the French toast, which comes with a lightly sweetened blueberry-peach compote, honey-vanilla butter and walnut brittle.
Wishbone
3300 N. Lincoln in Lakeview
Southern-style comfort food at its finest. This large restaurant covered in a Southern farm theme tends to stay pretty busy no matter what day of the week you walk in. The menu has a huge selection of delicious, indulgent breakfast and lunch dishes (and will soon be back to offering a dinner menu). Perfect for a hangover meal or a group brunch with the family, Wishbone has some pretty delicious dishes for everyone. "The best compliment we could get is, 'This almost tastes like my grandma's,' " says owner Guy Nickson.
I had: Cornflake French toast, the shrimp and grits and a strawberry blended lemonade. Their shrimp and grits were probably the most delicious variation of the dish I've ever tasted.
Wildberry Pancakes & Café

130 E. Randolph in the Loop
This gem, conveniently located across the street from Millennium Park, is known for delivering so many of the satisfying brunch items that everyone desires: pancakes, waffles, crepes, skillets, omelets and French toast — and even more options for lunch. It's pretty packed on a consistent basis, which speaks to its reputation.
Your ads will be inserted here by
Easy Ads.
Please go to the plugin admin page to set up your ad code.
I had: Cinnamon roll pancakes. They're made with cinnamon and sugar in the batter and coated in a cream cheese icing glaze, making it taste just like a delicious cinnamon roll. The Wildberry crepes with mascarpone sauce are also delectable, and a little bit lighter thanks to the fresh berries on top. I also suggest the Oreo s'mores pancakes for anyone with an insane sweet tooth. As for drinks, Wildberry has an assortment of fresh-squeezed juices and delicious coffee beverages.
Yolk
355 E. Ohio in Streeterville

With five locations all around Chicago, there's absolutely no avoiding this great brunch spot. I stopped by the Streeterville location and was pleasantly surprised by the varying menu items: indulgent and hearty alongside light and healthy dishes.
I had: The California egg omelet and the Tour de France bread plate. I cannot recommend these items enough. They were simply delicious in every way. The omelet was one of the best I've ever tried, featuring fresh and creamy avocado, which I can't seem to get enough of. The bread plate had three different options: banana nut bread with fresh bananas, sweet orange bread with strawberries, and lemon poppyseed bread with blueberries. Of all of these tempting flavors, I could not pick a favorite. On the side, try some awesome BB crunch cakes (blueberry granola pancakes).
Batter & Berries
2748 N. Lincoln in Lincoln Park
This adorable space offers a wide variety of eats, including all of your traditional favorites plus some fun, unique dishes to branch out and try. We recommend the flight of French toast — a sample of their strawberry, blueberry, lemon and caramel French toast served with maple butter. For something a little more savory, grab a plate of the Cluck-N-Gaufre: a chicken-stuffed sweet potato waffle topped with fried chicken breast and drizzled in nutmeg hot sauce and maple butter.
Beatrix
519 N. Clark in River North
This place is great for a light brunch — nothing too heavy, and lots of healthy options. Some delicious and healthy menu items include a 10-grain oatmeal and a crispy kale salad. Try the spicy chicken tinga (guajillo chili, sunny eggs and avocado on a corn tortilla) with one of their specialty breakfast cocktails.
Anne Sather
3411 N. Broadway in Lakeview
This charming Swedish restaurant (with multiple Chicago locations) will have you talking about their cinnamon rolls for weeks. We recommend the Swedish pancakes with lingonberries and a side of cinnamon or pecan rolls. For something a little more savory, go for the sausage, egg and cheese wrap.
Your ads will be inserted here by
Easy Ads.
Please go to the plugin admin page to set up your ad code.