Wicker Park: The neighborhood to be for brunch in Chicago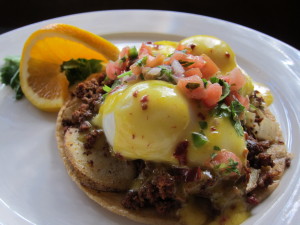 We examine a few favorite neighborhood spots to grab that necessary weekend grub, and maybe a bloody Mary or two
By Corey O'Day
Whether its purpose is to soothe a savage hangover, show your mom around town, or simply because you don't want to spend your few precious weekend hours cooking, brunch can be a beautiful thing. One Chicago neig
hborhood that seems particularly brunch crazy is Wicker Park. We scouted out a few of the best spots to quell your craving.
Feast
1616 N. Damen Ave.
www.FeastRestaurant.com
What caught our eye: The line down the block in front of their building every weekend. We figured if this many people are interested in what's going on here, even after 10 years, we should pay attention. They even added a Friday morning brunch to please the masses.
What we loved: Everything. From the expansive food menu to the substantial craft beer selection and the friendly and helpful staff. It's no surprise that people are willing to endure a lengthy wait at the height of bru
nch rush to partake in such delectable creations as their challah French toast with blueberry-peach compote and crème anglaise. Also praiseworthy were the eggs Portobello. The accompanying sautéed spinach and oven-roasted tomatoes were so savory that I had to ask the manager if it was witchcraft. He said they'd never tell.
Why we'll be back: There is a plethora of choices, even for a picky vegetarian such as myself. The dining room is bright and comfortable, and even when the place is packed, the employees seem genuinely glad to see you.
The Bongo Room
1470 N. Milwaukee
www.TheBongoRoom.com
What caught our eye: The intimate space and creative menu. The Bongo Room is a cozy place to catch up with a friend or three. If you can't get a table in Wicker Park, they also have South Loop and Andersonville locations.
What we loved: Pumpkin carrot cake flapjacks with warm vanilla bean cream and topped with warm maple crème anglaise. So delicious that I hardly said two words to my brunch buddy. The Bongo Room's fully-equipped espresso bar allowed me to also enjoy a latte with my meal.
Why we'll be back: The menu is a vast and exciting flavor adventure. Next stop: cannoli hotcakes. The menu is chock full of so many enticing options that you could order blindfolded and not be disappointed.
Northside Bar & Grill
1635 N. Damen
www.NorthsideChicago.com
What caught our eye: The gorgeous atrium and cozy seating options. Northside is combination sports bar and bistro. On a nice day you can sit in the open air of their outdoor patio and still catch whatever sport your heart desires on their multiple screens. Even when patio season at last abandons us, the atrium is a beautiful place to absorb some of those scarce warm rays through the colder months.
What we loved: Along with a menu of great brunch standbys, Northside has a specials menu that can change daily. One of the standards we cannot get enough of is the Knob Creek Bourbon French toast. The ranch hand frijoles with eggs, whipped lime-avocado cream, and pico de gallo over black beans and naan was a delightful explosion of flavor and more protein than this vegetarian gets in the average week. Which is just about how much time I needed to finish those frijoles.
Why we'll be back: Even on a busy weekend, when other places in the neighborhood have a line, I've never had to wait for a table at Northside. Their brunch menu is small but very satisfying, with options for carnivores and herbivores alike.
Blue Line Lounge & Grill
1548 N. Damen
www.BlueLineClubcar.com
What caught our eye: The sign outside every weekend advertising their $3 bloody Mary and mimosa brunch special. That is hard to beat. While I was there, I saw staff filtering in from the other brunch restaurants in Wicker Park to have a celebratory shift-end beverage or two.
What we loved: Did I mention the $3 bloody Mary and mimosa special? Every weekend. There are various mimosa flavors to choose from — though all but the traditional proved too sweet for my taste. They have a simple menu of breakfast favorites with a bit of flare here and there, like the "Oh s–t is that the sun coming up Tex-Mex burrito."
Why we'll be back: I haven't seen brunch prices this reasonable outside of a 24-hour diner. Biscuits and gravy for $4, French toast for $5. There is not an item on the menu over $8. Blue Line is relaxed, friendly and unassuming, with a collection of board games to keep you occupied between drinks.
Mindy's Hot Chocolate
1747 N. Damen Ave.
www.HotChocolateChicago.com
What caught our eye: Their bling. Pastry creator Mindy Segal has won gads of awards for her outstanding pastry
talents. Among other accolades, she won Time Out Chicago's Eat Out Award for Best Pastry Chef for five straight years.
What we loved: The inventive and ever-changing menu. Each week is a new creation inspired by local and seasonal ingredients. The categories may be much the same — i.e. there will always be a pancake — but they are continually reinvented and reimagined. Our favorite when we stopped in was the hash composed of Slagel Farm confit turkey leg, butternut squash, fingerling potatoes, crème fraiche, parmesan and a poached egg.
Why we'll be back: There are seven different types of hot chocolate to sample. Each served with house-made marshmallows. Not to mention the dozens of entrees yet to be invented. At Hot Chocolate you will never be bored.
Silver Cloud
1700 N. Damen Ave.
www.SilverCloudChicago.com
What caught our eye: Their tagline, "Food like mom would make if she was getting paid" and their original bar from 
the 1920s. Silver Cloud has the comfiest comfort food this side of the Mississippi. While most brunch options in Wicker Park wrap up around 2 p.m., their brunch hours are hangover-iffic, stretching leisurely from 10 a.m. to 4 p.m.
What we loved: They have some savory and creative takes on the classic eggs Benedict like the "country Benedict" with sausage gravy instead of hollandaise sauce, and the "macho nacho Benedict" with crispy corn tortilla, chorizo, pico de gallo and chipotle cream. And where else can you get a pork chop for breakfast?
Why we'll be back: The no muss, no fuss attitude is refreshing. They aren't hung up on fancy cuisine. Sometimes all you need is good ol' fashioned grub. And Silver Cloud serves it up with home fries and a smile.
A few other favorites:
The Southern
1840 W. North Ave.
www.TheSouthernChicago.com
Highlight: Fried green tomato sandwich and a donut flavor of the day
Milk & Honey Café
1920 W. Division St.
www.MilkAndHoneyCafe.com
Highlight: House-made granola
Delish Diner
2018 W. Division St.
www.DelishDiner.com
Highlight: Ratatouille omelette