First Look review: "Completeness" at Theater Wit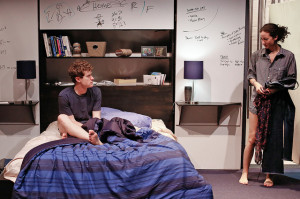 A subtly brilliant performance about life, love and unabashed honesty
By Corey O'Day
Playing at: Theater Wit
1229 W. Belmont Ave.

www.TheaterWit.org
When: Thursday, Friday and Saturday at 8 p.m. and Sunday at 2 p.m., through May 4.
History: This is the Midwest premiere of the intellectual romantic comedy Completeness, written by Itamar Moses and directed by Jeremy Wechsler. Moses has taught playwriting at both Yale and NYU and is the author of several other full-length plays, including The Four of Us, which also debuted under the direction of Jeremy Wechsler at Theater Wit. Completeness has proven so successful that it was recently extended for another six weeks and will run at Theater Wit through May 4.
Basic storyline: Two grad students agree to collaborate across departments and find themselves sharing more than just their research. They attempt to wrap their minds around what love is as they traverse the highs and lows of relationships.
What to expect: A heady but accessible show about life, love and unabashed honesty. It often feels more like eavesdropping than watching a theatrical performance. In that vein, you should also expect some nudity. It is the willingness of the characters to be bravely and unashamedly open with each other — and the audience — that enables this story to ring so true. The incredibly versatile set, which is both sparse a
nd modern, combines with the creative light and sound design to complement the tone of the story perfectly.
What Stood Out: The phenomenal writing of Itamar Moses. His script is packed with mathematical and scientific jargon but never feels unattainably dense. The dialogue is laced with subtle aphorisms and questions of the human condition that intimately connect the audience to the story. This connection is further fostered by the passionate performance of the four-person ensemble. Matt Holzfeind is particularly captivating in his authentic and understated portrayal of Elliot, an intensely cerebral computer science grad student faced with weighing love and logic.
Final Thoughts: While Completeness is funny and awkward, it is also subtly brilliant and stealthily emotional. You care for the characters almost immediately, and ultimately see yourself in each of them. The ability of Completeness to strike such a resounding chord of solidarity makes it a must-see.