We Ask, They Answer: Q&A with the band Party Apple Peel on their new album, musical influences and playing Chicago's Bottom Lounge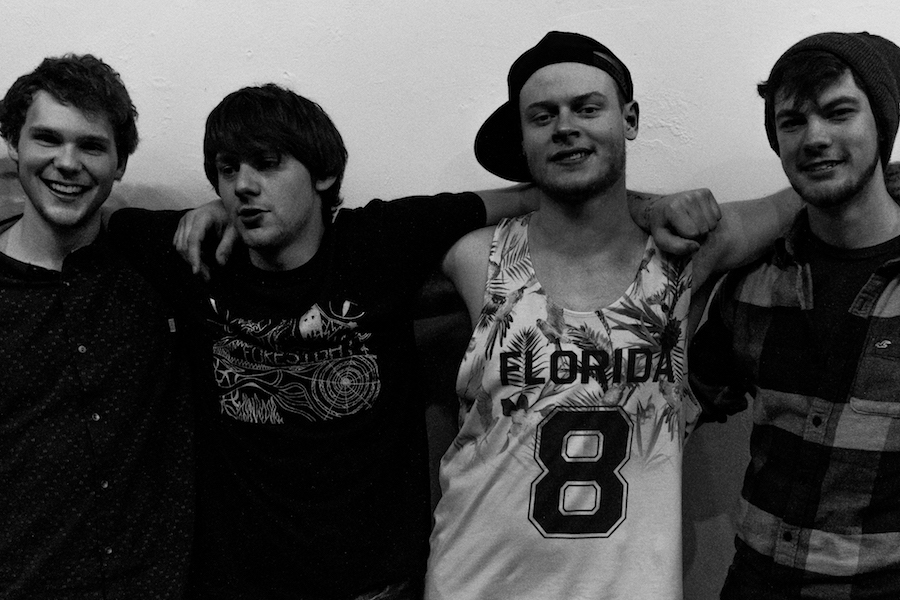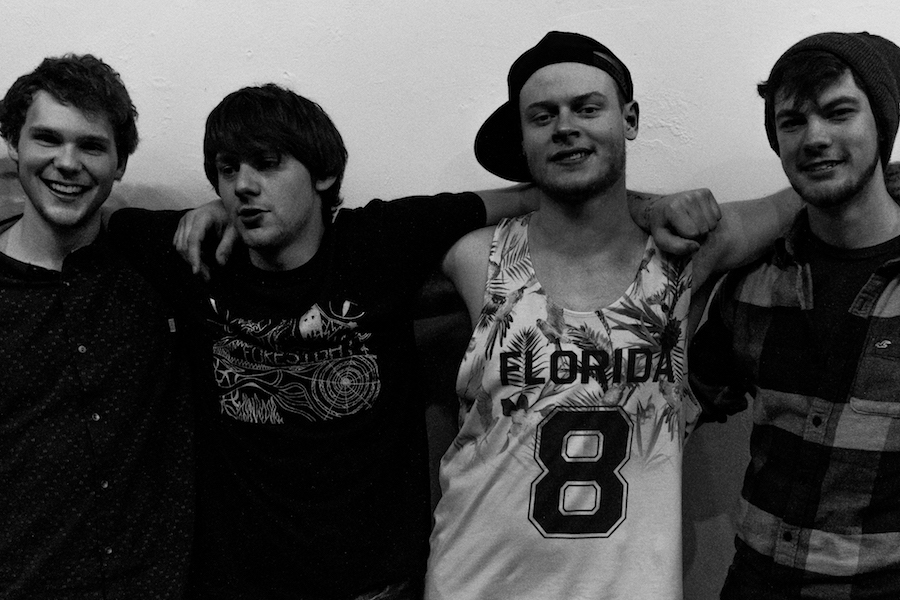 By Kelly Cunningham
After being forced to close in 2005, the Bottom Lounge reopened at its current Lake Street location three years later. On Sunday, April 2, it'll host the EP release of the north-suburb favorite, Party Apple Peel. Though it's the band's first show in Chicago, they've been playing for more than a year around DeKalb, Elgin and Joliet.
Party Apple Peel's blend of pop-punk lyrics and indie-rock instrumentals complement the strengths of each band member. I got the chance to interview the them all, Jade Steffen (guitar and lead vocals), Mark Nabors (keyboard and backup vocals), Tim Pienkowski (drums) and Riley Hardt (bass), to find out about their upcoming show, musical influences and the challenges of making a new album.
Q: What have been the biggest influences on your music?
Pienkowski: Catfish and the Bottlemen is probably our biggest modern influence.
Steffen: Musically, I'd have to agree. The EP was influenced by Catfish and the Bottlemen and their recent album The Balcony. The songs themselves are all about the last two years of my life.
Nabors: I was thrown into the mix. I joined almost a year after it started, so I'd have to say my influence was the three-person Party Apple Peel.
Hardt: Yeah, we took two weeks to rewrite our songs after Mark joined. Once we got a keyboard player, I could stop doing a million bass fills and we were actually able to focus on melody.
Q: You recently recorded your first music video. What was the best part and the
biggest challenge you faced with that?
Steffen: The best part was that it was the entire weekend. We spent over 13 hours recording it. I was running on adrenaline the entire time. The most challenging part was the weather. We were outside for hours, and it was hard not to think about how cold I was.
Hardt: Yeah, the first day especially. It was freezing, and we were miming playing our instruments in the cold, doing that "Hey hey, we're The Monkeys" thing. I got a callus even though we weren't really playing. The best part, though, was working with my buddy Kevin Hagan. We've done music stuff together before, but never a visual project. He's just brilliant.
Nabors: My favorite part was just bouncing ideas off each other, seeing if we could apply the song to a video and make it work. The hardest part was the time crunch. It put some limitations on us, and I think that would be something we'd try to do better next time.
Pienkowski: The biggest challenge was getting such a large group of people to work together for an extended period of time. That was probably also the best part too. We had so much support and help.
"Jade moved two states away and said he would drive back every week for practice because he wanted to keep it going. I've been in bands before where similar things have happened, and it just falls apart. But Jade has actually done it. I don't think I know anyone else that would."
Q: What is something your other bandmates bring to the table?
Nabors: Well, Riley brings the sunshine to the party. He's excited at every live show we have, and it's a breath of fresh air every time. Jade has so many ideas. A lot of the music comes from his mind, and having a good lyricist is essential. Tim is the focus of the group. In every band I've been in, it's the drummer that keeps us on task. He also lets us use his house for practice, so there's that too.
Steffen: Where do I even begin? I'm super thankful Riley even joined us. I feel like it's a huge favor he did. He has such an inspired sense of playing bass. He brings out moments in songs that weren't there before with just two bass notes. And Tim, we owe so much to Tim for mixing the EP. We could have paid somebody to do it, and it would have cost a lot but…
Pienkowski: (joking) Hey, yeah. When's my check coming in by the way?
Steffen: Ha, seriously though. It really helped us out. As for Mark, I'm still getting to know him, but I'm really glad he joined. The keyboards add a whole other dimension.
Pienkowski: The best thing about Riley as a bassist is that he doesn't overplay; he plays right in the pocket. Jade brings his songwriting to the table best. I don't think any of us could write the songs that fit us well. And Mark gets a lot of people hyped for our shows. We're still getting to know each other, but he's a great guy.
Hardt: Well, Jade brings us sandwiches. … But, for real, he's a really good guy to write with because he always listens to what I have to say. I also just want to mention that Jade moved two states away and said he would drive back every week for practice because he wanted to keep it going. I've been in bands before where similar things have happened, and it just falls apart. But Jade has actually done it. I don't think I know anyone else that would. As for Tim, well, I've been a band with Tim before and he's actually a guitar player, but he's also a great drummer. He doesn't overplay, which is what most drummers want to do. Mark and I are probably the most alike musically. He's wonderfully, wonderfully weird and has a smart sense of humor. He took over singing backup vocal for me and does much better than I did. It really helps that the harmony notes are sung dead-on now. I hope we can give him some songs in the future.
Q: Now let's flip it over. What do you bring to the band?
Pienkowski: A place to practice and coffee. Really though, I think I look at the songs from a production standpoint. I like to take a step back and make sure that things are good in the big picture, and that we're making things people will actually like.
Hardt: I think I just help keep things chill. If we are arguing over some detail for a couple hours, I'm the one that says, "Guys, I don't think this is that important." And that helps us get past most of our disagreements.
Steffen: Well, songwriting is what everyone has already said, but I think it's my role to help be the voice and message of the band onstage and through my lyrics.
Nabors: What do I bring to the band? Real talent (everyone laughs). Really, I think I know a lot about structure. I've been in the performing arts since I was five, so I know a lot about things like creating set lists, prioritizing songs, talking to our audience, etc.
What is the most exciting part of playing in Chicago for the first time at the Bottom Lounge?
Steffen: You kind of already hit all the bases there. It's in Chicago. It's at the Bottom Lounge, that we're headlining and we're releasing an EP. Everything about it is new and exciting for us.
Nabors: I agree. I mean, it's the first time we're in Chicago. It's a big leap from back-alley show rooms and random cafes. It's a huge stepping stone for us, and that's what's most exciting.
Hardt: I went there for the first time in high school to see a reggae group, and let's just say you could smell the concert. It's one of my favorite venues, and it's a big step for us. They have a green room. It's a real venue, and an important one in Chicago.
Pienkowski: It's all kind of been said already. I saw Highly Suspect there last year. It's going to be so exciting to play at a venue where I've seen some of my favorite bands.
Q: What's your favorite song on your EP?
Hardt: "Matchbox."
Peinkowski: I'd have to say "Leather Boots."
Nabors: "Matchbox."
Steffen: It's a hard choice, but probably "Zombies."
Q: Any final words?
Steffen: We'd like to thank all the people that have come along beside us, especially with the release of this EP. Ryan Cramer, who runs our merch, Kevin Hagan for all his help with the music video, Nick Stetina for all the mastering. Debby Cunningham, Elisabeth Morris and Blake Cate for the art they've contributed. It's just been wonderful to have so much support.
To see more of Party Apple Peel, check out www.partyapplepeel.com or find them on Facebook and Twitter. Their music is available on Spotify, Apple Music, Bandcamp and Soundcloud. Tickets for their April 2 show are available on the Bottom Lounge website.