First Look review: Arc Theatre's "Top Girls" reveals the inherent conflicts women deal with balancing family and career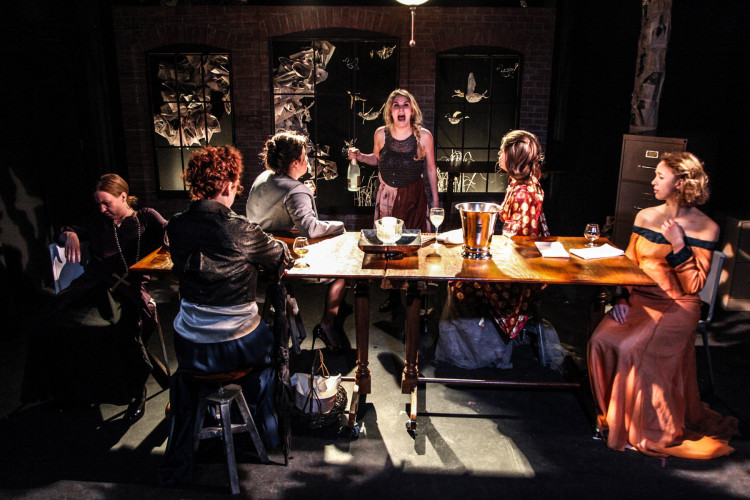 By Gabriella Mikiewicz
Playing at: The Den Theatre, 1333 N. Milwaukee Ave., through Feb. 8, 2015.
www.TheDenTheatre.com
Basic storyline: Top Girls, one of Caryl Churchill's most popular plays, explores the clashes between themes of feminism, classism and sexism and the strains they play on family in 1970s Britain. The two-and-a-half-hour production follows the life and dreams of Marlene, a career-driven businesswoman who has risen, by way of her own merit, to the top of an employment agency.
Top Girls reveals the inherent conflicts that strong, independent women found in many areas of their life decades ago. The play leaves the audience with the undeniable feeling that you really can't "have it all."
Following Marlene through difficult work days, meetings with distant family members, and an absurdist dinner with contentious women from history, we see her pain in choosing between being a career-driven woman a family-oriented one.
What stood out: Throughout the play — through sometimes sad, funny, shocking scenes — the performance of the actresses was indisputably incredible. The acting was passionate and persuasive, and the set and wardrobe only added to the brilliant execution.
Final thoughts: Top Girls is a compelling play about feminism and the difficult choices women face throughout time and social divisions. Viewers will leave the theater still playing the symbolism over in their minds and, perhaps, even tying the themes to their own lives despite living thousands of miles away and a generation or two later.