Spotlight on The Dawson: A West Town gathering spot that "celebrates the craft of food, drink and hospitality"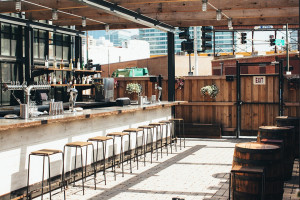 A West Town gathering spot that "celebrates the craft of food, drink and hospitality"

By Margot Visconti
One must always feel welcome at The Dawson. It seems to be the theme of this newish, rustically elegant bar and restaurant from Billy Lawless that replaced the vacant space Orange with a Peel left at the Grand-Halsted-Milwaukee intersection in West Town.
Even from the outside, it is a marvel work of art. Take your first step inside and the expansive ceilings of the atrium give you an upscale impression, feeling as if you received an invitation. You can't help but feel impressed with its grandeur, yet still comfortable.
Although the outdoor patio is among the best (truly the best) in the city, going during the colder months can be just as brilliant. But let's start with that patio. It fits 150 well-spirited people in a backyard of dangling string lights that take you to a vineyard wedding in Sonoma. Walk over to the fireplace and you realize these Dawson creators are genius. Cozy and unpretentious, prepare to take notes as you dream of having a space just like this in your own backyard someday.The Dawson – shellfish
House cocktails that change with the season keep you on your toes, along with well-thought-out selections of craft beer and mouthwatering dishes (always start with their shishito peppers). Try a seafood entrée off a menu that makes you wish you could order one of everything.
If you are looking to change up your cocktail scene — at a location that could easily lead to dinner — this is a fantastic place to check out.
The Dawson is located at 730 W. Grand. www.The-Dawson.com