New on the scene: A few of the exciting eating and drinking establishments that opened in Chicago last fall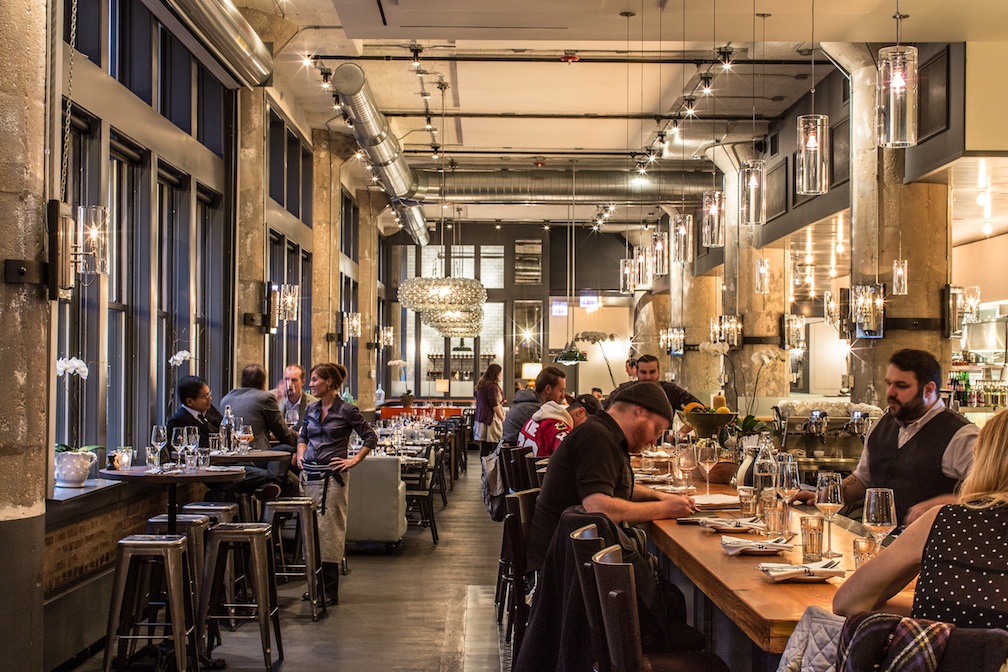 By Maddy Bourque
The Kitchen Chicago
316 N. Clark
www.KitchenChicago.com
Overlook the Chicago River while enjoying fresh oysters and lobster at The Kitchen's first location outside of Colorado. The restaurant combines good food with good conscious, using the tagline "community through food" as they utilize local farmers, purveyors and gardens.
Umami Burger
1480 N. Milwaukee
www.Umami.com
Umami Burger brings umami, or "the fifth taste," all the way from Los Angeles to Wicker Park. The restaurant's specialty burgers are served with toppings such as truffle glazes, bacon lardons, parmesan crisps and beer cheddar cheese. Don't miss out on the Chicago-only Calabrese burger, and be sure to stick around for their maple bacon old-fashioned cocktail.
Highline Bar + Lounge
169 W. Kinzie
www.HighlineBarChicago.com
With 20 televisions, 50 beer options and a full food menu, Highline brings all of the sports bar essentials to River North. The lounge stays true to its roots as a Four Corners establishment, taking on a similar rustic, industrial decor to fellow company bars like Benchmark and Gaslight. Their standout menu item is the lobster nachos — perfect for pairing with friends, a cold beer and the game.
Tippling Hall
646 N. Franklin
www.TipplingHall.com
Tippling Hall is the city's newest late-night cocktail salon brought to River North by the same guys behind Mercadito. The vibrant hotspot maintains its energy by serving all-American favorites such as fried chicken and frozen cocktails until 4 a.m. From beer cheese fondue to chili-infused bourbon and grappa-spiked coffee, Tippling Hall offers plenty of creativity.
Momotaro
820 W. Lake
www.MomotaroChicago.com
Momotaro combines mid-century Japanese culture with high-end food and decor throughout a private dining room, main floor and vintage basement. Between sushi, sake, hibachi and Japanese whiskey, the Momotaro experience may be a pricey one, but it's worth it to enjoy cuisine prepared by the only American chef to earn a Michelin star outside the U.S.
Charlatan
1329 W. Chicago
www.CharlatanChicago.com
Charlatan is the Three Aces crew's newest spot in West Town. The edgy, distressed decor brings taxidermy, pipework art and cartoon wallpaper to an equally dark yet alluring food and drink menu. Check out their specialty Dr. Feelgood cocktail, an apple brandy and Belgian ale concoction, or dive right into the alternative experience with a roasted pig's head for two.
Oak + Char
217 W. Huron
www.OakandChar.com
In the space that used to be home to Graham Elliot, Oak + Char consists of a trendy interior and new American food and drink menu. The spot takes on a personal approach to bartending, as each beverage is named after someone who inspired or helped the Oak + Char team.
Fahlstrom's Fresh Fish Market
1258 W. Belmont
Both a sit-down restaurant and a fresh fish market, Fahlstrom's focus is on clean, quality seafood. The menu features all-day breakfast, specialty sandwiches and a variety of freshly prepared seafood entrees. With the simplicity, however, comes creativity; Fahlstrom's menu includes innovative additions such as bourbon glazes and a Fruit Loops crust.
Leghorn Cafe
600 N. LaSalle
www.LeghornChicken.com
This late-night weekend spot offers everything you're craving at midnight on a Saturday: umami fries, fried chicken skins, kimchi BBQ and more. In addition to its "fried chicken at midnight" temptation, the divey cafe includes Stumptown coffee, several breakfast options and a comprehensive lunch menu as part of its quirky, diner-like atmosphere.
Barley & Brass
2015 W. Division
This Wicker Park's addition is diving into the trend of on-tap cocktails and trendy vintage decor. Favorites on the attention-grabbing drink menu include the "B&B Ball combo," "Dark and Stormy" and "Not A Basic Bitch." In tune with the cocktail den's ambiance, Barley & Brass offers antique brass chandeliers, eclectic wall art and clever signage.
The Franklin Room
675 N. Franklin
www.FranklinRoom.com
Simultaneously enjoy drinks and dessert with The Franklin Room's bourbon caramel milkshake. For a warmer alternative, the cozy basement bar offers a selection of 300 whiskeys, innovative cocktails and a menu filled with all-American comfort food.
Hook & Ladder
2270 N. Lincoln
www.HookAndLadderChicago.com
Lincoln Park's Halligan Bar has a new neighbor, connected by a similar, cozy atmosphere, fireman theme and a secret doorway. This versatile new sports bar provides a casual environment fitting for a night out with friends.
The Duck Inn
2701 S. Eleanor
www.TheDuckInnChicago.com
As its name suggests, The Duck Inn is a gastro tavern that brings duck to a variety of unexpected items such as hot dogs, tamales and even cognac. This warm, retro-inspired Bridgeport restaurant doubles as a cozy date spot and a late-night bar.
White Oak Tavern & Inn
1200 W. Webster
www.WhiteOakChicago.com
White Oak Tavern & Inn brings the Midwest's charming, rustic comfort to the heart of Lincoln Park. The open kitchen serves entrees created with ingredients from local farms and producers. When it comes to drinks, don't miss out on The German: a whiskey, tea, blueberry hybrid, concocted with both innovation and familiar flavors.
Tallboy Taco
325 W. Huron
www.TallboyTaco.com
A cozy taqueria set up inside Nacional 27, Tallboy Taco features eight different taco varieties and a selection of more than a dozen 24-ounce tallboys. Established by Lettuce Entertain You, Tallboy Taco provides counter-service, carryout and full-service dinner.
Kokopelli
1324 N. Milwaukee
www.KokopelliChicago.com
This Tijuana-based taco spot is making its American debut right here in Chicago. Focusing on seafood, tacos, Mexican beer and salsas, Kokopelli offers the newest place to enjoy authentic Mexican cuisine in Wicker Park. Don't forget to check out The Kraken: an octopus-based taco that is quickly becoming a menu favorite.