First Look review: Steppenwolf's "Airline Highway" explores the nature of belonging through loveable outcasts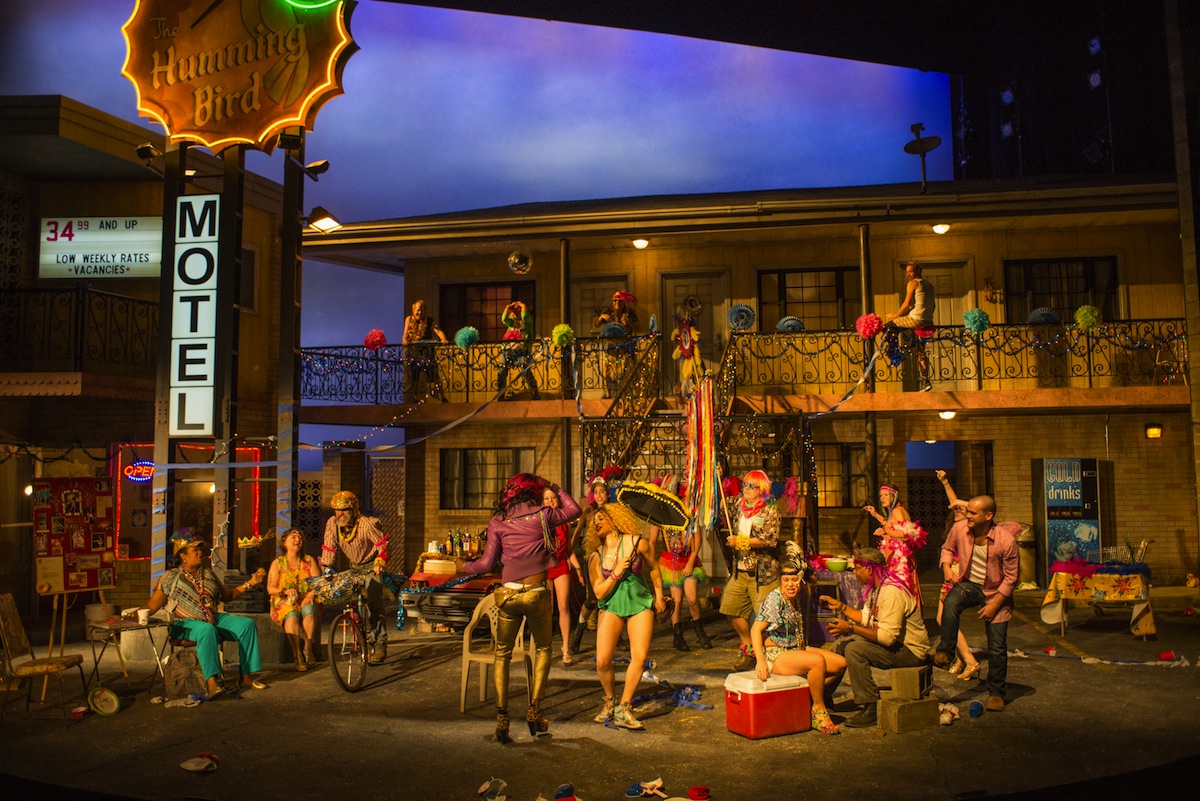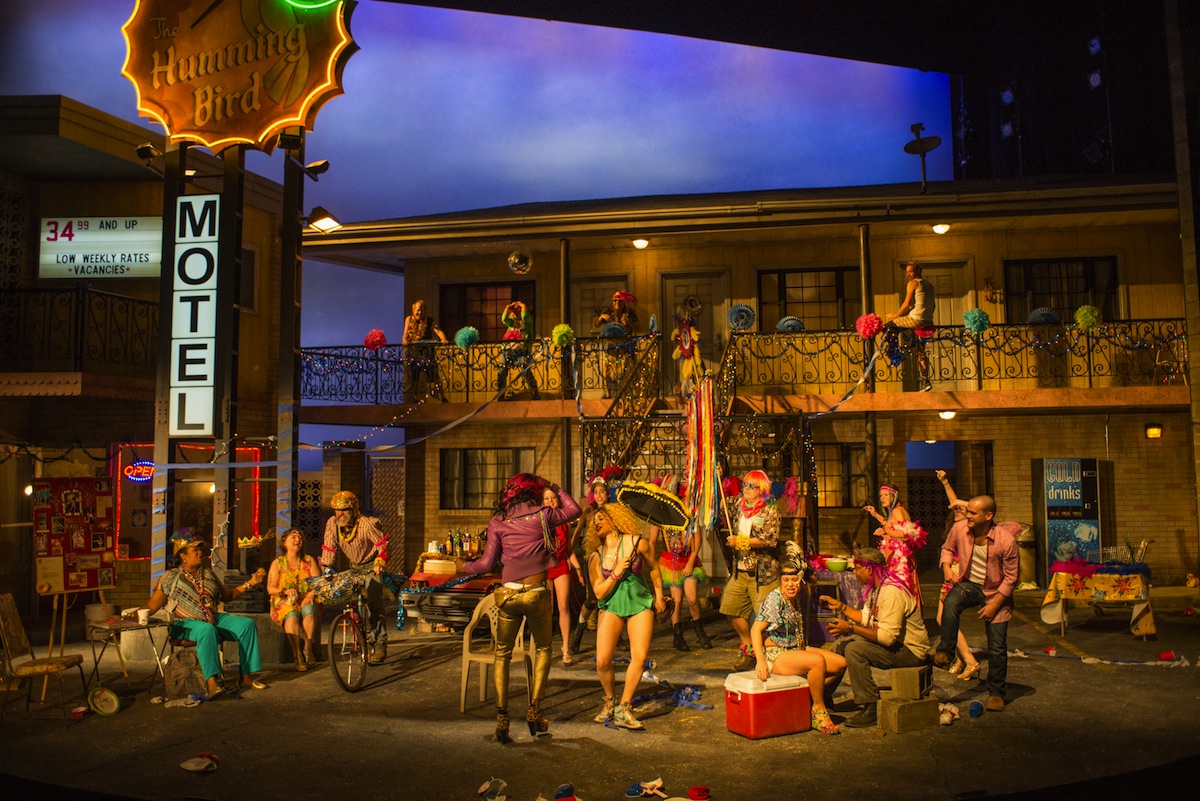 By Corey O'Day
Playing at: Steppenwolf, 1650 N. Halsted, extended through February 14, 2015.  www.Steppenwolf.org
History: "I've seen a lot of surrogate families develop in New Orleans," says playwright and New Orleans native Lisa D'Amour. "I think New Orleans is a city where there are a lot of locals who have grown up there, but it also attracts people who maybe didn't quite fit the rhythm of other cities, and New Orleans is now the only place they can live. Their real families are far away, so they develop new families in New Orleans. It's a city that thrives on ritual and parades and celebration, and to make those things happen, you've gotta reach outside your house and pull it together with your tribe."
Commissioned by Steppenwolf, D'Amour explores the nature of community and belonging through a gaggle of loveable outcasts in this Broadway-bound spectacle. Two-time Tony Award-winner Joe Mantello (Take Me Out, Assassins, Wicked) directs.
Basic storyline: In the parking lot of The Hummingbird Motel on New Orleans' all-but-forgotten Airline Highway, a group of misfits gather to celebrate their matriarch, Miss Ruby. Miss Ruby is an iconic burlesque figure who has played mother to all of these beautifully flawed characters throughout her 80-some years. The reverence they have for her is palpable — the audience is hanging on her every word before she even appears on stage.
"This play is a celebration of NOLA natives and longtime locals; the people who have built the city and made it what it is," explains D'Amour. "The character Miss Ruby (played by Judith Roberts) is based on New Orleans living legend Chris Owens, who still performs her incredible burlesque routine on Bourbon Street. I am interested in telling the story of New Orleaneans who have lived through it all — and continue to do so, on the fringes and behind the scenes."
Francis the poet sets the tone for us with this prophetic line invoking a well-known Yeats poem: "The real fest is on the edges. And the center will not mother-f—in' hold." We watch the characters circle round and round, unraveling and putting each other back together again in this inspiring, unsettling community.
What stood out: The scene design by Scott Pask was extraordinary. The set was a character in the play as much as anyone. From faded yellow lines in the parking lot to the smell of cigarettes and motel coffee to delicates drying on the balcony railing, each detail was superb and extremely effective.
With the exception of Miss Ruby, not one character seemed more important than another. Though Bait Boy is the most dynamic character, brought to life with gritty authenticity by New Orleans native Stephen Louis Grush, each person is given his or her moment to shine.
We feel inspired by Tanya (Kate Buddeke) exclaiming, in mid-emotional meltdown that, "We are not disposable. We are invaluable!" We feel heartbreak for Krista (Caroline Neff) when she admits that she can't afford her room this week. When Sissy Na Na, brought to life by the tremendously talented K. Todd Freeman, exclaims that they are each responsible for holding up their own little corner of the universe, even the audience swells with importance and responsibility.
Final thoughts: It is often said that good theatre makes you uncomfortable, and Airline Highway is a tug of war between heartwarming and thoroughly distressing. The characters are flawed and real. Rather than judge them, D'Amour enables us to see ourselves and our loved ones in them. We identify with Terry (Tim Edward Rhoze) when he offers heartfelt thanks to Miss Ruby: "You never asked me to change. You just knew there was something decent under all that muck. You helped me remember that, too." And when Miss Ruby tells her beloved band of disasters that, "You hold the potential to teach the world somethin' about itself," we believe it. For one and all.