First Look Review: Slowgirl at Steppenwolf Theatre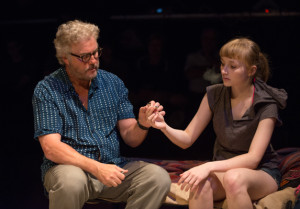 Your ads will be inserted here by
Easy Ads.
Please go to the plugin admin page to set up your ad code.
CSI's William Petersen returns in a beautifully acted, produced two-person drama about facing your past
By Dan Ochwat
Playing at: The Upstairs Theatre at Steppenwolf Theatre, 1650 N. Halsted, www.Steppenwolf.org
When: Wednesdays, Thursdays, Fridays and Saturdays at 7:30 p.m., additionally at 3 p.m. on Saturdays and Sundays through August 25, 2013.
History: Greg Pierce's Slowgirl premiered at Lincoln Center last year, part of a new intimate space at the legendary performance center in New York. It makes its Midwest premiere at Steppenwolf in the hands of Randall Arney, an ensemble member directing William Petersen, an ensemble member and legend of Chicago theatre since the 1980s, when he founded the Remains Theatre with the likes of Gary Cole (see Bill Lumbergh, Office Space, Hawaiian shirt day) and Ted Levine (see, "put the lotion in the basket," Silence of the Lambs). For Petersen, he will always be most known for his work on the CBS TV show CSI: Crime Scene Investigation. Petersen and Arney first appeared together at Steppenwolf in 1981 in the play Balm in Gilead.
Storyline: Set in a shack in a Costa Rican jungle, home to the reclusive and socially awkward Sterling (Petersen), the former U.S. lawyer receives a visitor — his niece Becky — an outgoing, mouthy 17-year-old
(Rae Gray). Becky flees to the jungle in the wake of a terrible accident back home in the suburbs of Massachusetts, one that has her facing possible criminal charges. Uncle and niece haven't seen one another for more than eight years. They catch up, they listen to one another, they each tell their side of a story, they face what they're both running from.
Your ads will be inserted here by
Easy Ads.
Please go to the plugin admin page to set up your ad code.
What to expect: In Petersen, be in awe of the ease and experience of an absolute pro at work. He's so natural and effortless in his role as the uncle who is nervous and scared, unsure of how to handle his niece and sketchy about his spineless past. A lesser actor would put a twitchy caricature on stage. Petersen puts a soulful performance on display.
In Gray, be in awe of a star on the rise. This young actress (graduating from the University of Chicago) has already made a name for herself with big roles at Steppenwolf, Victory Gardens (excellent in Circle Mirror Transformation), Profiles, Writers' Theatre, Theater Wit and a role on HBO's Boardwalk Empire. She's a
firecracker on stage — alarming at times, such as what she says about a smoothie her Uncle makes, but she also nails a beautiful closing scene. Her self-destructing teen is mostly unpredictable to his calming hippie.
What stood out: As in most Steppenwolf plays, the staging and the set are top notch. They're not just there to look pretty; they subtly feed the themes of the play. … The audio of an iguana scratching a tin roof becomes the demons inside the girl. … Her confessional on a wooden stump, hunched over while Sterling listens on the other side of a wall. … The lighting, and sometimes lack thereof, beautifully fits time of day and mood.
Final thoughts: This is a pretty stunning and beautifully easy production. A compelling story of cellmates in Costa Rica, arrested by a complicated past. The idea of these strangers in a strange land helping one another face a truth isn't necessarily new, but there's such a graceful approach on display with what I thought was a powerful ending visual. It's inspirational and another example of why Chicago should cherish that landmark on Halsted.
Your ads will be inserted here by
Easy Ads.
Please go to the plugin admin page to set up your ad code.