The Big City Blog: Top 10 things to do in Chicago before summer is over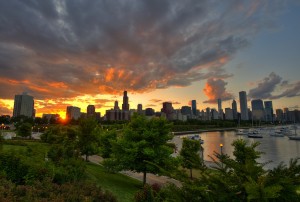 By Clare Edlund
It's scary to say, but summer is half over as of mid-July. We wait all year for these glorious three months, and then they're gone. With this unfortunate thought in mind, I came up with a list of the top 10 things to do in Chicago before the summer leaves us behind.
1. Attend a Full Moon Jam — Only running till the month of October, this is an experience you do not want to miss. Seldom will you ever get the opportunity to sit out by the beach on a warm night with a full moon, watching talented poi and fire spinners. A ritualistic evening that steers you away from that urban lifestyle — we all need to get away once in a while.
2. Participate in a 5k race — Even if you're not a runner, 5k races are a great way to boost your adrenaline, meet people and support a good cause. You are also taking care of your own body and might decide you like running after all. Each 5k is specifically themed, so you will never attend two that are exactly the same. I attended the first annual Pride 5K recently, where people ran in rainbow tutus. The best feeling is crossing that finish line. I received a free sparkling lemonade when I did.
3. Do yoga in Millennium Park — I am so glad I awoke at 6 a.m. to commute downtown for this enriching workout. Hundreds of people flock to the grass lawn of the Jay Pritzker Pavilion for a 45-minute session of liberating poses. The great thing about this is that it is the most peaceful time of the day because Millennium Park, as beautiful as it is during the summer, is packed with tourists in the afternoon and evening. This is a way to enjoy the stillness of the city, even hearing the birds chirp. "Point your toes in Warrior One toward the Art Institute," the instructor says. The best part — it's completely free.
4. Shop at a Chicago farmer's market — Enjoy that fresh-grown produce while you can. Farmer's markets offer an abundance of treats and usually some musical entertainment as well. When I went to the Wicker Park market, there was a violinist playing some bluegrass beside the fresh-squeezed cider.
5. Have a drink at Terrace at the Trump — This might qualify as my all-time favorite nighttime experience in Chicago. Order a tray of Nutella profiteroles and take in the view of the Chicago River and the entire city itself.
6. Stroll through the Lurie Garden — I stumbled upon Lurie Gardens after my Millennium Park yoga session and was awed by nature's bouquet. Walking through the gardens was so tranquil. And dipping my feet in the refreshing fountain was a great way to self-reflect. Treat yourself to that.
7. Take the water taxi to Chinatown — This is one unique way to spend an afternoon. I have yet to complete this task on my summer bucket list, but from what I have heard, it's well worth it. Bring cash for some refreshing bubble tea when you hit Chinatown.
8. Taste the gelato from Eataly — On the topic of Nutella, my roommate and I went to the incredibly popular Eataly in River North and got a Nutella-flavored gelato and then went for a walk around the city. The decadent ice cream was so rich and creamy that we almost went back for seconds.
9. Walk around the Adler Planetarium — If you're seeking to discover the best view Chicago has to offer, the cemented pathway leading to the planetarium is a terrific photo op. You get the view of the lake along with the majestic skyline. Bonus points if you go during sunrise.
10. Bike to the beach at sunrise — My favorite thing I have done thus far in Chicago. My roommate and I woke up before the crack of dawn, rented a Divvy bike and cycled a few miles down to the Fullerton beach. I went for a swim and watched the sunrise approach above the waves. There truly is nothing like it.