Signature Dishes: Breakfast pudding, lemon pancakes and a ridiculous chicken sandwich at the Kingsbury Street Cafe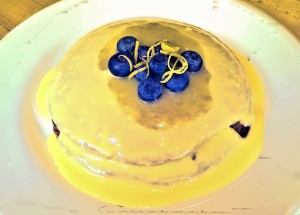 Your ads will be inserted here by
Easy Ads.
Please go to the plugin admin page to set up your ad code.
An inside look at standout menu items from popular Chicago establishments
By Harrison Schaefer
Brunch seems to be the "in" thing to do these days, and Chicago has no shortage of delicious brunch spots. But how should you go about finding the perfect place that will fulfill your mid-morning food needs while simultaneously not sending you straight back to b
ed? With its fresh, organic ingredients and lighter menu options, Kingsbury Street Café succeeds on all fronts, serving up phenomenal breakfast, brunch and lunch dishes that, contrary to similar restaurants, actually leave you feeling refreshed rather than comatose.
Chia seed breakfast pudding 
What better way to start the day than with a nutritious, healthy punch of fruits, nuts and chia seeds? Kingsbury's breakfast pudding is the perfect starter dish that can easily be shared with others. The pudding is an almond milk-based mixture of chia seeds and fruits that is remarkably energizing and unique. To top it off, agave nectar is offered on the side to drizzle over the pudding, sweetening the deal.
Lemon pancakes
Probably the most popular item on Kingsbury's menu, and it's easy to see why. Two huge, golden pancakes with a lemon sauce and crème anglaise drizzled on top should have anyone drooling. Light and fluffy, these pancakes definitely set themselves apart because you won't feel the need to nap afterward. The homemade sauces serve as a better alternative to maple syrup, making these cakes a delectable treat that won't fill you with regret.
Your ads will be inserted here by
Easy Ads.
Please go to the plugin admin page to set up your ad code.
B.A.L.T. chicken sandwich
This is a mammoth of a sandwich — bacon, avocado, lettuce, tomato and Amish-raised chicken all smothered in a
lip-smacking spicy mayo. It's huge, it's messy, it's great. But the best part is the bread. Served on a couple slices of freshly baked Japanese shoku-pan bread, this is one of the few sandwiches that makes you appreciate the bread just as much — if not more — than all the goodies packed into between it. The dish also comes with a tasty light salad, making it a perfect lunch option.
And if these dishes don't entice you enough, Kingsbury Street Café was voted one of the top 100 brunch places in the nation by Open Table.
Kingsbury Street Café is located at 1523 N. Kingsbury Street on the border of the Lincoln Park and Old Town neighborhoods. For more information, visit www.KingsburyStreetCafe.com
Your ads will be inserted here by
Easy Ads.
Please go to the plugin admin page to set up your ad code.