A Round of Drinks at Timothy O'Toole's: Come check out a lively neighborhood sports bar with a little something for everyone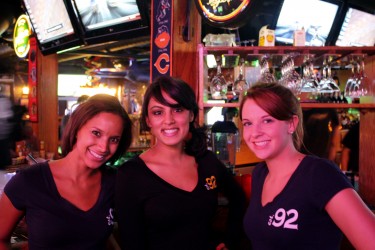 By Trent Modglin
Looking for that lively Irish bar to watch the game, grab a pint or a bite or meet up with friends? Would it make it better if this bar were located in the Streeterville neighborhood, which is walking distance from several large hotels, Navy Pier, Millennium Park, the Museum of Contemporary Art, beaches and Michigan Avenue? We thought so. Read on for an introduction to a Chicago favorite that truly offers a little something for everyone.
WHERE YOU'LL FIND IT
622 N. Fairbanks (At the corner of Ontario in the Streeterville neighborhood) / 312-642-0700
www.timothyotooles.com
WHEN IT'S OPEN
11 a.m.-3 a.m. Monday-Friday; 10 a.m.-3 a.m. Saturday-Sunday.
PEAK TIME
Unlike a lot of bars downtown, it's not uncommon to see Timothy O'Toole's packed on, say, a random Wednesday night. Weekends are big here, especially during Bears and college football games, and a solid after-work crowd should be expected… Weekend brunches with a make-your-own-bloody-Mary bar are a hit… Let's just say that finding a $3 pint of Miller Lite or Coors Light on a Saturday downtown is a tall order.
HISTORY IN SHORT
A popular spot for tourists and locals alike for nearly 20 years… Since August of 1992, O'Toole's, which is one of just 50 food vendors for the Taste of Chicago this summer, has served more than seven million wings and four million pints.
FIRST IMPRESSIONS
This is a true Irish pub, and it happens to be in a basement, so don't worry when it gets dark on the walk down two flights of stairs. A lively atmosphere filled with friendly people, games and TVs more than makes up for any adjustment your eyes need… The entrance is deceiving,
because the place is very spacious with different rooms, and your senses can be overwhelmed because there is usually a lot going on… Televisions tuned to all kinds of sports are everywhere — 42 in all, including 13 different 42-inch plasmas — and the gigantic liters of beer are quite popular … A long rectangular bar dominates the room, but plenty of good seating surrounds it.
THE ATMOSPHERE
Think a lively Irish pub combined with an American sports bar. … Really a welcome retreat from the hustle and bustle of the street above… Besides the good grub and 25 beers on tap, there is plenty to keep you occupied between the plethora of TVs, electronic dart board, three pool tables, two private party rooms, interactive trivia, jukebox with more than 1,000 songs and Golden Tee… With a kitchen open till 2 a.m., don't expect things to wind down early here.
MENU VARIETY
"Great bar food and then some" is perhaps the best way to describe the offerings from O'Toole's. Think big when ordering the nacho plate,
and the goat cheese quesadilla with roasted red peppers, sauteed mushrooms, grilled onion and a side of marinara is a wonderfully guilty pleasure. The "Irish" version of the nachos tempts you with French fries topped with melted cheese, bacon and scallions, and served with sour cream… How many Irish sports bars offer a choice of 11 different salads? Try the Mediterranean, Chinese chicken or Michigan Avenue salad (grilled chicken, goat cheese, avocado, craisins, corn, toasted almonds, tomato and sourdough croutons tossed in a citrus vinaigrette dressing … The burgers are well-known around town, but not a given, considering the sandwich (classic reuben, turkey swiss panini, buffalo chicken wrap, etc.) or entree (homemade meatloaf, baby back ribs, fish fry or grilled Atlantic salmon) options.
WHO YOU CAN EXPECT TO SEE THERE
It's a pretty even mix of tourists and convention-goers and locals who live or work in the nearby high-rise buildings… Some folks will be in suits, while others may be sporting gym shorts, and the casual dress approach usually wins out. Sports fans often rule the roost during the big game. Soccer fans are known to stop by for a pint or three as well, and that will definitely be the case during this summer's World Cup.
WHAT PATRONS ARE SAYING
"It was pretty busy, but we put our names on the list to be seated, grabbed a drink from the bar and hung out till they called us about 10 minutes later. We ordered quickly and our food came just as quickly. … Timmy's definitely has personality and is a sure bet for a good time."
— Ben from Chicago
"I loved this place. When I was in Chicago, we went to a bunch of bars, and this place was probably the friendliest
place we went."
— Tim from Oregon