Chicago's best burgers: Everyone loves a good burger. Here are some of the city's top options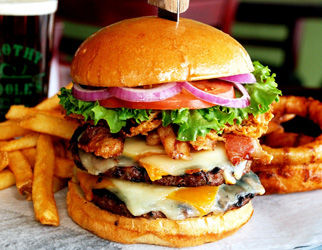 Your ads will be inserted here by
Easy Ads.
Please go to the plugin admin page to set up your ad code.
We took a survey of locals to find the best burger joints in the city, and then we got to dig in. All in the name of journalism

By Trent Modglin, Jennifer Billock, Danielle Berry and Jerone Tyler
For a while there, it seemed as if the good ol' burger would go the way of the dinosaur. In the last decade, America got on a much-needed health kick, and burgers were suddenly considered more of a luxury item — a treat, if you will — rather than a staple of one's diet.
Well, in recent years we've witnessed a bit of a revolution, giving carnivores everywhere reason to celebrate. Yes, the burger has made a trendy comeback.
Here are some of Chicago's finest stops — and specialties — for when the craving kicks in.
Timothy O'Toole's
622 N. Fairbanks
It's always fun to see the reaction at the table when the "Big Timmy" arrives in all its splendor and glory, so much so that it takes a knife through the middle to hold it all together. "It's so big and has so many ingredients piled on, it looks like a tower and tends to
lean over a bit," says Dan Nyburg, waiter at the popular basement-level pub in the Streeterville neighborhood. The reason for the lean? Two scrumptious half-pound burger patties, a combination of four tempting cheeses, bacon, onion straws, BBQ sauce, lettuce, tomato and red onion, served up with onion rings and fries. If you're not up to the challenge, you can always choose the smaller-but-still-hearty O'Toole's original. — TM
O'Donovan's
2100 W. Irving Park
O'Donovan's is the kind of neighborhood restaurant and pub that every neighborhood deserves. It's a popular stop in North Center, a few minutes west of Wrigley Field, especially during the summer, when the outdoor patio draws in droves of hungry locals. On Mondays, O'Donovan's offers an economically friendly "burger frenzy," with a half-pounder for just $2. But on this day, we targeted the delectable mini turkey burgers: three juicy sliders topped with cheddar, caramelized onions,
lettuce and a citrus chipotle barbecue sauce. An explosion of flavors that are great individually, and even better together. Another favorite is the 3 B's burger, which includes bacon, barbecue sauce, bleu cheese, lettuce and onion. — TM
J. Wellington's
2045 W. North Ave.
"I'll gladly pay you Tuesday for a hamburger today." This is the slogan patrons are met with when entering J. Wellington's, the popular Wicker Park restaurant most celebrated for its menu of specialty burgers. With nine to choose from, we decided on the signature Wellington burger topped with lightly battered fried onions, smoked bacon, cheddar cheese and a signature sauce. When ordered on the side, the Wellington sauce is great for dipping the restaurant's seasoned French fries, mini burgers and corn dog bites. Flat-screen televisions and exposed brick walls provide a contemporary setting that only adds to the atmosphere. — JT
Flub a Dub Chub's
3021 N. Broadway
Avoid eating for the entire day if you're considering dining at Flub a Dub Chub's Hot
Dog Emporium. This Lakeview hot dog and burger place is a welcoming diner-style staple, where the burgers and dogs are equally popular. Pop a squat on the old school-stools and order up the Roe burger, named after the owner, Rosemary. This blissful burger is a half pound of Angus beef loaded with all the trimmings and cheddar cheese, bacon and fresh chunks of avocado. These fixings are sandwiched in between a delectable pretzel roll. The food isn't the only thing that will have you coming back for more; the owners, Sam and Rosemary, are so fun-loving and more than willing to strike up a conversation. — DB
Bull & Bear
431 N. Wells
Bull and Bear, located in the heart of River North, is without question a must-experience for the signature burger — and the entire menu for that matter. It's a great combination of music faves mixed by a deejay, plasma screens showing all the games, trendy people and restaurant-quality grub. The Bull and Bear burger is a carnivore's dream, with a generous portion of mouth-watering Kobe beef, sweet onion marmalade, ooey gooey gruyere cheese and smoked bacon aioli between a buttery brioche bun. Trade the truffle fries out in favor of the sweet potato alternative for a great mingle of sweet and savory. Take advantage of the pay-for-what-you-drink table taps of draft beers for a great tie-in to your burger experience. — DB
Weber Grill
539 N. State
Sometimes, it's just impossible to resist that old familiar charcoal scent. When you come within a few blocks of Weber Grill, you'll
understand the pull it has, and be reminded why we love the flavor so. Watch as the experts in the open kitchen cook your meal over an open flame on authentic Weber grills. Even with the city of Chicago still stinging from the Packers winning it all, we'll forgive you for ordering the Wisconsin burger, a half-pound of Black Angus goodness topped with cheddar and applewood smoked bacon. You can almost smell it sizzling on the grill now, can't you? —TM
Epic Burger
517 S. State
Rule No. 1 at Epic Burger is that not all burgers are created equal. Truer words have never been spoken. A few paces down from the Harold Washington Library, Epic Burger is a great choice for high-quality, hormone-free meat and organic produce. Do not leave town without conquering the Epic burger, which can be a single or double patty topped with all of the traditional veggies and choice of cheese, signature Epic sauce and a fried egg. Don't be skeptical of the egg, as it definitely enhances the flavor of all of the other ingredients you're able to stack between two buns. Finish off this burger with the savory sea salt fries and a peanut butter ice cream milkshake. Real casual, yet epic dining. — DB
Your ads will be inserted here by
Easy Ads.
Please go to the plugin admin page to set up your ad code.
Fleming's
25 E. Ohio
An upscale steakhouse isn't the first place you would think to order a burger, but that's just what we did at Fleming's. The River North restaurant known for its wine selection boasts floor-to-ceiling windows for great people-watching, and thelocation is ideal for shoppers from the Mag Mile looking to close their day with a quality meal. On our visit, we tried the sliced filet mignon burger with sautéed mushrooms and béarnaise sauce. The tender strips of filet mignon made this burger easy to sink your teeth into, and when combined with the other ingredients, it honestly made me feel like I was enjoying a steak dinner. Other burgers on the menu include a jumbo lump crab cake burger, ahi tuna burger, portobello mushroom burger and the Fleming's prime burger. The latter is featured on the restaurant's popular "5 for 6 'til 7" menu. That's your choice of five appetizers for $6 until 7 p.m. — JT
District
170 W. Ontario
A shelf filled with college text books greets you at the entrance, and flat-screen televisions and collegiate banners are everywhere, giving diners the feel of visiting their favorite college bar. With 11 burger choices, patrons are sure to find something that works, like the Mexican-themed "Viva Chivas" burger loaded with enchilada sauce, avocado and jalapenos. Diners who prefer breakfast might enjoy the "Hangover" burger, topped with bacon, hash browns, cheddar cheese and fried eggs. The "Straight Up Chicago" was the burger of choice for us, with a ground chuck patty topped with giardinera, provolone, grilled onions, sweet peppers and a split Italian sausage, which gave it a spicy kick that surprisingly didn't overpower the overall flavor of the burger. And don't forget the garlic-and-butter-seasoned fries. — JT
Shula's
301 E. Water Street
Football fans may get a penalty flag for excessive celebration at Shula's Steakhouse in the Sheraton Hotel. Hall of Fame coach Don Shula has created a white-tablecloth establishment celebrating his undefeated 1972 Miami Dolphins that, along with loads of photos and memorabilia, is any sports fan's dream. Instead of a normal menu, each table receives an autographed Coach Shula football detailing the steaks in play. The newest addition to the bar menu lineup is the Premium Black Angus "Coach's Burger." Not to be enjoyed from the sidelines, this burger is thick, smoky and grilled to perfection. To add to your experience, enjoy your favorite games on one of several flat-screen TVs in the casual bar area. You can even take a timeout from your meal to have your picture taken with a replica Lombardi trophy. — JB
David Burke's Primehouse
616 N. Rush
Preparing a burger like a steak is never a bad thing in my mind, and that's exactly
what this contemporary steakhouse located in the James Hotel does. David Burke's dry-ages its burger 40 days — you read that correctly — then tops it with garlic spinach, crispy shallots, bacon mayonnaise and a toasted potato bun. Feel free to add any one of six kinds of cheeses and options like fried pickles, angry shrimp, fried egg or lobster slaw. The key here: the bacon mayo. "It's a classic steakhouse burger, with all organic ingredients," says general manager Michael Mason. "And we love our bacon here, as you can tell." We can, and it's much appreciated, as are the truffle fries with asiago cheese and chives. — TM
Kuma's Corner
2900 W. Belmont
Step through the thick, black curtain and take a bite out of the "Lair of the Minotaur." This smoky burger at the famous Kuma's Corner is arguably one of the most unique on the menu — it touts caramelized onions, pancetta, brie and a bourbon poached pear. Although with burgers like the "Thin Lizzy" (seared mashed potato pancake, brown gravy and chives) and "Earthride" (red onion marmalade, bacon jam, Canadian bacon, pancetta, bacon), it's not easy to make that distinction. Kuma's is pure heavy metal from the moment you step in the door. Don't expect a quiet night out with the music blaring, thick crowds and racy art on the walls. But the rough-and-tumble atmosphere shouldn't scare you — the staff is genial and the burgers are to die for. Head chef Luke Tobias' favorite? The Mastodon (BBQ sauce, cheddar, bacon and frizzled onions). — JB
Other burgers that garnered votes: Five Guys (2368 N. Clark, 2140 N. Clyborn), Hackney's (733 S. Dearborn), Moody's Pub (5910 N. Broadway) and Rockit (22 W. Hubbard).
Concierge opinion:
"I have had the pleasure of consuming a Rockit burger which consists of Kobe beef, melted brie, fried shallots and medjool date aioli on a red onion brioche bun, many times. It is truly delectable. Rockit's lobster burger is also delicious. And I happened to try a "special" one day that consisted of a lobster burger with added salmon and tilapia mixed together. Truly a memorable experience."
"I also have enjoyed building my own burger at The Counter in Lincoln Park. One can choose their type of meat from beef to the market selection option. Cheeses range from Danish blue to Tillamook cheddar. Add bacon, avocado, ham, fried egg, mushrooms or guacomole. Pick one of 21 sauces, put it on a multi-grain, English muffin, onion or regular hamburger bun and you've discovered your own custom-made nirvana."
— Robert Brooks, Holiday Inn Mart Plaza
Our South Loop neighborhood pub, Hackney's, boasts some of the best burgers in Chicago. They're known for their traditional famous Hackney burger, but I personally prefer the delicious Inside-Out burger, which comes with smoked bacon and cheddar cheese stuffed inside the burger! I like to add a side of BBQ sauce with it too — it makes it even more delicious!
—   Maggie Schultz, Wyndham Blake Hotel
"'The Burker' at David Burke's Primehouse is the closest a burger has ever come to approximating the experience of eating a steak. I think about it often."
"The tastefully small burgers at Top Notch Beefburgers are ground fresh in the back of the house daily. Their fries and onion rings are cooked in delicious beef fat, and their patty melt tastes like it's made from wonderful mythological unicorn meat. For all these reasons, Top Notch has been one of the happiest places in Chicago for over 60 years."
— Philip Stone, Embassy Suites Chicago Downtown
Your ads will be inserted here by
Easy Ads.
Please go to the plugin admin page to set up your ad code.