Signature Dishes: Pork chops and wontons at Matilda, meatloaf and bourbon salmon at Weber Grill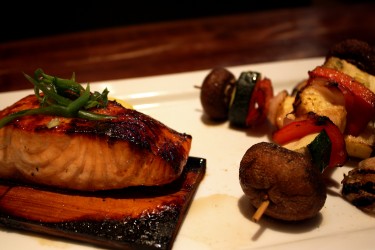 An inside look at a pair of standout dishes from two popular city establishments
MATILDA
3101 N. SHEFFIELD
(773) 883-4400
www.Matilda-BabyAtlas.com
Matilda is a fun, eclectic staple for good food and drink in the Lincoln Park neighborhood. Some bars have good food. Matilda has restaurant-quality food, made from scratch. And an atmosphere and wine selection to match.
There are desserts, and then there are desserts. At Matilda, sometimes you can take what you think you know about your typical sweet, after-dinner experience and toss it out the window. For instance, take chocolate chip cookie dough, wrap it around a fresh raspberry and then flash fry it in a crispy wonton wrapper. Then finish it off with a light drizzle of chocolate sauce, powdered sugar and raspberry sauce. Just your typical, everyday cross between cookie batter, fruit and Chinese food. Brilliantly creative. Possibly addictive. "It's a simple idea really," says Kevin Abercrombie, Matilda's owner. "I was at a food show and saw someone doing it, so I can't take credit. We always try to take anything we like and twist it a little bit." When it tastes like this, twist away, Kevin. Twist away.
GRILLED PORK CHOP
On a visit to Wisconsin a few years ago to visit his in-laws, Abercrombie took a break to taste-test pork chops. Lots of pork chops. "I couldn't find a cost-effective meat market here in the city, so we ended up finding this place off the beaten path in Wautoma, Wisconsin… a three-stoplight kind of town," Abercrombie says. "People flock to this place to see Otto. Otto the butcher." The result of the visit to see Otto: Big orders of smoked pork chops an inch-and-an eighth thick, bone-in for extra flavor, and dusted with a combination rub of black pepper, brown sugar and chili powder. It's complemented with a cheddar baked potato and blend of steamed vegetables. Not surprisingly, it's one of the favorite entrees at Matilda. So Wisconsin's got the Packers and pork chops on us?
— TRENT MODGLIN
WEBER GRILL
539 N. STATE STREET
(312) 467-9696
www.WeberGrillRestaurant.com
The Weber Grill is synonymous with the outdoor patio style of cooking that most Americans indulge in during the summer months. In the River North neighborhood, the Weber Grill restaurant creates the same charcoal-lover's atmosphere, only without any of the hassle, allowing you to sit back and have an expert grill your steak, fish or barbecued favorite right in front of you.
BLACK ANGUS MEATLOAF WITH WEBER'S SIGNATURE BBQ RIBS

This is not your mother's meatloaf. The chefs at Weber start it the old-fashioned way, baking the meat in a traditional oven to allow the moisture and juices to seal. The cooks then slice and glaze each individual piece with Weber's signature hickory BBQ sauce. The process is complete only after the meatloaf slices are cooked to perfection over a charcoal flame. The tender slices of meatloaf, combined with black grill marks and smoky flavors, create a mouthwatering dish unique to Weber Grill. This entrée can be combined with another barbecue favorite, such as a portion of their fall-off-the-bone ribs, and is served with a pair of sides such as coleslaw and the delectably sweet cornbread.
PLANK-GRILLED BOURBON SALMON
Admittedly, it's difficult to properly cook a thick piece of salmon. You often either undercook it, or leave it on a bit too long or over too much heat, which dries it out and makes you wish you had just bought steaks instead. At Weber Grill, the chefs have come up with a functional, innovative way to prepare this entrée without losing the juicy flavor every piece of salmon should have. The salmon is cooked and delivered to the table on a hickory-soaked wood plank. Cooking the salmon on the plank rather than the grill allows the fish to soak up the charcoal and hickory flavors without losing moisture due to an unnecessary exposure to direct heat. Once doused with a honey bourbon glaze, the result is one fantastic piece of salmon, served with two skewers of grilled seasonal vegetables.
— JERONE TYLER